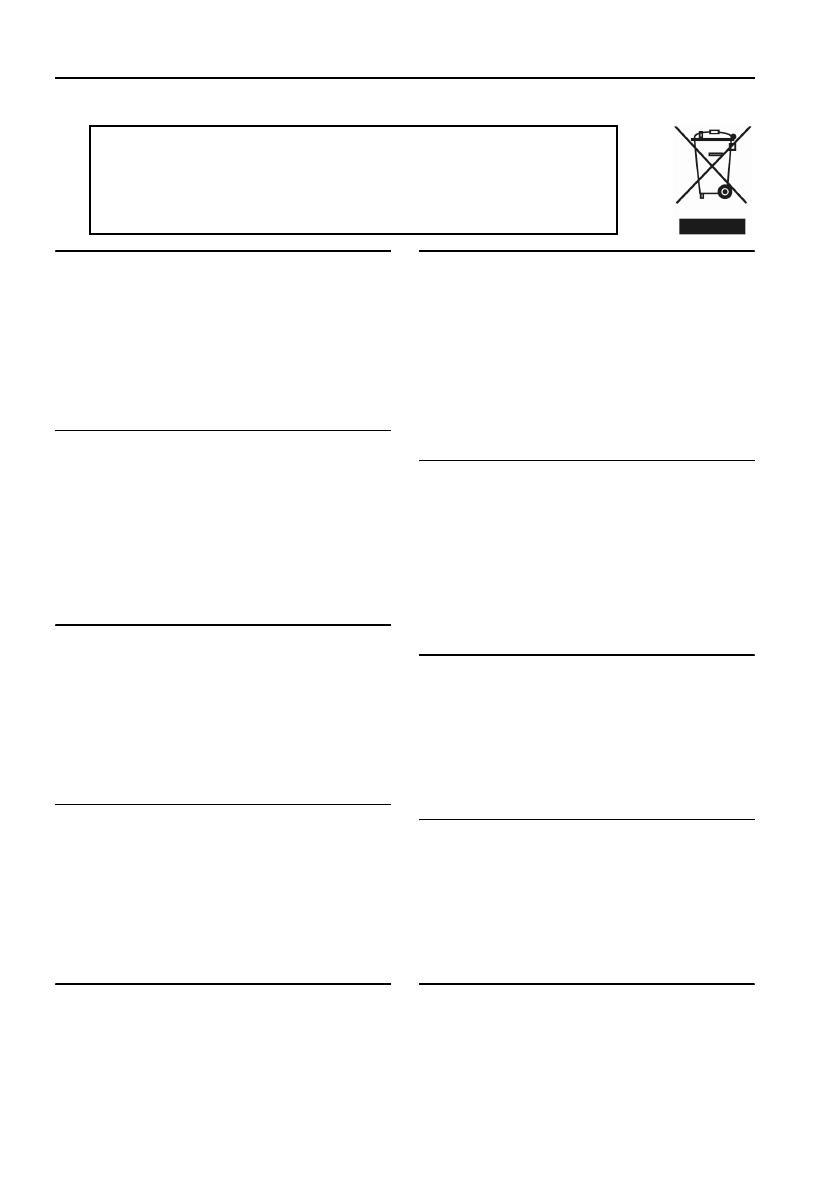 WEEE (Waste Electrical and Electronic Equipment) Directive
English
The crossed out wheeled bin label that can be found
on your product indicates that this product should not
be disposed of via the normal household waste
stream. To prevent possible harm to the environment
or human health please separate this product from
other waste streams to ensure that it can be recycled
in an environmentally sound manner. For more details
on available collection facilities please contact your
local government office or the retailer where you
purchased this product.
Deutsch
Der Aufkleber mit durchgekreuzter Mülltonne an
diesem Produkt weist darauf hin, dass dieses Produkt
nicht im normalen Hausmüll entsorgt werden darf. Zur
Vermeidung einer möglichen Beeinträchtigung der
Umwelt oder der menschlichen Gesundheit und um zu
gewährleisten, dass es in einer umweltverträglichen
Weise recycelt wird, darf dieses Produkt nicht in den
Hausmüll gegeben werden. Informationen zu
Entsorgungseinrichtungen erhalten Sie bei der
zuständigen Behörde oder dem Geschäft, in dem Sie
dieses Produkt erworben haben.
Français
L'étiquette apposée sur ce produit et représentant une
poubelle barrée indique que le produit ne peut être mis
au rebut avec les déchets domestiques normaux. Afin
d'éviter d'éventuels dommages au niveau de
l'environnement ou sur la santé, veuillez séparer ce
produit des autres déchets de manière à garantir qu'il
soit recyclé de manière sûre au niveau environnemental.
Pour plus de détails sur les sites de collecte existants,
veuillez contacter l'administration locale ou le détaillant
auprès duquel vous avez acheté ce produit.
Italiano
L'etichetta con il contenitore barrato applicata
sull'imballo indica che il prodotto non deve essere
smaltito tramite la procedura normale di smaltimento
dei rifiuti domestici. Per evitare eventuali danni
all'ambiente e alla salute umana, separare questo
prodotto da altri rifiuti domestici in modo che possa
essere riciclato in base alle procedure di rispetto
dell'ambiente. Per maggiori dettagli sulle strutture di
raccolta disponibili, contattare l'ufficio competente del
proprio comune o il rivenditore del prodotto.
Español
La etiqueta de un contenedor tachado que hallará en
su producto indica que este producto no se puede tirar
con la basura doméstica normal. Para impedir
posibles daños medioambientales o para la salud,
separe este producto de otros canales de desecho
para garantizar que se recicle de una forma segura
para el medio ambiente. Para más información sobre
las instalaciones de recolección disponibles, diríjase a
las autoridades locales o al punto de venta donde
adquirió este producto.
Português
A etiqueta com o símbolo de um contentor de lixo
traçado com uma cruz que aparece no produto indica
que este produto não deve ser deitado fora
juntamente com o lixo doméstico. Para evitar
possíveis danos no ambiente ou na saúde pública, por
favor separe este produto de outros lixos; desta
forma, terá a certeza de que pode ser reciclado
através de métodos não prejudiciais ao ambiente.
Para obter mais informações sobre os locais de
recolha de lixo disponíveis, contacte a sua junta de
freguesia, câmara municipal ou localonde comprou
este produto.
Nederlands
Op uw product is een label van een rolcontainer met
een kruis erdoor aangebracht. Dit label wil zeggen dat
dit product niet bij het normale huishoudelijk afval mag
worden ingezameld. Om eventuele schade aan het
milieu of de gezondheid van de mens te voorkomen
moet dit product gescheiden van al het ander afval
worden ingezameld, zodat het op een verantwoorde
wijze kan worden verwerkt. Voor meer informatie over
uw lokale afvalinzameling wendt u zich tot uw
gemeente of de leverancier bij wie u dit product hebt
gekocht.
Dansk
Etiketten med et kryds over skraldespanden på hjul,
der sidder på produktet, angiver, at dette produkt ikke
må bortskaffes sammen med almindeligt
husholdningsaffald. For at beskytte miljø og helbred
skal dette produkt bortskaffes separat, så det kan
genbruges på en måde, der er god for miljøet. Kontakt
de lokale myndigheder eller den forhandler, hos hvem
du har købt produktet, vedrørende steder, hvor du kan
aflevere produktet.
Suomi
Laite on merkitty jäteastia-symbolilla, jonka yli on
vedetty rasti. Tämä tarkoittaa, ettei laitetta saa
hävittää normaalin talousjätteen mukana. Älä hävitä
laitetta normaalin jätteen seassa vaan varmista, että
laite kierrätetään ympäristö
ystävällisellä tavalla, jottei
ympäristölle tai ihmisille aiheudu vahinkoa. Lisätietoja
kierrätyksestä ja keräyspisteistä saa ottamalla yhteyttä
paikallisiin viranomaisiin tai jälleenmyyjään, jolta laite
ostettiin.
Svenska
Symbolen med en överkorsad soptunna innebär att
denna produkt inte får kastas i vanligt hushållsavfall.
För att skydda miljön ska denna produkt inte kastas
tillsammans med vanligt hushållsavfall utan lämnas för
återvinning på tillbörligt sätt. För mer information om
uppsamlingsplatser kontakta din lokala myndighet
eller den återförsäljare där du har köpt produkten.
This information only applies to customers in the European Union, according to
Directive 2002/96/EC OF THE EUROPEAN PARLIAMENT AND OF THE COUNCIL
OF 27 January 2003 on waste electrical and electronic equipment (WEEE) and
legislation transposing and implementing it into the various national legal systems.
For other countries, please contact your local government to investigate the
possibility of recycling your product.