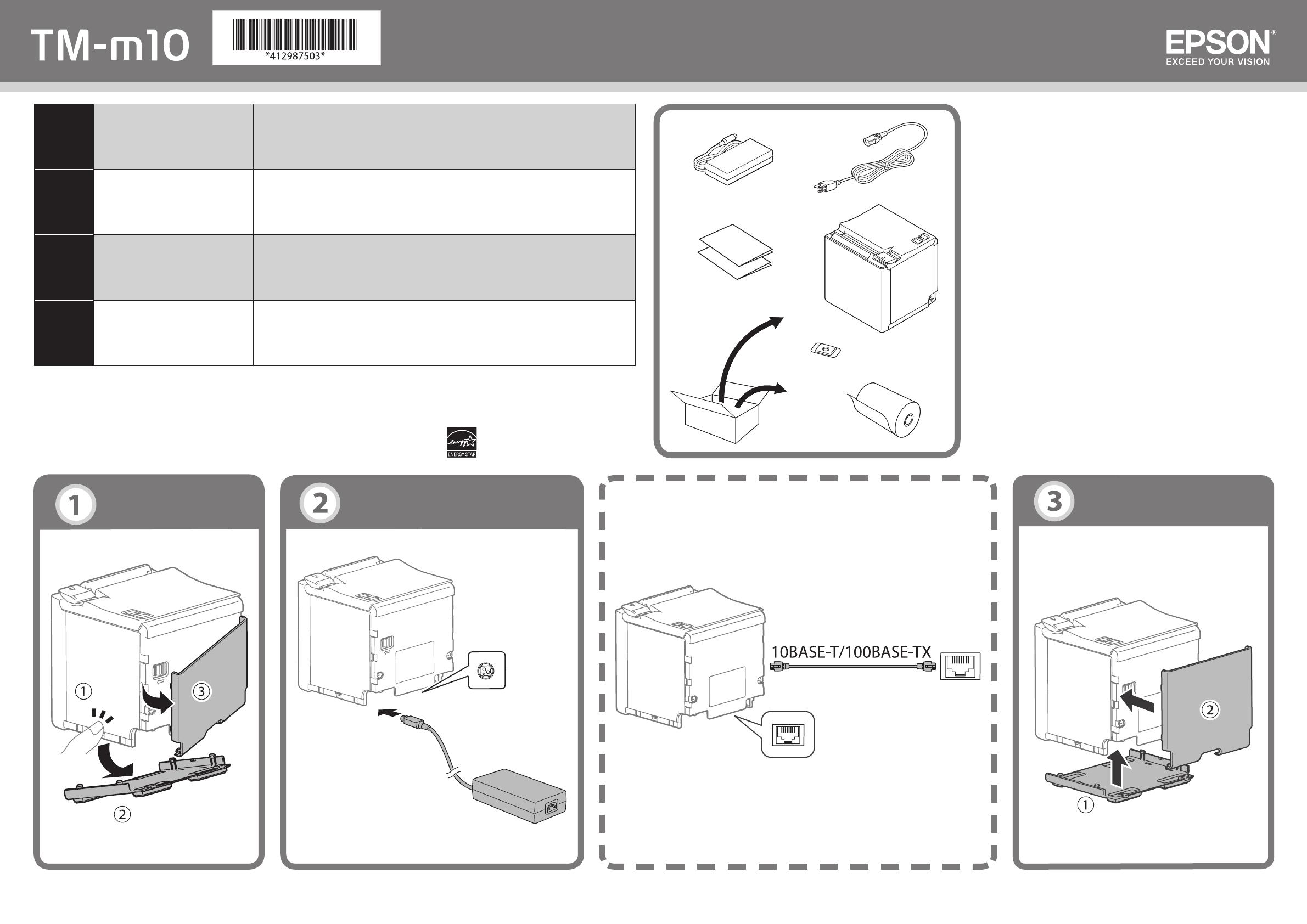 EN
Setup Guide
For detailed information and safety recommendations, refer to the Important
Safety included with the package, or User's Manual on the website.
FR
Guide d'installation
Pour des informations détaillées et des recommandations sur la sécurité, voir
les informations de sécurité importantes incluses dans l'emballage ou le guide
de l'utilisateur sur le site Web.
ES
Guía de instalación
Para obtener información detallada y recomendaciones de seguridad,
consulte la sección de seguridad importante incluida con el paquete o el
manual del usuario que encontrará en el sitio Web.
PT
Manual de instalação
Para obter informação detalhada e recomendações de segurança, consulte as
Informações de Segurança Importantes incluídas na embalagem ou o Manual
do Utilizador no website.
Default Delay Times for Power Management for
Epson Products
is product will enter sleep mode aer a period of nonuse. e time interval has been
set at the factory to ensure that the product meets ENERGY STAR® standards of energy
eciency and cannot be modied by the consumer.
Standards and Approvals
The following standards are applied only to the printers that
are so labeled.
(EMC is tested using the Epson power supplies.)
North America: FCC Class A, CAN ICES-3 (A)/NMB-3 (A)
The connection of a non-shielded printer interface cable
to this printer will invalidate the EMC standards of this
device. You are cautioned that changes or modications not
expressly approved by Seiko Epson Corporation could void
your authority to operate the equipment.
FCC Compliance Statement For
American Users
This equipment has been tested and found to comply
with the limits for a Class A digital device, pursuant to Part
15 of the FCC Rules. These limits are designed to provide
reasonable protection against harmful interference when the
equipment is operated in a commercial environment. This
equipment generates, uses, and can radiate radio frequency
energy and, if not installed and used in accordance with the
instruction manual, may cause harmful interference to radio
communications.
Operation of this equipment in a residential area is likely to
cause harmful interference, in which case the user will be
required to correct the interference at his own expense.
Not all models are ENERGY STAR
®
qualied. Qualied models have the
ENERGY STAR mark axed on the unit.
©Seiko Epson Corporation 2015-2019. All rights reserved.
Printed in XXXXXX
Wi-Fi® is a registered trademark of Wi-Fi Alliance®.