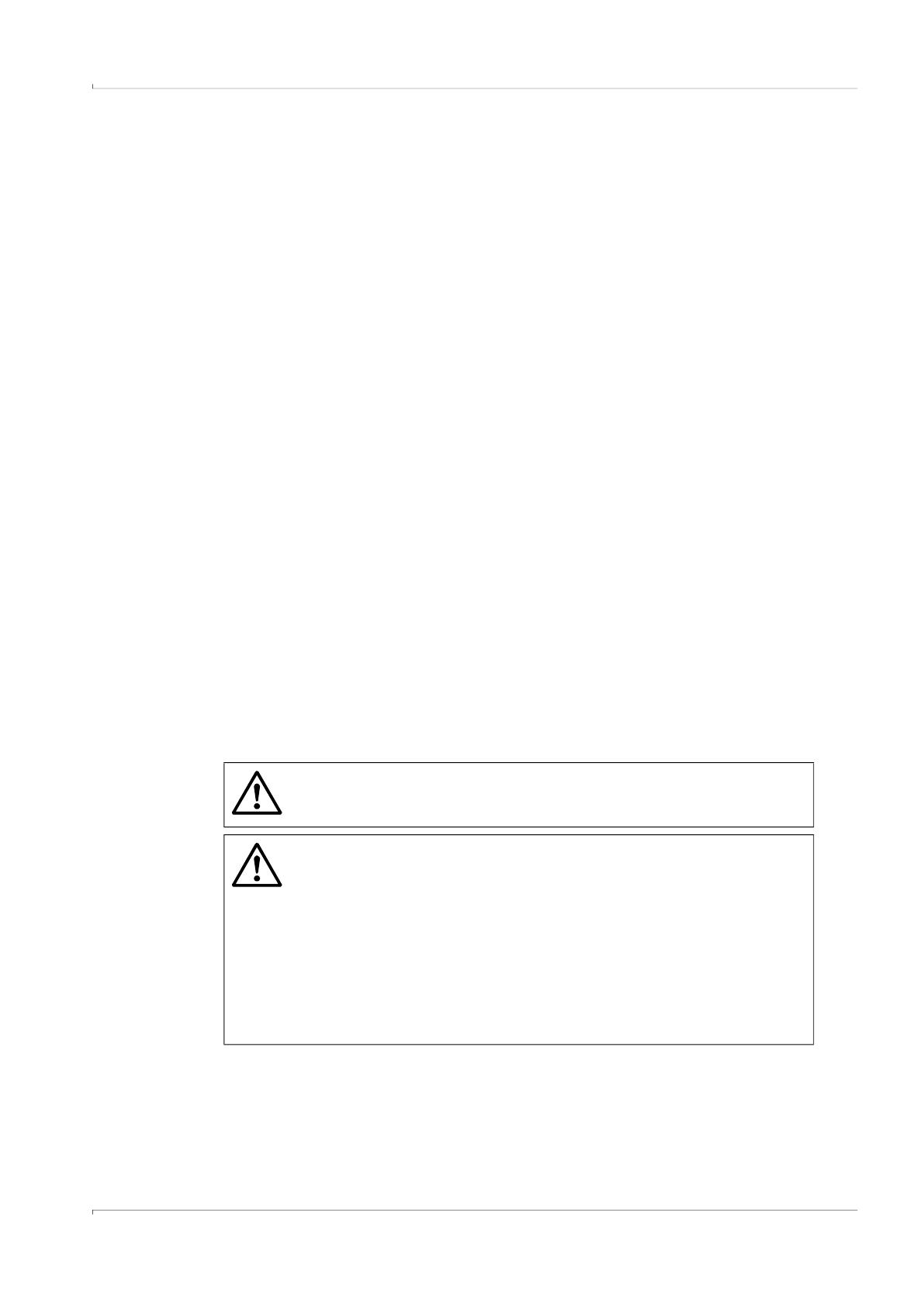 Important information
FLOWSIC100
·
Operating Instructions
·
8012513/10LA/V
2-2/2019-02
·
©
SICK Engineering
GmbH
9
Subject to change without notice
1.3
Safety information and protective measures
1.3.1
General information
Handling or using the device incorrectly can result in personal injury or material damage.
Read
this
Chapter
carefully
and
ensure
you
observe
the
safety
precautions
during
all
work
on
the
FLOWSIC100.
Always
observe
the
warnings
provided
in
these
Operating
Instructions.
The following applies at all times:
●
The relevant legal stipulations and associated technical regulations must be observed
when preparing and carrying out work on the installation.
●
Pay particular attention to potentially hazardous aspects of the equipment, such as
pipelines and ducts with overpressure and hot gas. The applicable special regulations
must be followed at all times.
●
All work must be carried out in accordance with the local, system-specific conditions
and with due consideration paid to the operating dangers and specifications.
●
The Operating Instructions for the measuring system as well as system documentation
must be available on site. The instructions for preventing danger and damage contained
in these documents must be observed at all times.
1.3.2
Hazard through electrical equipment
The FLOWSIC100 measuring system is an item of electrical equipment designed for use
in
industrial
high-voltage
systems.
Make
sure
the
power
supply
is
switched
off
before
working on power connections or live components. If necessary, replace shock protection
measures before reconnecting the power supply.
1.3.3
Hazard through hot, corrosive and/or pressurized gases
The sender/receiver units are mounted directly on the gas-carrying duct. On equipment
with low hazard potential (no danger to health, ambient pressure, low temperatures), the
installation or removal can be performed while the equipment is in operation providing
the valid regulations and equipment safety notices are observed and suitable protective
measures are taken.
WARNING:
Systems and processes with toxic gases, high pressure or high temperatures
must be shut down before the sender/receiver units are installed or removed.
CAUTION:
Health risk through hot gas
●
Hot gas can escape should the purge air supply fail when using externally
purged devices (device types PM, PH and PH-S) in pressurized pipelines and
ducts. This can lead to serious damage to health and material damage to
the system. The system owner must take suitable protective measures to
prevent such damage. Technical solutions for the FLOWSIC100 to prevent
gas escaping should the purge air fail are available from the manufacturer
on request.
●
Heated cooling air escapes when internally cooled sender/receiver units
are used. Risk of burns and damage to health are possible! The system
owner must take suitable protective measures to prevent such damage.