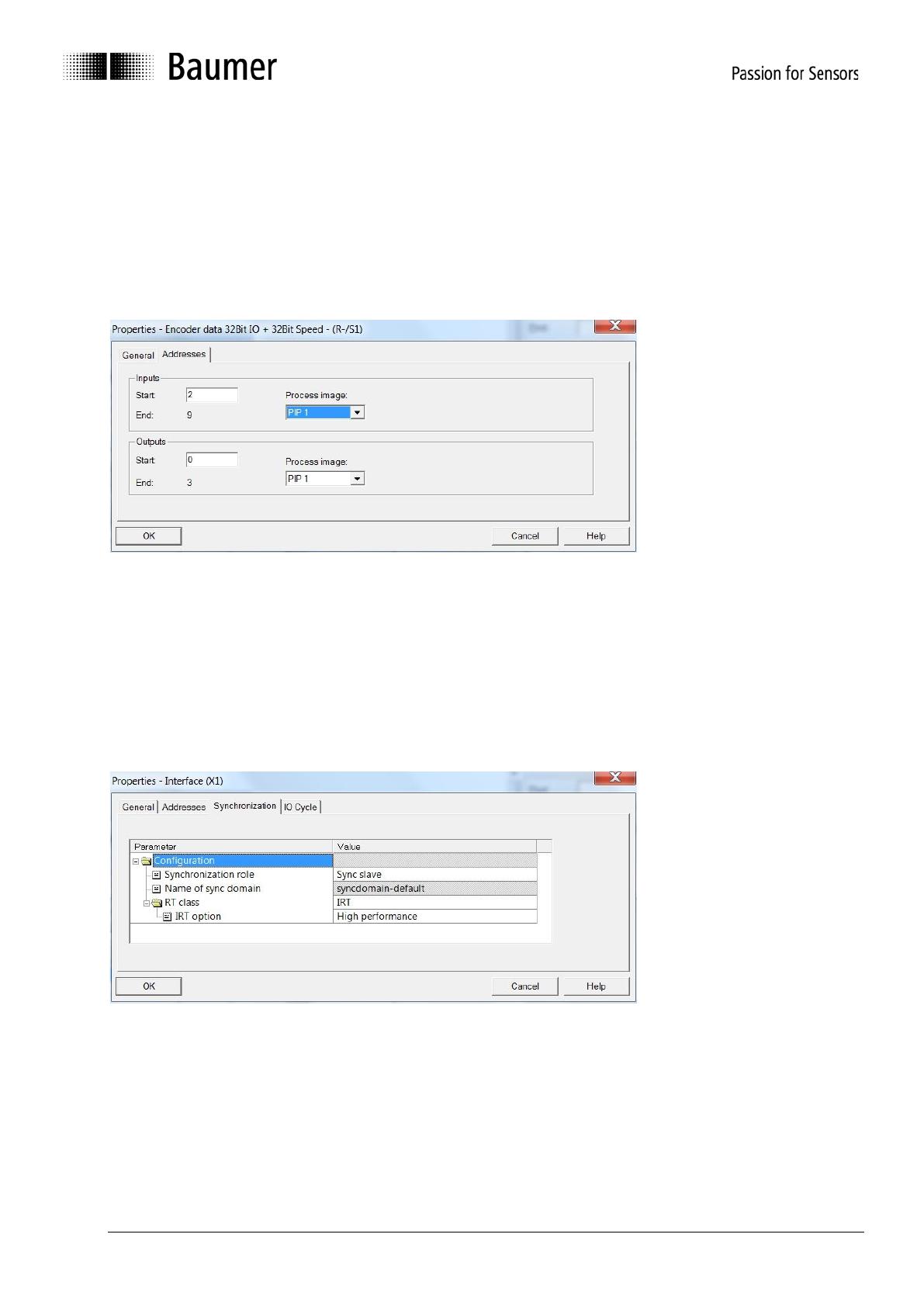 Baumer_BUDE-PROFINET_MA_EN.docx
17/41
www.baumer.com
4.4.4.1.
Address-Assignment within the Process Image
Access to the encoder's input and output data takes place via addresses within the PLC's process image.
Assign these addresses according to the needs of the PLC software.
Click on the encoder symbol in HW config of Step7 to select the encoder. Then double
-
click on module
"encoder data 32 bit I/O (slot 1) at left below, opening the properties window with tab "Addresses".
Enter the start address of the respective address range or accept the system's proposal. Identical or
overlapping addresses for input and output are possible. Make sure that the address ranges are located
inside the cyclically updated part process image "PIP 1" of the isochronous system task (e.g.OB61)
4.4.4.2.
Synchronization

Setup
Go to the Step7
HW

-c
onfig window and click on the encoder symbol on the bus rail to select it. Bottom left in
the module window the various encoder modules are shown. Enter the interface properties with a double click
on the "Interface" module.
The "Synchronization"
-Tab
shows the assignment to a certain sync domain. Set the synchronization role to
Se
t the "RT
-
Class"

to

"IRT" and as "IRT Option" choose "high performance" (IRT Class3).
Properties Tab "IO Cycle", area "Update Time" offers
settings for the requested Update Time. In relation to
the send clock a reduction ratio "Factor"
applies. In case of a reduction ratio the encoder will not update and
send its position value each send clock cycle, but only every 2nd, 4th or 8th cycle. Not
every application
needs being updated at the high send clock rate. At a high bus load this reduction may save bandwidth.
Applicable factors may vary with the real time class and send clock and are offered in the drop down area.
In area "isochronous Mode
", o
ption "
Assign IO

d

evice in isochronous mode

"

select the assignment to the
isochronous system function
OB61.