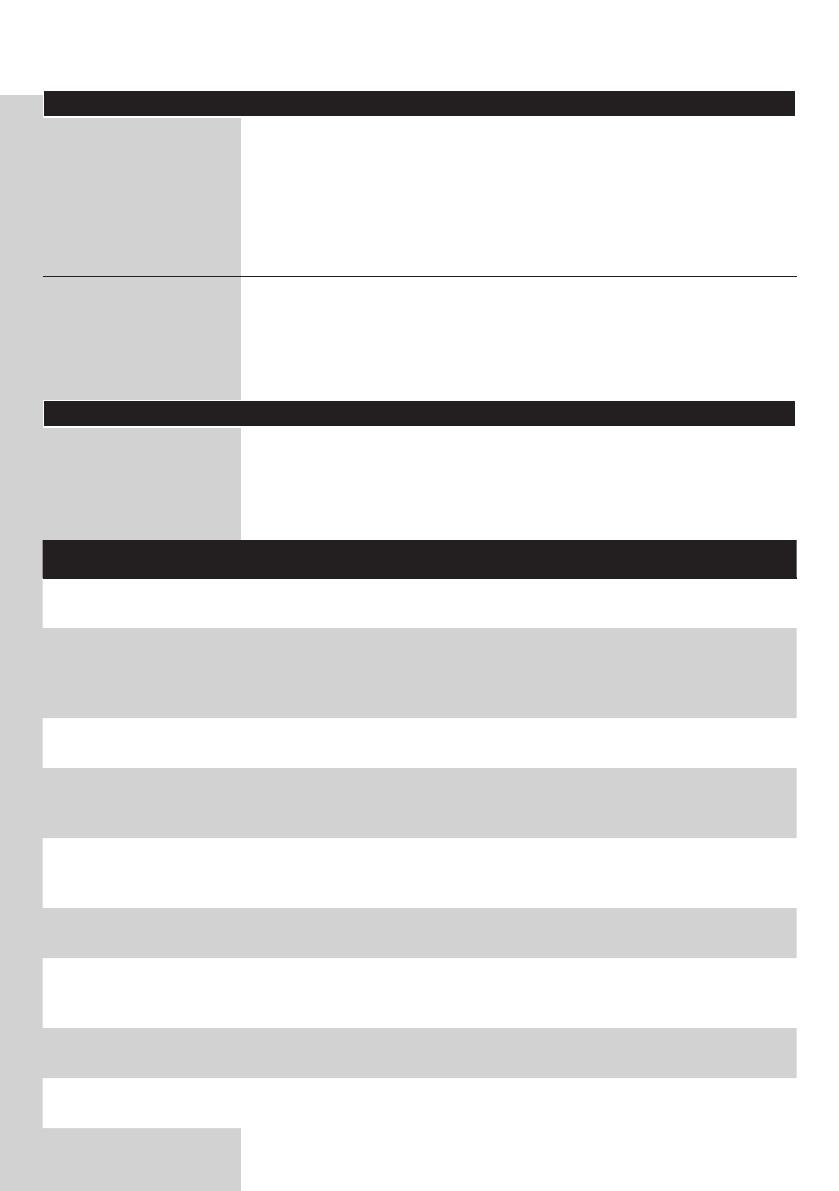 Guarantee & service
If you need information or if you have a problem, please visit the Philips
website at
www.philips.com
or contact the Philips Customer Care Centre
in your country (you nd its phone number in the worldwide guarantee
leaet). If there is no Customer Care Centre in your country, go to your
local Philips dealer or contact the Service Department of Philips Domestic
Appliances and Personal Care BV.
Guarantee restrictions
The terms of the international guarantee do not cover the following:
Brush heads
Damage caused by misuse, abuse, neglect or alterations.
Normal wear and tear, including chips, scratches, abrasions,
discolouration or fading.
Frequently asked questions
This chapter summarises the most common problems you could encounter
with the Sonicare. If you are unable to solve the problem, contact the
Philips Customer Care Centre in your country (see chapter 'Guarantee &
service') or visit www.philips.com.
Why doesn't the
Sonicare toothbrush work?
You may need to recharge the Sonicare. Charge the Sonicare for at
least 24 hours.
Make sure the socket is live when you recharge the appliance.
The electricity supply to sockets in mirror cabinets over washbasins or
shaver sockets in bathrooms may be cut off when the light is switched
off.
Why doesn't the brush head
operate while the motor runs?
You may need to reattach or replace the brush head.
Why do I feel a tickling
sensation when I use the
Sonicare?
You may experience a slight tickling/tingling sensation when you
use the Sonicare for the rst time. As you become accustomed to
brushing with the Sonicare, this sensation diminishes.
Why does the brush head
rattle when I use the Sonicare?
The Sonicare should produce a gentle hum during operation. Tighten
the brush head nut to eliminate excessive rattling. If the rattling does
not stop, you may need to replace the brush head.
Make sure you remove the travel cap before you switch on the
appliance.
The brush head chatters
against my teeth. What can I do
about this?
To avoid this, keep the brush head properly oriented, with the brush
head placed on the gumline at an angle of 45 degrees.
Why does the toothbrush
seem less powerful?
You may need to recharge the Sonicare.
The Easy-start feature may be active. Deactivate the Easy-start feature
(see chapter 'Features').
-
-
-