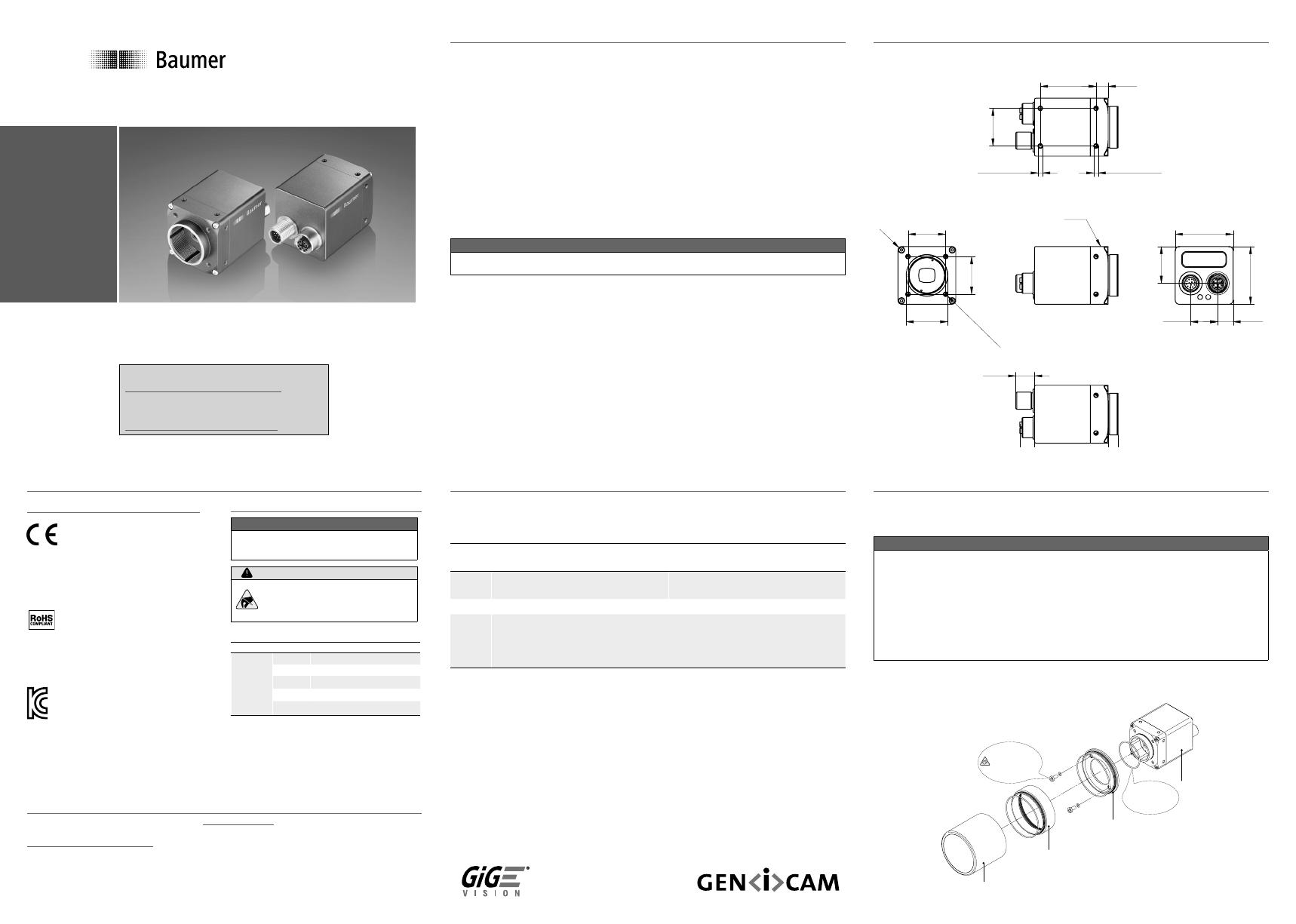 Conformity / Safety
Further Information
For further information on our products visit
www.baumer.com
For technical issues, please contact our technical support:
support.cameras@baumer.com
· Phone +49 (0)3528 4386-0 · Fax +49 (0)3528 4386-86
© Baumer Optronic GmbH · Badstrasse 30 · DE-01454 Radeberg, Germany
Technical data has been fully checked, but accuracy of printed matter not guaranteed.
Subject to change without notice. Printed in Germany 02/21. v14
11191734
Quick Start Guide
VCXG.I / .XT cameras (Gigabit Ethernet)
Product Specication
VCXG.I / VCXG.I.XT cameras – Extremely functionality and high frame rates
▪

Up to 12 megapixel and 145 fps
▪

Optional: Operating temperature range -40 °C (-40 °F) to 70 °C (158 °F)
▪

Vibration 10 g, shock 100 g
▪

Power supply: 12 – 24 V externally or PoE
▪

GigE Vision standard compliant
▪

Optional: Protection classes IP65 / IP67 (with installed tube)
▪

Optional: Modular tube system
▪

M12 industry connectors
▪

PWM on Outputs for direct controlled illuminations
▪

4 outputs with maximum 1.5 A (2.5 A with 40% periode time)
Notice
Further technical details are available in the respective data sheets.
Dimensions
R
3
4
x
40
40
26
26
26
4
x
M
3
x
6
Installation
Lens mount
Notice
Ensure the sensor and lens are not contaminated with dust and airborne particles
when mounting the support or the lens to the device!
The following points are very important:
▪

Install the camera in an environment that is as dust free as possible!
▪

Keep the dust cover (bag) on the camera for as long as possible!
▪

Hold the camera with the sensor downwards if the sensor is uncovered.
▪

Avoid contact with any of the camera's optical surfaces!
Modular tube system (ordered separately)
Tube
Tube Adapter
Camera
Tube Modul
The peak torque while
tightening the
screws is 0.9 Nm.
Use a torque wrench!
Recommended grease
for easier installation of
the sealing rings:
ELKALUB GLS 867
Conformity
We declare, under our sole responsibility,
that the previously described Baumer
VCXG.I / .XT cameras conform with the
directives of the CE.
All VCXG.I /.XT cameras comply with the
recommendation of the European Union
concerning RoHS Rules.
Several of the described Baumer VCXG.I
/.XT cameras conform with the directives
of the Korean Conformity.
Please refer for the User's Guide or techni-
cal documentation.
Safety Precautions
Notice
See the User's Guide for the complete
safety instructions!
Caution
Observe precautions for handling
electrostatically sensitive devices!
Environmental Requirements
Storage
temp.
VCXG.I
-10 °C (14 °F) ... 70 °C (158 °F)
VCXG.I.XT
-40 °C (-40 °F) ... 70 °C (158 °F)
Operating
temp.
VCXG.I
0 °C (32 °F) ... 65 °C (149 °F)*
VCXG.I.XT
-40 °C (-40 °F) ... 70 °C ( 158 °F)*
Humidity
10 % ... 90 % Non-condensing
Ambient temperature above 45 °C (113 °F)
requires heat dissipation measures.
System Requirements
Single-camera system
Recommended
Multi-camera system
Recommended
CPU
Intel
®
Core
™
i5-2520M
CPU @ 2.50 GHz, Cores: 4
Intel
®
Core
™
i7-3770
CPU @ 3.40 GHz, Cores: 8
Oper-
ating
system
(OS)
Microsoft
®
Windows
®
7 (32 / 64 bit systems)
Microsoft
®
Windows
®
8 (32 / 64 bit systems)
Microsoft
®
Windows
®
10 (32 / 64 bit systems)
Download latest camera software:
www.baumer.com/vision/software
Download latest technical documentation:
www.baumer.com/cameras/docs