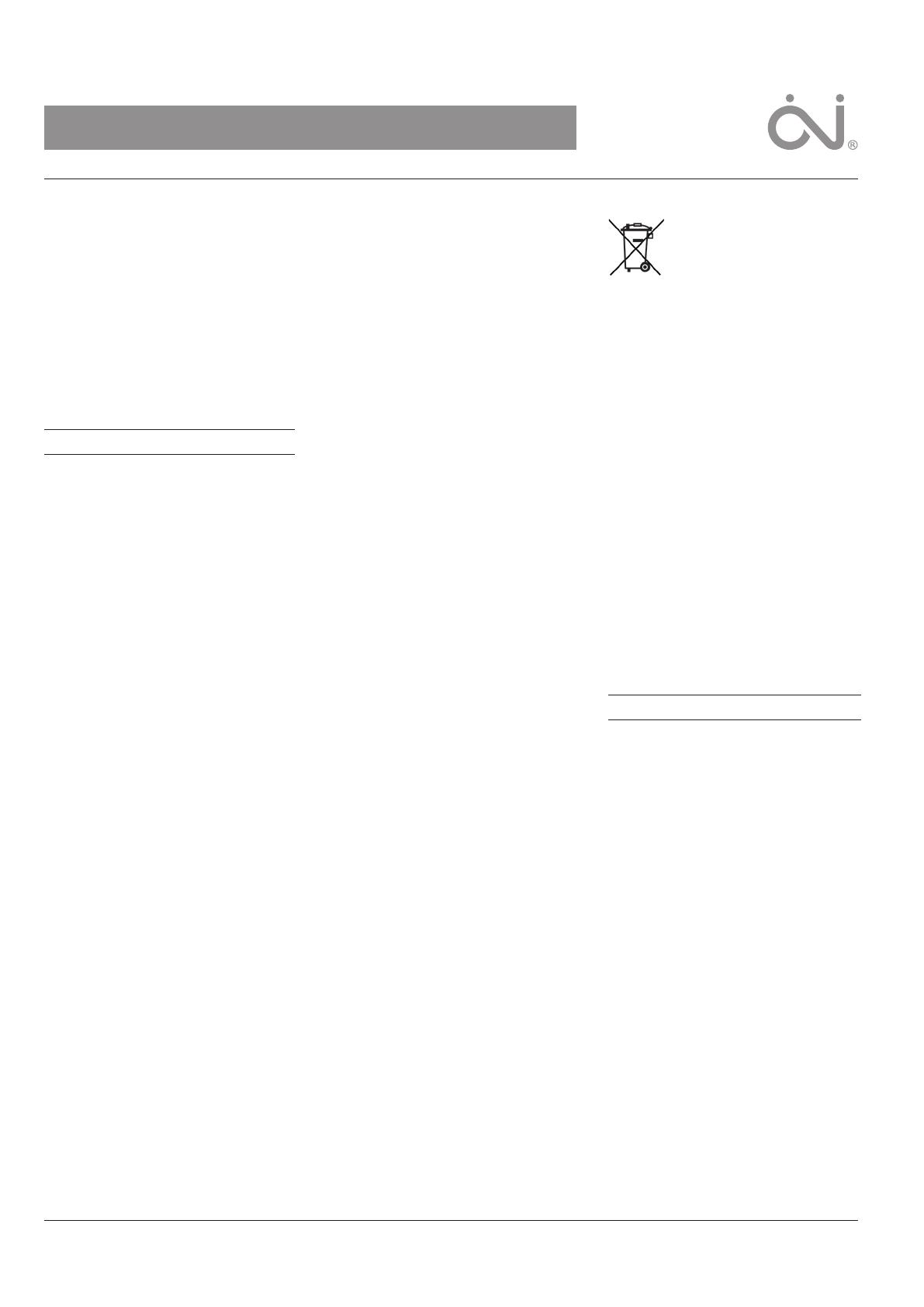 1
© 2011 OJ Electronics A/S
67106 06/11 (MBC)
Type OCD4 FHH
English
The thermostat is an electronic on/o thermo-
stat for temperature control by means of an
NTC sensor located either externally or inter-
nally within the thermostat.
The thermostat is for flush mounting in a wall
socket. A baseplate for external wall mounting
is available.
PRODUCT PROGRAMME
OCD4-1999-FHH
Clock-thermostat with 2
sensors. Floor sensor and
built-in room sensor.
WARNING
– Important Safety Instructions.
Disconnect the power supply before carrying
out any installation or maintenance work on this
control unit and associated components. This
control unit and associated components should
only be installed by a competent person (i.e. a
qualified electrician). Electrical installation must
be in accordance with appropriate statutory
regulations.
MOUNTING OF SENSOR
The floor sensor contains a safety extra-low
voltage (SELV) circuit, allowing it to be placed
as close to the floor surface as necessary with-
out having to take account of the risk of shock
should the sensor cable become damaged. The
two wires from the sensor to the mounting box,
must be additionally insulated, e.g. shrink flex.
To prevent loose cables from the fixed instal-
lation from coming into contact with the
terminal block for the floor sensor, they must be
restrained using cable ties.
It is recommended that the cable and sensor be
placed in a non-conductive installation pipe em-
bedded in the floor (fig. 3). The end of the pipe
must be sealed and the pipe placed as high as
possible in the concrete layer. Alternatively, the
sensor can be embedded directly in the floor.
The sensor cable must be led through a sepa-
rate pipe or segregated from power cables.
The floor sensor must be centred between the
heating cable.
The sensor cable may be extended up to 100
m by means of a separate two-core cable. Two
vacant wires in a multi-core cable used, for
example, to supply current to the floor heating
cable must not be used. The switching peaks of
such current supply lines may create interfer-
ence signals that prevent optimum controller
function. If a shielded cable is used, the shield
must not be connected to earth (PE). The two-
core cable must be placed in a separate pipe or
segregated from power cables.
MOUNTING OF THERMOSTAT
WITH BUILT-IN SENSOR
The room sensor is used for comfort tempera-
ture regulation in rooms. The thermostat should
be mounted on the wall approx. 1.6 m above
the floor in such a way as to allow free air circu-
lation around it. Draughts and direct sunlight or
other heat sources must be avoided (fig. 4). No
external sensor is connected.
Mounting of thermostat
1. Slide the power button down to O "0".
2. Release the front cover ONLY by inserting a
small screwdriver into the hole on either side
of the thermostat.
3. Connect the wires in accordance with the
diagram (fig. 2).
4. Mount the thermostat in the wall socket.
5. Fit the frame and carefully press the cover
onto the thermostat. Ensure that both the
power slide button on the cover and the
power switch pin are down.
DO NOT
open the thermostat by releasing the
four fixing clips on the back.
First time settings:
The first time the thermostat is connected, push
the power slide button to On "I". Language, time
and date must be set using the buttons:
1. Set language
2. Set time
3. Set date
PROGRAMMING
See user manual.
FAULT LOCATION
If the sensor is disconnected or short-circuited,
the heating system is switched o. The sensor
can be checked against the resistance table
(fig. 5).
ERROR CODES
E0:
Internal error. The thermostat must be
replaced.
E1: Built-in sensor short-circuited or
disconnected.
E2: External sensor short-circuited or
disconnected.
E5:
Overheating, The temperature is too high in
the thermostat and switch o the heating.
CE MARKING
According to the following standard:
LVD/EMC: EN 60730-2-9
CLASSIFICATION
The product is a Class II device (enhanced
insulation) and must be connected to in the
following way:
Term. 1: Neutral (N
Term. 2: Phase (L) 230 V ±10%, 50/60 Hz
Term. 3–4: Load, max. 2 A / 460 W
Term. X: Do not connect
Term. 5-6: External floor sensor
ENVIRONMENT AND RECYCLING
Please help us to protect the environment by
disposing of the packaging in accordance with
national regulations for waste processing.
RECYCLING OF OBSOLETE
APPLIANCES
Appliances with this label must not
be disposed of with general
household waste. They must be
collected separately and disposed of
in compliance with local regulations.
TECHNICAL DATA
Voltage ........................... 230 VAC ±10% 50 Hz
Max. pre-fuse .............................................. 16 A
Built-in circuit breaker .................... 2-pole, 16 A
Output relay ............ Make contact - SPST - NO
Output .................................... Max. 2 A / 460 W
Control principle .................................... PWM/PI
Stand-by power .......................................
0.6 W
Battery backup....................................... 5 years
Temperature range ..............................
+5/+40°C
Limit sensor (OCD4) ............................
+5/+40°C
Ambient operating temperature ..........
+0/+40°C
Energy monitor, accuracy .............................
2%
Control pollution degree .................................. 2
Rated impulse voltage ................................ 4 kV
Enclosure rating ......................................... IP 21
Dimensions ..................... H/84, W/84, D/40 mm
Build-in depth ......................................... 20 mm
Display ....... 100x64 pixel STN - white backlight
EU Registered Design ........
001101349-0001/2
The thermostat is maintenance free.
OJ ELECTRONICS A/S
Stenager 13B · DK-6400 Sønderborg
Tel: +45 73 12 13 14 · Fax: +45 73 12 13 13
Deutsch
Der Thermostat ist ein elektronischer On/O-
Thermostat zur Temperaturregelung mittels
extern angebrachten oder im Thermostat einge-
bauten NTC-Fühler.
Der Thermostat ist für Unterputzmontage in
einer Wanddose vorgesehen. Eine Bodenplatte
für externe Wandmontage ist lieferbar.
PRODUKTPROGRAMM
OCD4-1999-FHH
Uhr-Thermostat mit 2
Fühlern. Bodenfühler und
eingebauter Raumfühler.
ACHTUNG
– Wichtige Sicherheitsanweisun-
gen. Vor der Ausführung von Installations- oder
Instandhaltungsarbeiten an dieser Regelein-
heit und zugehörigen Komponenten ist die
Spannungsversorgung zu unterbrechen. Diese
Regeleinheit und zugehörige Komponenten
dürfen nur von einer fachlich befähigten Person
(d. h. autorisierter Elektriker) installiert werden.
Die Elektroinstallation muss in Übereinstimmung
mit den neuesten EU-Richtlinien für elektrische
Betriebsmittel und den diesbezüglichen Rechts-
vorschriften erfolgen.
MONTAGE DES FÜHLERS
Der Bodenfühler ist mit einem Kleinspannungs-
Sicherheitskreis (SELV) ausgestattet, womit eine
Anbringung möglichst nahe an der Fußbod-
enoberfläche ohne Risiko von Stromschlägen
durch ein eventuell schadhaft werdendes Füh-
lerkabel erfolgen kann. Die beiden Leiter vom
Fühler zum Klemmenkasten müssen zusätzlich
isoliert werden, z. B. mit Schrumpfschlauch.
Um einem Kontakt der Klemmenleiste des Bod-