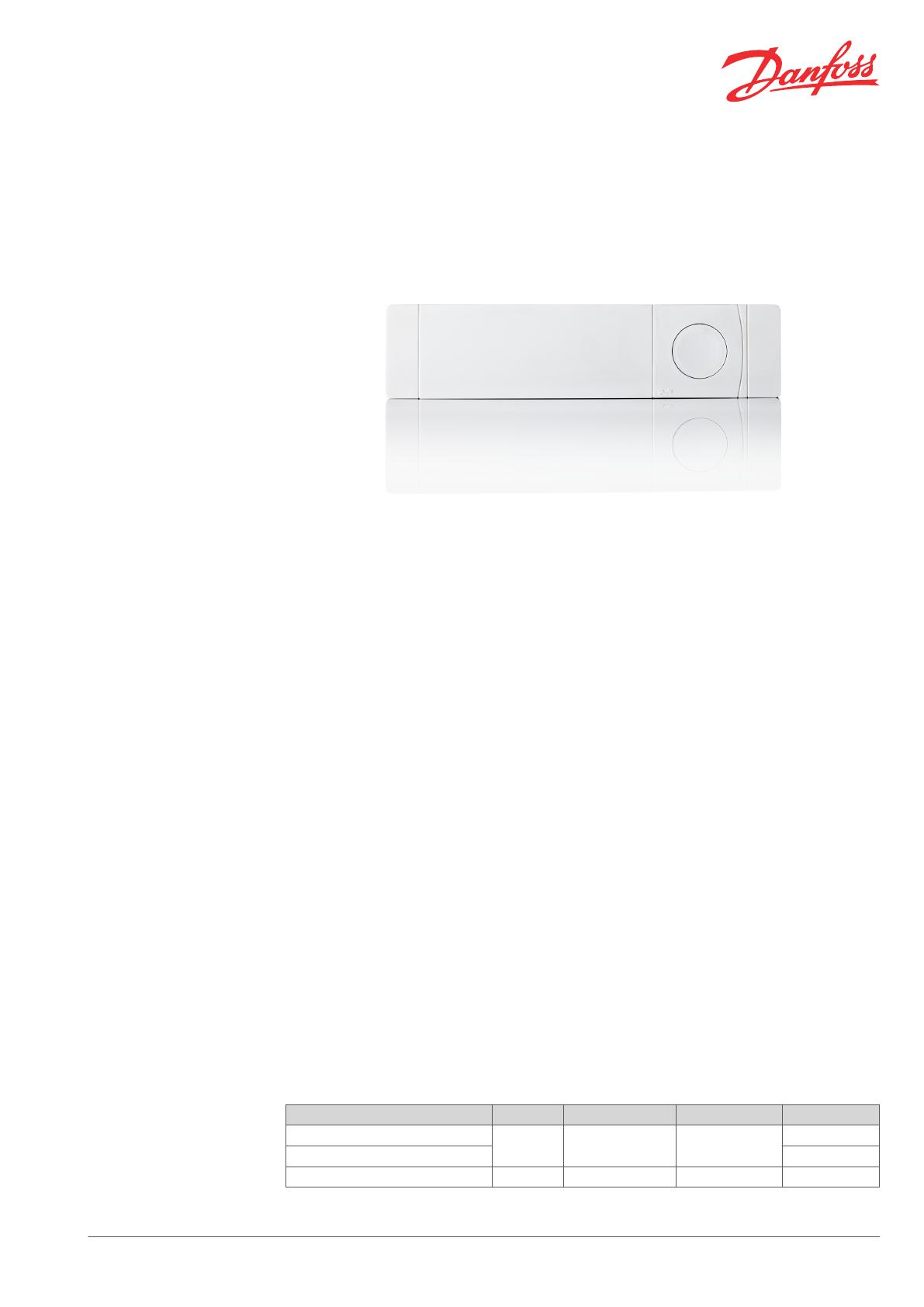 Application
Danfoss Link™ HC is a part of the Danfoss Link™, a
programmable, wireless control system for heat-
ing systems in residential buildings.
The Danfoss Link™ HC allows control of hydronic
floor heating systems. The system offers a wide
range of extended functionalities for optimal
comfort and energy saving, with individual room
temperature control.
The Danfoss Link™ HC includes features like: 2-
way wireless transmission, up to 5 or 10 short-cir-
cuit protected outputs for 24 V NC or NO actua-
tors, relays for both pump and boiler control, self-
diagnosing program, contact for Away Function,
heating/cooling function, regulation by ON/OFF
or Pulse Width Modulation principles (PWM) etc.
The system can consist of up to three Danfoss
Link™ HC, offering a possibility of up to 30 out-
puts for even larger systems. The Danfoss Link™
HC has easy connection directly to 230 V power
supply without the need for further transforming,
supplying all actuator outputs with 24 V.
Systems of up to three Danfoss Link™ HC can be
accessed wirelessly by the Danfoss Link™ CC. The
Danfoss Link™ CC offers a wide range of function-
alities and features, like individual settings for
each Danfoss Link™ HC output, override and lock-
ing of local room temperature settings, setback
and period programming, system status etc.
▪
2-way wireless transmission at 868.2 MHz,
for higher transmission certainty and direct
link test option on each system component
like room sensors, etc.
▪
5 or 10 short-circuit protected outputs with
LED indication.
▪
Outputs for 24 V NC or NO actuators.
▪
Valve motion for all outputs approx. 12 mi-
nutes every second week with no heat de-
mand.
▪
Regulation by PWM (Pulse Width Modula-
tion) principle.
▪
Input (ON/OFF) for heating/cooling.
▪
Input (ON/OFF) for Away Function. When
the switch is closed (ON), the system over-
rides all room thermostat set points and
change it to 15 °C.
▪
Relay for pump control with automatic
pump motion every third day for 1 min. to
avoid damage during standby periods.
▪
Relay for boiler control, activated only at
heat demand.
▪
Easy cable fixing at each actuator output for
several cable types (squared or circular).
▪
Automatic self-diagnosis providing indica-
tion of several error possibilities like missing
wireless connection or missing/non-func-
tional actuator on output, etc.
Ordering
Product
Type
Supply voltage
Output voltage
Order no.
Danfoss Link™ HC, 5 outputs
014G0103
Danfoss Link™ HC, 10 outputs
014G0100
External antenna, with 2 m cable
CF-EA
-
-
088U0250
Data Sheet
Danfoss Link™ Hydronic Controller
Danfoss Heating Solutions
VDSPG202
© Danfoss
04/2013
1