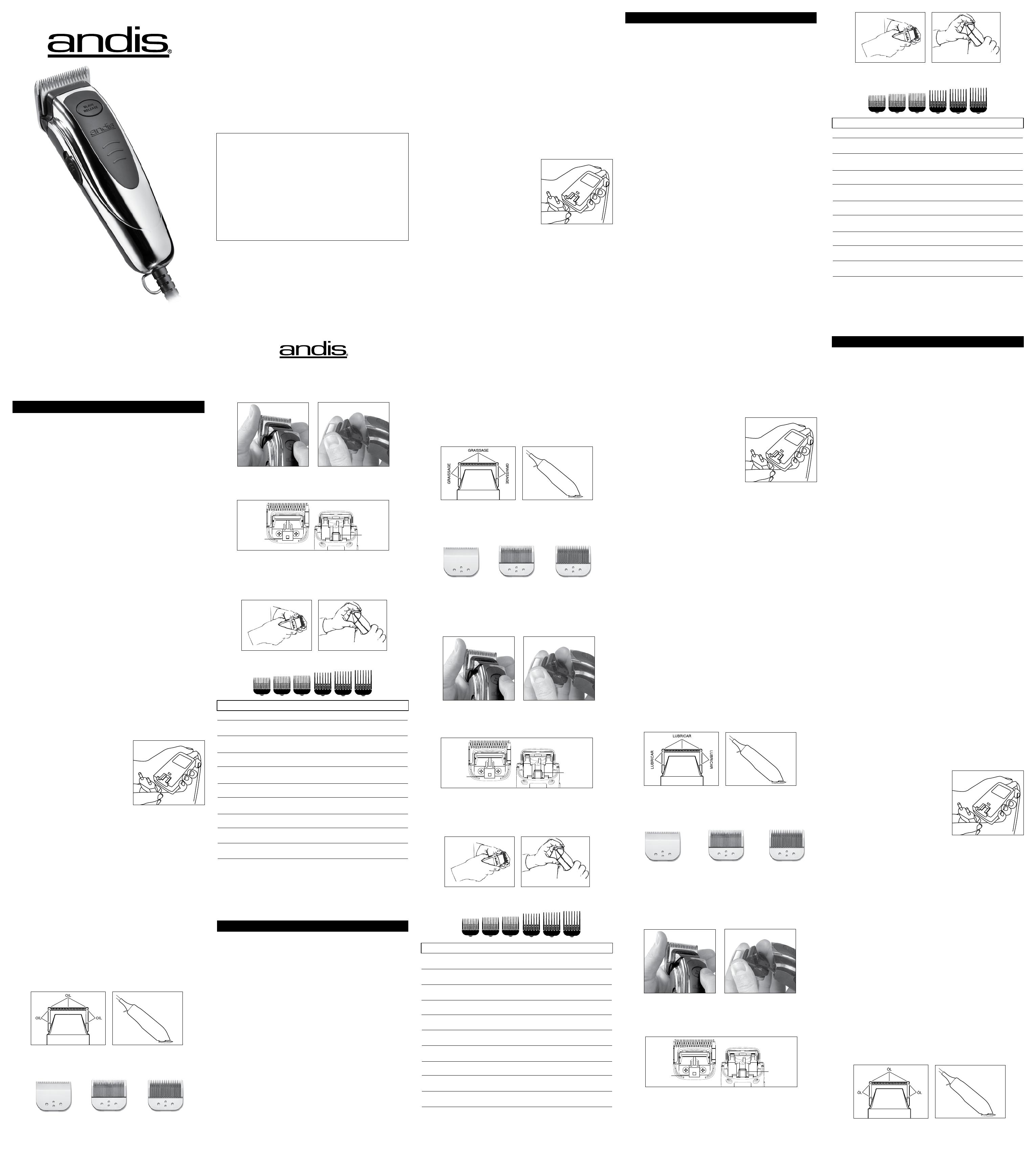 Taille Tondeuse de finition
Taille 000
Taille 1
¡Felicitaciones! Acaba de ascender al primer nivel al haber comprado
esta recortadora de Andis. Una cuidadosa calidad de elaboración y un
diseño de calidad han sido las características de los productos de Andis
desde 1922.
PRECAUCIONES IMPORTANTES
Al usar un artefacto eléctrico, siempre deben seguirse ciertas
precauciones básicas, que incluyen la siguiente:
Lea todas las
instrucciones antes de usar la recortadora Andis.
PELIGRO:
Para reducir el riesgo de descarga eléctrica:
1. Si un artefacto se ha caído al agua, no trate de sacarlo.
Desenchúfelo inmediatamente.
2. No lo utilice al bañarse en tina o bajo la regadera.
3. No coloque ni almacene el artefacto donde pueda caerse en una
bañera o un lavabo, o ser halado dentro de éstos. No lo coloque ni
lo deje caer en agua u otro líquido.
4. Siempre desenchufe este artefacto del tomacorriente eléctrico
inmediatamente después de usarlo.
5. Desenchufe este artefacto antes de limpiar, desmontar o ensamblar
las piezas.
ADVERTENCIA:
Para reducir el riesgo de
quemaduras, incendio, descarga eléctrica o lesiones a las personas:
1. Un artefacto nunca debe dejarse desatendido mientras está
enchufado.
2. Es necesaria una supervisión muy de cerca cuando este artefacto
sea usado por, en o cerca de niños o personas con ciertas
discapacidades.
3. Utilice este artefacto exclusivamente para su uso propuesto,
tal como se describe en este manual. No utilice accesorios no
recomendados por Andis.
4. Nunca opere este artefacto si su cable eléctrico o enchufe está
dañado, si no está funcionando correctamente o si se ha dejado
caer, si se ha dañado o si se ha caído en el agua. Devuelva el
artefacto a un Centro de Servicio de Andis para su verificación o
reparación.
5. Mantenga el cable eléctrico lejos de superficies calientes.
6. Nunca deje caer el aparato ni inserte ningún objeto en ninguna de
sus aberturas.
7. No lo utilice al aire libre, ni lo opere donde se estén usando
productos en aerosol (rociadores) o donde se esté administrando
oxigeno.
8. No utilice este artefacto con una hoja o peine dañado o roto, ya que
se podrían ocasionar lesiones en la piel.
9. Para desconectar, coloque el control en la posición "off" y luego
desconecte el enchufe del tomacorriente.
GUARDE ESTAS INSTRUCCIONES
ESTE ARTEFACTO ESTÁ DESTINADO PARA USO EN EL HOGAR
ADAPTADOR ELÉCTRICO UNIVERSAL PARA
CA/CC
La unidad está equipada con un adaptador eléctrico
universal para CA/CC.
Desmontaje del enchufe de entrada:
1. Desenchufe el adaptador eléctrico para CA/CC del
tomacorriente mural.
2. Aplique presión en la dirección mostrada hasta que
se suelte del adaptador eléctrico (Diagrama A).
Reemplazo del enchufe de entrada:
1. Para reemplazar el enchufe de entrada, alinee los
pasadores y soportes del adaptador eléctrico para
CA/CC con el enchufe (Diagrama A).
2. Suavemente empuje el enchufe de entrada en el adaptador eléctrico hasta que se
enganche en posición.
INSTRUCCIONES DE OPERACIÓN
Sírvase leer las instrucciones siguientes antes de usar su nueva recortadora Andis. Si
brinda el cuidado que se merece a este instrumento fino construido con precisión, obtendrá
muchos años de servicio. Antes de arrancar la recortadora, desmonte el protector de la
hoja. Enchufe el cable en un tomacorriente eléctrico, opere a una corriente eléctrica de CA
de 230-240 voltios y 50 ciclos, o según aparezca indicado en la unidad. Para arrancar la
recortadora, mueva el botón interruptor a la posición de encendido. Para detenerla, mueva
el botón interruptor de nuevo a la posición original. Después de usar su recortadora Andis,
vuelva a enrollar el cable y almacénela en un lugar seguro.
MANTENIMIENTO POR PARTE DEL
USUARIO
El mecanismo interno de su recortadora ha sido lubricado de manera permanente en la
fábrica. No debe realizarse ningún tipo de mantenimiento que no fuera el mantenimiento
recomendado en este manual, salvo por Andis Company o por una Estación de Servicio de
Reparación Autorizada de Andis.
CUIDADO Y MANTENIMIENTO DE LAS HOJAS DE SU RECORTADORA ANDIS
Las hojas deben lubricarse antes, durante y después de cada uso. Si las hojas de su
recortadora dejan manchas o si reducen su velocidad, es un indicio certero de que las
mismas necesitan aceite. La recortadora debe sujetarse en la posición mostrada en el
Diagrama C para evitar que el aceite penetre en el motor. Coloque unas pocas gotas
de aceite Andis para recortadoras en las partes frontal y lateral de las hojas cortadoras
(Diagrama B). Limpie el exceso de aceite de las hojas usando un paño suave seco. Los
lubricantes en aerosol contienen una cantidad insuficiente de aceite para lograr una buena
lubricación, pero son un excelente refrigerante para la hoja de la recortadora. Siempre
reemplace las hojas rotas o melladas para evitar lesiones. Puede limpiar el exceso de
cabello de sus hojas usando un cepillo pequeño o un cepillo de dientes gastado. Para
limpiar las hojas, sugerimos sumergir sólo las hojas en una bandeja poco profunda con
Aceite Andis, mientras la recortadora esté en funcionamiento. Debe eliminarse todo exceso
de cabello o suciedad que se hubiera acumulado entre las hojas. Después de limpiar,
apague la recortadora y seque las hojas con un paño seco y comience a recortar una vez más.
JUEGOS DE HOJAS
Su recortadora Andis incluye 3 conjuntos de hojas intercambiables: tamaño para
recortadora de acabado, tamaño 000 y tamaño 1. El tamaño de la hoja aparece indicado
en el borde del juego de hojas. Utilice el cuadro de la guía de recorte de este manual para
encontrar la longitud aproximada de corte para cada juego de hojas.
DESMONTAJE DEL JUEGO DE HOJAS
Para desmontar el juego de hojas, asegúrese primero de que el motor de la recortadora
esté colocado en la posición "OFF". Presione el botón de liberación de la hoja en la parte
superior de la recortadora (Diagrama D). Después de soltar la hoja de la recortadora,
deslícela para quitarla de la bisagra de la hoja (Diagrama E). NOTA: Es posible que se
acumule cabello en la cavidad frontal de la caja, debajo de la hoja. En caso de ocurrir esto,
puede limpiar el cabello cepillando la cavidad con un cepillo pequeño o un cepillo de dientes
usado mientras la hoja está desmontada de la recortadora.
REEMPLAZO O CAMBIO DEL JUEGO DE HOJAS
Para reemplazar o cambiar su juego de hojas, deslice el soporte de las hojas en la
bisagra de la recortadora (Diagrama F). Encienda la recortadora y empuje la hoja hacia la
recortadora para bloquearla en posición.
CONEXIÓN DE LOS PEINES DE LA RECORTADORA
Siempre puede fijar las hojas para lograr un corte más grueso conectando cualquiera de
los accesorios enganchables para las hojas fabricados para su recortadora Andis. Los
accesorios protectores de la hoja se montan fácilmente. Simplemente debe engancharlos.
Y luego desengancharlos. Para usar el accesorio para las hojas del peine de la recortadora,
deslice los dientes de las hojas de la recortadora en el interior del accesorio. Los peines
accesorios ayudan a guiar el cabello hacia las hojas de corte y le brindan un control preciso
de las longitudes del cabello.
4. Ne jamais utiliser l'appareil si son cordon ou sa fiche de
branchement est endommagé, s'il ne fonctionne pas correctement,
s'il est tombé par terre, s'il est endommagé ou s'il est tombé dans
l'eau. Le retourner plutôt à un centre de réparation Andis pour
examen et réparation.
5. Garder le cordon à l'écart des surfaces chaudes.
6. Ne jamais insérer, ni laisser tomber un objet quelconque dans une
ouverture de l'appareil.
7. Ne pas utiliser l'appareil à l'extérieur, dans un endroit où des
aérosols sont employés ou encore dans un endroit où l'on
administre de l'oxygène.
8. Pour éviter les blessures, ne pas utiliser des têtes ou des guides de
coupe cassés ou endommagés sous peine de s'abîmer la peau.
9. Pour débrancher l'appareil, mettre d'abord le commutateur sur
position arrêt, puis retirer la fiche de la prise murale.
CONSERVER CES INSTRUCTIONS
CET APPAREIL EST DESTINÉ À UN USAGE DOMESTIQUE
ADAPTATEUR SECTEUR ~/- UNIVERSEL
Cet appareil est équipé d'un adaptateur secteur ~/-
universel.
Retrait de la fiche d'entrée :
1. Débrancher l'adaptateur secteur de la prise secteur.
2. Appuyer dans la direction indiquée jusqu'à ce
que la fiche se détache de l'adaptateur secteur
(Diagramme A).
Remise en place de la fiche d'entrée :
1. Pour remettre en place la fiche d'entrée, aligner les
broches et les supports de l'adaptateur secteur sur la
fiche (Diagramme A).
2. Appuyer doucement pour insérer la fiche dans l'adaptateur jusqu'à ce qu'elle
s'enclenche en position.
MODE D'EMPLOI
Lire les instructions suivantes avant d'utiliser la tondeuse Andis. Si cet appareil est traité
comme un instrument de précision, il devrait donner de longues années de service. Avant
de mettre la tondeuse en marche, retirer le protège-lame. Brancher le cordon sur une prise
secteur de 230-240 V, 50 Hz~ ou conforme aux indications qui figurent sur son boîtier. Pour
mettre la tondeuse en marche, placer le bouton sur position marche. Pour l'arrêter, ramener
le bouton à sa position initiale. Après utilisation, enrouler le cordon et ranger la tondeuse en
lieu sûr.
ENTRETIEN
Le mécanisme interne de la tondeuse a été lubrifié en permanence à l'usine. Hormis les
procédures d'entretien décrites dans ce mode d'emploi, tout entretien doit être confié à
Andis ou à un centre de réparation agréé par Andis.
ENTRETIEN ET MAINTENANCE DES TÊTES DE COUPE ANDIS
Les têtes de coupe doivent être huilées avant, pendant et après chaque utilisation. Si les
têtes de coupe de la tondeuse laissent des stries ou ralentissent, cela indique clairement
qu'elles manquent d'huile. La tondeuse doit être tenue dans la position indiquée sur le
diagramme C afin que l'huile n'atteigne pas le moteur. Déposer quelques gouttes d'huile
pour tondeuse Andis sur l'avant et le côté des têtes de coupe (Diagramme B). Essuyer
l'excès d'huile avec un chiffon doux et sec. Les lubrifiants pulvérisés ne contiennent
pas assez d'huile pour une lubrification correcte, mais ce sont d'excellents agents de
refroidissement de têtes de coupe. Toujours remplacer les têtes de coupe brisées ou
ébréchées afin de prévenir les blessures. Enlever les poils qui adhèrent aux têtes de coupe
à l'aide d'une petite brosse ou d'une vieille brosse à dents. Pour nettoyer les têtes de
coupe, nous suggérons de les immerger dans un bac peu profond contenant de l'huile pour
tondeuse Andis, pendant que la tondeuse fonctionne. Cela devrait suffire pour enlever les
poils et les saletés logées entre les têtes de coupe. Après le nettoyage, arrêter la tondeuse,
assécher les têtes de coupe avec un chiffon sec, puis reprendre la coupe.
JEUX DE TÊTES DE COUPE
La tondeuse Andis comprend 3 jeux de têtes de coupe interchangeables : Tondeuse de
finition, 000 et 1. La taille de la tête de coupe est indiquée sur le bord du jeu de têtes de
coupe. Utiliser le tableau-guide de tonte dans ce manuel pour trouver la longueur de coupe
approximative correspondant à chaque jeu de têtes de coupe.
RETRAIT DU JEU DE TÊTES DE COUPE
Avant de retirer le jeu de têtes de coupe, s'assurer que le moteur de la tondeuse est arrêté.
Appuyer sur le bouton de libération des têtes de coupe sur le dessus de la tondeuse
(Diagramme D). Une fois la tête de coupe dégagée de la tondeuse, la glisser hors de la
charnière de tête de coupe (Diagramme E).
REMARQUE
: Des poils peuvent s'accumuler
dans la cavité avant de la tondeuse, sous la tête de coupe. Dans ce cas, il est possible de
nettoyer la cavité avec une petite brosse ou une brosse à dents usagée avec la tête de coupe
retirée de la tondeuse.
REMPLACEMENT OU CHANGEMENT DE JEU DE TÊTES DE COUPE
Pour remplacer ou changer de jeu de têtes de coupe, glisser le support de tête de coupe sur
la charnière de la tondeuse (Diagramme F). Mettre la tondeuse en marche et pousser la tête
de coupe vers la tondeuse pour la bloquer en position.
FIXATION DES GUIDES DE COUPE
Pour obtenir une coupe plus longue, installer un des guides de coupe fabriqués pour la
tondeuse Andis. Les guides de coupe se montent facilement. Il suffit de les enclencher
en position. Pour utiliser un guide de coupe, glisser les dents de têtes de coupe dans le
guide. Ces guides dirigent les cheveux vers les têtes de coupe et permettent de contrôler
précisément la longueur des cheveux.
Le tableau ci-dessous présente les longueurs de coupe approximatives selon le guide
utilisé. L'angle de la tête de coupe par rapport à la peau, ainsi que l'épaisseur et la texture
des cheveux ont une incidence sur la longueur de coupe.
Form #62514
Printed in P.R.C.
KEEP THIS FOR YOUR RECORDS
CONSERVER CE DOCUMENT POUR VOS DOSSIERS
GUARDE ESTE DOCUMENTO EN SUS ARCHIVOS
BEWAHREN SIE DIESE ANLEITUNG AUF
CONSERVARE QUESTO MANUALE
BEWAAR DIT VOOR UW DOCUMENTATIE
СОХРАНИТЕ ЭТИ ИНСТРУКЦИИ В СВОЕМ АРХИВЕ
To find an Andis Authorized Service Station go to www.andis.com
Pour trouver un centre de réparation agréé par Andis, allez à www.andis.com
Para encontrar una estación de servicio autorizado de Andis, visite
www.andis.com
Autorisierte Andis-Kundendienststellen finden Sie auf der Website
www.andis.com.
Per trovare un centro di assistenza autorizzato Andis, visitare il sito
www.andis.com
Om een erkend Andis reparatiecentrum te vinden, gaat u naar
www.andis.com
Перечень уполномоченных центров обслуживания продукции
фирмы Andis см. на сайте www.andis.com
©2008 Andis Company, Sturtevant, WI USA
1-262-884-2600
ENGLISH
• Model RACD Clipper
• Tondeuse modèle RACD
• Recortadora modelo RACD
• Schermaschine, Modell RACD
• Tagliacapelli modello RACD
• Model RACD tondeuse
•
Машинка для стрижки волос, модель RACD
Congratulations! You just went First Class when you bought this Andis
Clipper. Careful workmanship and quality design have been the hallmarks
of Andis products since 1922.
IMPORTANT SAFEGUARDS
When using an electrical appliance, basic precautions should always
be followed, including the following:
Read all instructions before
using the Andis Clipper.
DANGER:
To reduce the risk of electric shock:
1. Do not reach for an appliance that has fallen into water. Unplug
immediately.
2. Do not use while bathing or in a shower.
3. Do not place or store the appliance where it can fall or be pulled into
a tub or sink. Do not place in or drop into water or other liquid.
4. Always unplug this appliance from the electrical outlet immediately
after using.
5. Unplug this appliance before cleaning, removing or assembling
parts.
WARNING:
To reduce the risk of burns, fire, electric
shock, or injury to persons:
1. An appliance should never be left unattended when plugged in.
2. Close supervision is necessary when this appliance is used by, on,
or near children or individuals with certain disabilities.
3. Use this appliance only for its intended use as described in this
manual. Do not use attachments not recommended by Andis.
4. Never operate this appliance if it has a damaged cord or plug, if
it is not working properly, if it has been dropped or damaged, or
dropped into water. Return the appliance to an Andis Service Center
for examination or repair.
5. Keep the cord away from heated surfaces.
6. Never drop or insert any object into any opening.
7. Do not use outdoors or operate where aerosol (spray) products are
being used or where oxygen is being administered.
8. Do not use this appliance with a damaged or broken blade or comb,
as injury to the skin may occur.
9. To disconnect turn control to "off" then remove plug from outlet.
SAVE THESE INSTRUCTIONS
THIS APPLIANCE IS INTENDED FOR HOUSEHOLD USE
UNIVERSAL AC/DC POWER ADAPTER
The unit is equipped with a universal AC/DC power
adapter.
Removing input plug:
1. Unplug AC/DC power adapter from wall outlet.
2. Apply pressure in direction shown until it releases
from power adapter (Diagram A).
Replacing input plug:
1. To replace input plug, align pins and brackets on
the AC/DC power adapter with plug (Diagram A).
2. Gently push input plug into power adapter until it
snaps into place.
OPERATING INSTRUCTIONS
Please read the following instructions before using your new Andis Clipper. Give it the care
that a fine, precision built instrument deserves and it will give you years of service. Before
starting the clipper remove the blade guard. Plug the cord into an electrical outlet, operate
at 230-240 volt, 50 cycle AC electrical current or as noted on the unit. To start the clipper
move the switch button to the "on" position. To stop, move the switch button back to the
original position. After using your Andis Clipper, rewrap the cord and store in a safe place.
USER MAINTENANCE
The internal mechanism of your clipper has been permanently lubricated at the factory.
Other than the recommended maintenance described in this manual, no other maintenance
should be performed, except by Andis Company or an Andis Authorized Repair Service Station.
CARE AND SERVICING OF YOUR ANDIS CLIPPER BLADES
Blades should be oiled before, during, and after each use. If your clipper blades leave
streaks or slow down, it's a sure sign blades need oil. The clipper should be held in the
position shown in Diagram C to prevent oil from getting into the motor. Place a few drops
of Andis Clipper Oil on the front and side of the cutter blades (Diagram B). Wipe excess oil
off blades with a soft dry cloth. Spray lubricants contain insufficient oil for good lubrication,
but are an excellent clipper blade coolant. Always replace broken or nicked blades to
prevent injury. You can clean the excess hair from your blades by using a small brush or
worn out toothbrush. To clean the blades we suggest to immerse the blades only into a
shallow pan of Andis Clipper Oil, while the clipper is running. Any excess hair and dirt that
has accumulated between the blades should come out. After cleaning, turn your clipper off
and dry blades with a dry cloth and start clipping again.
BLADE SETS
Your Andis Clipper includes 3 interchangeable blade sets: size Trimmer, 000, and 1.
The blade size is indicated on the edge of the blade set. Use the clipping guide chart in this
manual to find the approximate length of cut for each blade set.
REMOVING BLADE SET
To remove blade set, first make sure your clipper motor is switched "OFF". Push blade
release button on top of clipper (Diagram D). After the blade releases from the clipper, slide
it off the blade hinge (Diagram E).
NOTE
: Hair may accumulate in the front cavity of the
housing under the blade. If this happens, you can clean out the hair by brushing out the
cavity with a small brush or an old toothbrush while the blade is off the clipper.
FRANÇAIS
FACTORY REPAIR SERVICE
When the blades of your Andis clipper become dull after repeated use, it is advised to
purchase a new set of blades available through your Andis supplier or through an Andis
Authorized Service Station. If you wish your clipper to be serviced as well, it should be
carefully packed and mailed either Parcel Post Insured, or U.P.S. to any Andis Authorized
Service Station.
SERVICE DE RÉPARATION EN USINE
Dès que les têtes de coupe de la tondeuse Andis s'émoussent suite à une utilisation
répétée, il est recommandé d'acheter un nouveau jeu de têtes de coupe chez un fournisseur
Andis ou dans un centre de réparation agréé par Andis. Pour faire réparer ou entretenir la
tondeuse, emballer celle-ci soigneusement et l'envoyer par colis postal assuré ou par UPS à
un centre de réparation agréé par Andis.
ESPAÑOL
REPLACING OR CHANGING BLADE SET
To replace or change your blade set, slide the blade bracket onto the hinge of the clipper
(Diagram F). Turn on the clipper and push the blade toward the clipper to lock into position.
ATTACHING THE CLIPPER COMBS
You can always set the blades for a coarser cut by attaching any of the snap-on blade
attachments made for your Andis Clipper. The blade attachments mount easily. Just snap
them on. Snap them off. To use a clipper comb blade attachment, slip the cutter blade teeth
into the blade attachment. These attachment combs help guide the hair to the cutting blades
and give you precise control of hair lengths.
Use the chart below to find the approximate lengths of cut. Different blade angles in relation
to the skin, thickness and texture of the hair will vary the cutting length.
Size Trimmer
Size 000
Size 1
DIAGRAM F
DIAGRAMME F
Support de tête
de coupe
Charnière de tête
de coupe
DIAGRAMA F
Soporte de
la hoja
Bisagra para
la hoja
CLIPPING GUIDE
Description

Clipping Direction
Approximate Length of Cut
Size Trimmer Blade
With hair grain
1/150" -
Against hair grain
1/300" -
Size #000 Blade
With hair grain
1/50" -
Against hair grain
1/100" -
Size #1 Blade
With hair grain
3/32" -
2,4 mm
Against hair grain
3/64" -
1,2 mm
1/16" Comb Attachment*
With hair grain
3/16" -
4,8 mm
Against hair grain
3/32" -
2,4 mm
1/8" Comb Attachment*
With hair grain
1/4" -
6,4 mm
Against hair grain
1/8" -
3,2 mm
1/4" Comb Attachment*
With hair grain
3/8" -
9,5 mm
Against hair grain
1/4" -
6,4 mm
1/2" Comb Attachment*
With hair grain
5/8" -
15,9 mm
Against hair grain
1/2" -
12,7 mm
3/4" Comb Attachment*
With hair grain
7/8" -
22,2 mm
Against hair grain
3/4" -
19,0 mm
1" Comb Attachment*
With hair grain
1-1/8" -
28,6 mm
Against hair grain
1" -
25,4 mm
*Approximate length of cut when used with a size #000 blade.
Tamaño para recortadora de acabado
Tamaño 000
Tamaño 1
TABLEAU DE COUPE
Description

Direction de

Longueur de coupe
Tête de coupe taille
Dans le sens du poil
0,1 mm
Tondeuse de finition
À contre-poil
0,05 mm
Tête de coupe taille 000
Dans le sens du poil
0,5 mm
Tête de coupe taille 1
Dans le sens du poil
2,4 mm
Guide de coupe 1/16"*
Dans le sens du poil
4,8 mm
Guide de coupe 1/8"*
Dans le sens du poil
6,4 mm
Guide de coupe 1/4"*
Dans le sens du poil
9,5 mm
Guide de coupe 1/2"*
Dans le sens du poil
15,9 mm
Guide de coupe 3/4"*
Dans le sens du poil
22,2 mm
Guide de coupe 1"*
Dans le sens du poil
28,6 mm
*Longueur de coupe approximative avec une tête de coupe 000.
DIAGRAM A
Félicitations ! Vous venez d'acheter une tondeuse Andis de premier
choix. Les produits Andis sont synonymes de qualité depuis 1922.
MISES EN GARDE IMPORTANTES
Pendant l'utilisation d'un appareil électrique, il faut toujours suivre
certaines règles de sécurité ; notamment,
il faut lire toutes les
instructions avant d'utiliser la tondeuse Andis.
DANGER :
Pour réduire le risque d'électrocution :
1. Ne pas tenter de récupérer un appareil électrique qui est tombé dans
l'eau. Le débrancher immédiatement.
2. Ne pas utiliser cet appareil dans le bain ou sous la douche.
3. Ne pas poser ni ranger l'appareil à un endroit d'où il pourrait tomber
dans une baignoire ou un lavabo. Ne pas mettre ou laisser tomber
l'appareil dans l'eau ou dans un autre liquide.
4. Toujours débrancher l'appareil de la prise murale immédiatement
après l'utilisation.
5. Débrancher l'appareil avant de le nettoyer, de le déplacer ou
d'installer une pièce.
AVERTISSEMENT :
Pour réduire les risques de
brûlure, d'incendie, d'électrocution et de blessure :
1. Ne jamais laisser un appareil branché sans surveillance.
2. Une supervision étroite est requise lorsque des enfants ou des
personnes avec certaines invalidités utilisent l'appareil ou se
trouvent à proximité.
3. Utiliser cet appareil seulement pour l'usage prévu décrit dans ce
manuel. Utiliser uniquement les accessoires recommandés par
Andis.
DIAGRAMME A
DIAGRAMA A
Herzlichen Glückwunsch! Mit dem Kauf dieser Andis-Schermaschine
sind Sie nun in die erste Klasse aufgerückt. Sorgfältige Verarbeitung und
hochqualitatives Design zeichnen Andis-Produkte seit 1922 aus.
WICHTIGE SICHERHEITSHINWEISE
Bei der Verwendung von elektrischen Geräten müssen stets einige
grundlegende Sicherheitsregeln befolgt werden;
u.a. müssen
alle Bedienungsanleitungen vor der Inbetriebnahme der Andis-
Schermaschine gelesen werden.
ACHTUNG:
Beachten Sie Folgendes, um das Risiko eines
elektrischen Schlags zu verringern:
1. Nicht nach einem Gerät greifen, das in Wasser gefallen ist. Sofort
den Stecker aus der Steckdose ziehen.
2. Nicht während des Badens oder in der Dusche verwenden.
3. Das Gerät nicht an einem Platz ablegen oder aufbewahren, an dem
es in eine Wanne oder ein Waschbecken fallen oder hineingezogen
werden kann. Das Gerät nicht in Wasser oder eine andere Flüssigkeit
fallen lassen oder eintauchen.
4. Das Netzkabel dieses Geräts immer sofort nach Gebrauch aus der
Steckdose ziehen.
5. Vor dem Reinigen, Ausbauen oder Zusammenbauen von Teilen den
Netzstecker aus der Steckdose ziehen.
ACHTUNG:
Zur Verminderung des Risikos von
Verbrennungen, Feuer, elektrischem Schlag oder Körperverletzungen
ist Folgendes zu beachten:
1. Das Gerät nie unbeaufsichtigt lassen, während es an eine Steckdose
angeschlossen ist.
2. Die Verwendung dieses Geräts an, durch oder in der Nähe von
Kindern bzw. Personen mit bestimmten Behinderungen muss
besonders aufmerksam beaufsichtigt werden.
3. Das Gerät nur für die in diesem Handbuch beschriebenen
Einsatzzwecke verwenden. Nur von Andis empfohlene Zubehörteile
verwenden.
4. Dieses Gerät niemals betreiben, wenn sein Kabel oder Stecker
beschädigt ist, wenn es nicht ordnungsgemäß funktioniert, wenn
es zu Boden gefallen ist oder beschädigt wurde oder wenn es in
Wasser gefallen ist. Das Gerät in solchen Fällen zur Diagnose bzw.
Reparatur an eine Andis-Kundendienststelle einschicken.
5. Das Netzkabel von heißen Oberflächen fern halten.
6. Keine Fremdobjekte in Öffnungen des Geräts fallen lassen oder
einführen.
7. Das Gerät nicht im Freien, nicht zusammen mit Aerosolprodukten
(Sprays) und nicht an Orten verwenden, wo Sauerstoff verabreicht
wird.
8. Das Gerät darf nicht mit beschädigten oder abgebrochenen
Scherköpfen oder Aufsteckkämmen verwendet werden, da dies zu
Hautverletzungen führen kann.
9. Das Gerät ausschalten (off), bevor der Stecker aus der Steckdose
gezogen wird.
DIESE ANLEITUNG AUFBEWAHREN
DIESES GERÄT IST FÜR DEN PRIVATGEBRAUCH VORGESEHEN
AC/DC-UNIVERSAL-NETZADAPTER
Das Gerät ist mit einem AC/DC-Universal-Netzadapter
ausgestattet.
Entfernen des Eingangssteckers:
1. Den AC/DC-Netzadapter von der Steckdose trennen.
2. In der dargestellten Richtung Druck ausüben, bis
sich der Stecker vom Netzadapter löst (Abb. A).
Anbringen des Eingangssteckers:
1. Die Stifte und Bügel des AC/DC-Netzadapters
mit dem Stecker ausrichten (Abb. A), um den
Eingangsstecker wieder anzubringen.
2. Den Eingangsstecker sorgfältig in den Netzadapter drücken, bis er einrastet.
BEDIENUNGSANLEITUNG
Lesen Sie die folgende Anleitung, bevor Sie Ihre neue Andis-Schermaschine benutzen. Das
Gerät ist ein Präzisionsinstrument, das entsprechend behandelt werden muss, um Ihnen
lange Jahre gute Dienste zu leisten. Die Scherkopfschutzblende vor der Verwendung der
Schermaschine abnehmen. Das Kabel an eine Wechselstrom-Steckdose (230-240 V, 50 Hz
oder den auf das Gerät aufgedruckten Daten entsprechend) anschließen. Den Schalterknopf
einschalten (on), um die Schermaschine in Betrieb zu nehmen. Zum Ausschalten des
Geräts den Schalterknopf in sein Ausgangsstellung zurückschieben. Nach der Verwendung
der Andis-Schermaschine das Kabel aufwickeln und das Gerät an einem sicheren Ort
aufbewahren.
BENUTZERWARTUNG
Der interne Mechanismus der Schermaschine wurde werkseitig dauergeschmiert. Außer
der in dieser Anleitung beschriebenen empfohlenen Wartung sollten Sie keine weiteren
Wartungsarbeiten durchführen. Zusätzlich erforderliche Wartung sollte nur von der Andis
Company oder einer autorisierten Kundendienststelle von Andis durchgeführt werden.
PFLEGE UND WARTUNG DER SCHERKÖPFE DER ANDIS-SCHERMASCHINE
Die Scherköpfe müssen vor, während und nach jedem Gebrauch geölt werden. Wenn sie
Streifen hinterlassen oder sich verlangsamen, ist dies ein sicheres Zeichen dafür, dass sie Öl
benötigen. Die Schermaschine sollte wie in Abbildung C dargestellt gehalten werden, damit
kein Öl in den Motor gelangt. Einige Tropfen Andis-Schermaschinenöl vorne und seitlich
auf die Scherköpfe (Abb. B) geben. Überschüssiges Öl mit einem weichen, trockenen
Tuch abwischen. Schmiersprays enthalten nicht genug Öl für eine gute Schmierung, sind
jedoch ein ausgezeichnetes Scherkopf-Kühlmittel. Beschädigte oder gekerbte Scherköpfe
sofort austauschen, um Verletzungen zu verhindern. Überschüssige Haarpartikel lassen
sich mit einer kleinen Bürste oder einer alten Zahnbürste von den Scherköpfen entfernen.
Es empfiehlt sich, nur die Scherköpfe zum Reinigen in eine flache Schale mit Andis-
Schermaschinenöl einzutauchen, während das Gerät eingeschaltet is. Haarpartikel und
Schmutzteile, die sich zwischen den Scherköpfen angesammelt haben, werden auf diese
Weise entfernt. Nach dem Reinigen den Haarschneider/Trimmer ausschalten, die Scherköpfe
mit einem trockenen Tuch abwischen und mit dem Scheren fortfahren.
SCHERKOPFSÄTZE
Ihre Andis-Schermaschine enthält drei auswechselbare Scherkopfsätze: Trimmer, 000 und 1.
Die Scherkopfgröße ist an der Scherkopfkante aufgeprägt. Die mit jedem Scherkopfsatz
erzielte ungefähre Schnittlänge kann der Schertabelle in dieser Anleitung entnommen werden.
DEUTSCH
GUÍA DE RECORTE
Descripción

Dirección de corte

Long. aprox. del corte
Hoja de tamaño para
Hacia el grano del cabello
recortadora de acabado
Contra el grano del cabello
Hoja de tamaño 000
Hacia el grano del cabello
Contra el grano del cabello
Hoja de tamaño 1
Hacia el grano del cabello
2,4 mm
Contra el grano del cabello
1,2 mm
Peine accesorio de 1/16"*
Hacia el grano del cabello
4,8 mm
Contra el grano del cabello
2,4 mm
Peine accesorio de 1/8"*
Hacia el grano del cabello
6,4 mm
Contra el grano del cabello
3,2 mm
Peine accesorio de 1/4"*
Hacia el grano del cabello
9,5 mm
Contra el grano del cabello
6,4 mm
Peine accesorio de 1/2"*
Hacia el grano del cabello
15,9 mm
Contra el grano del cabello
12,7 mm
Peine accesorio de 3/4"*
Hacia el grano del cabello
22,2 mm
Contra el grano del cabello
19,0 mm
Peine accesorio de 1"*
Hacia el grano del cabello
28,6 mm
Contra el grano del cabello
25,4 mm
*Longitud aproximada de corte cuando se usa con una hoja de tamaño 000.
SERVICIO DE REPARACIÓN EN FÁBRICA
Cuando las hojas de su recortadora Andis pierdan el filo después de un uso repetido, se
aconseja comprar un conjunto nuevo de hojas, disponible por medio de su proveedor Andis
o por medio de una Estación de Servicio Autorizado de Andis. Si desea que también la
recortadora reciba servicio técnico, deberá embalarla cuidadosamente y enviarla por correo
asegurado o por U.P.S. a cualquier Estación de Servicio Autorizado de Andis.
Utilice el cuadro que aparece a continuación para encontrar las longitudes aproximadas de
corte. Al variar el ángulo de la hoja en relación con la piel, el grosor y la textura del cabello,
variará la longitud del corte.
ABBILDUNG A