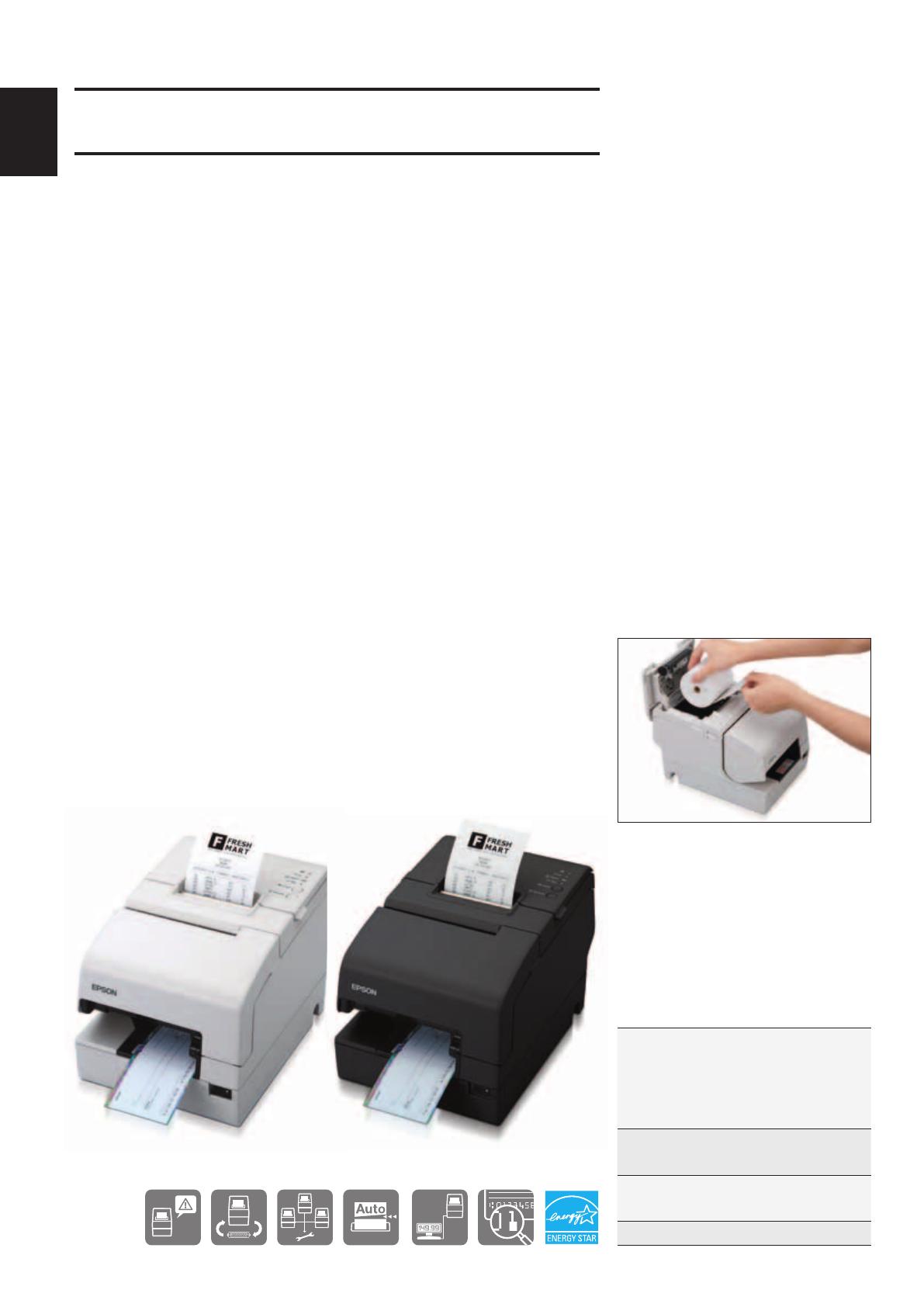 12
Treat your business to the industry's fastest receipt
printing and cheque processing of up to 300mm/sec.
With a highly accurate MICR that has a recognition
rate of more than 99%, this printer also takes reliability
to a new level.
Scan and print faster and more reliably with this hybrid receipt printer
and cheque processor. The thermal print head and auto cutter are built
to last, and the long-life ribbons now last up to approximately 3/4 million
characters and are easy to replace with one hand.
A compact footprint and a variety of drivers ensure seamless integration,
including a simple swap upgrade if you currently run an Epson TM-H6000III.
It's also easy to transfer to a USB environment using Epson's TM Virtual
port driver.
Network monitoring makes it easy to manage and change settings
remotely, and setting can be restored quickly and easily should
a printer needs to be swapped.
Paper saving functions add economy and power consumption
is dramatically reduced because this printer uses less than half
the power of its predecessor model.
Receipt, slip, validation
(MICR, endorsement option)
• Industry-leading hybrid printer
• Faster receipt printing up
to 300mm/s
• High accuracy MICR over 99%
• Easy to integrate with very
small footprint
• Grey scale graphic printing
• Paper saving functions
• Wide paper paths and simple
replacement of consumables
• Network management and
remote monitoring
• Energy efciency with low
standby power
Wide paper paths and simple
replacement of consumables
PRODUCT SPECIFICATIONS
Print method
Print speed
Receipt: Thermal line printing,
Slip, E/P: 9-pin serial impact
dot matrix
Receipt: 300mm/s,
Slip, E/P: Approx. 5.7lps for
face side (at 40 columns,
17.8cpi), Approx. 4.0lps for
back side (at 40 columns,
21.2cpi)
Column capacity (col)
Paper dimensions (mm)
Receipt: 56 / 42, Slip: 45 / 60,
E/P: 40
Roll paper: 79.5 ± 0.5, 57.5 ±
0.5 (W) × dia. 83
Interfaces
Power supply
USB on board and changeable
interface board (see table
page 23)
PS-180 (option)
Dimension (mm) / weight
186 (W) × 278 (D) × 182 (H)
4.4kg