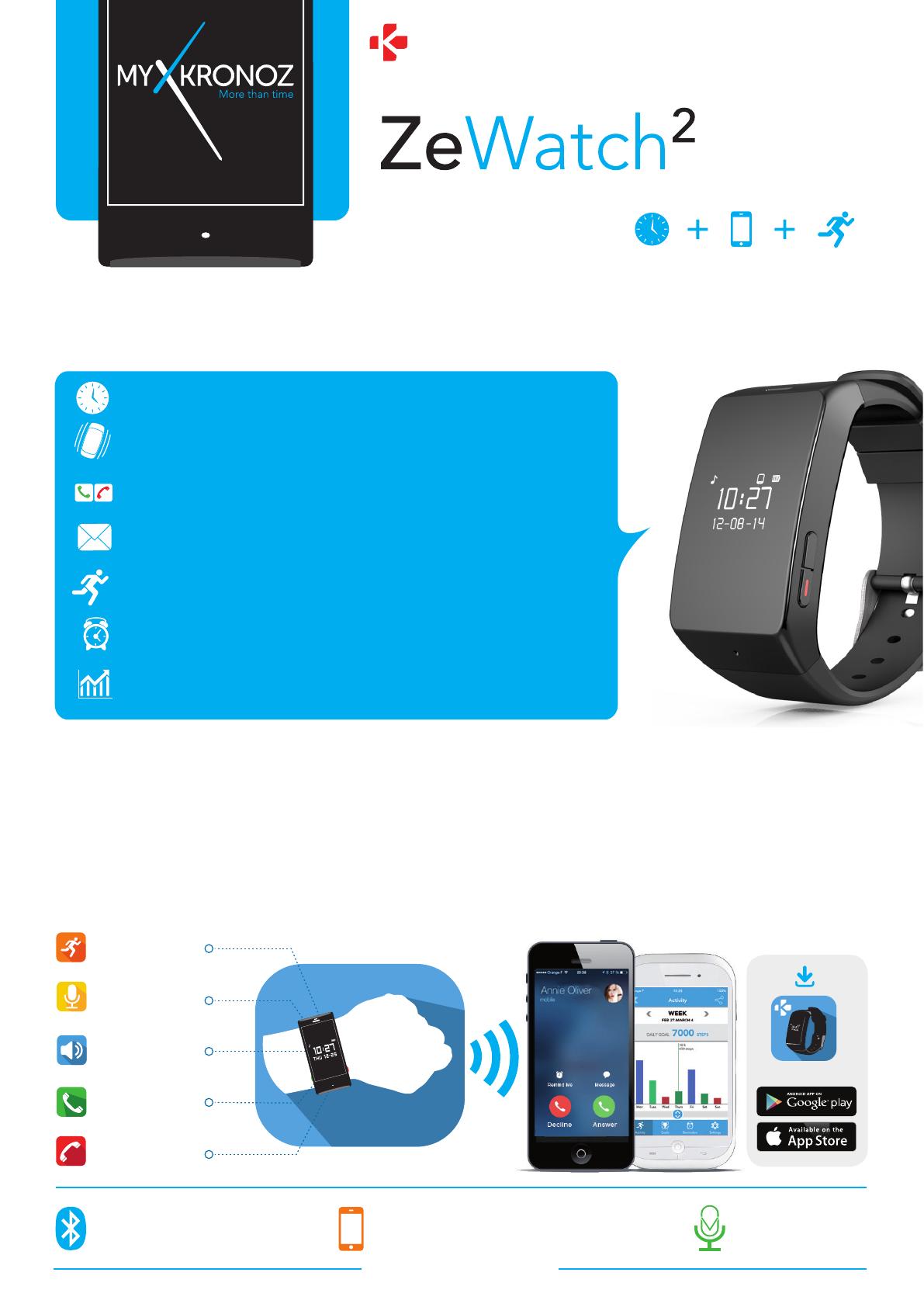 www.mykronoz.com
The Smartwatch designed in Switzerland
STAY CONNECTED TO YOUR PHONE VIA BLUETOOTH
SMARTWATCH WITH ACTIVITY AND SLEEP TRACKER
CALLS
TIME
ACTIVITY
ZeWatch
2
is a smartwatch that keeps you connected to your phone via Bluetooth. On incoming calls, ZeWatch
2
rings
and vibrates, displaying the caller number and/or contact on its OLED screen. You can easily answer or reject calls
thanks to its intuitive side buttons and integrated speaker and microphone. ZeWatch
2
also notifies you of incoming
SMS or missed call. ZeWatch
2
lets you stream music from your paired device and features an anti-lost alarm that alerts
you with a gentle vibration when your phone is away. Equipped with a 3-axis accelerometer that tracks steps taken,
calories burned, distance traveled and hours slept, ZeWatch
2
allows you to check your activity level in real-time. Users
can sync their activity data, set up daily goals and reminders, follow their performance and progress using the free
mobile app—available on the App Store and Google Play—or the dedicated Mac / PC software*. With ZeWatch
2
on
your wrist, you will stay connected, motivated and active throughout the day!
*Available on MyKronoz website : www.mykronoz.com.
I tell time
I ring and vibrate on incoming calls
Answer or reject calls directly from your wrist
I notify you of incoming SMS
I track your steps, calories burned, distances traveled and hours slept
Set up your daily goals and reminders
Follow your performance and progress on the free app
Activity
Microphone
Speaker
Answer
Call
CONNECT WIRELESSLY
Bluetooth
®
VOICE CONTROL
Siri
& Google Now
TM
SYSTEM REQUIREMENTS
iOS
®
7.0 + that support Bluetooth
®
4.0
& select Android
TM
2.3 + devices