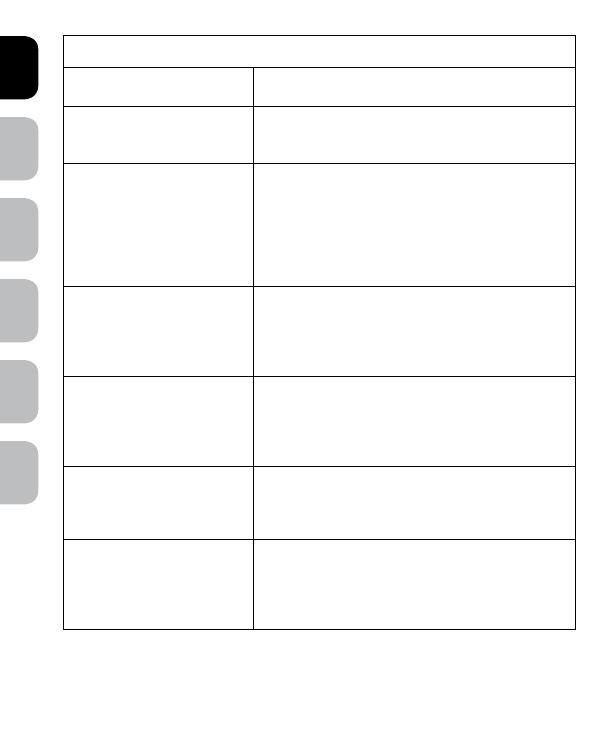 ENFRESDE
NLIT
FREQUENTLY ASKED QUESTIONS
Will another dog's bark set off
the Bark Control Collar?
No.
Is the Bark Control Collar safe
and humane?
Yes. The Bark Control Collar is designed to get your dog's
attention, not to punish him. However, the initial static
stimulation may startle your dog.
Will the Bark Control Collar work
for my dog?
The Bark Control Collar is safe and effective for all breeds
and sizes of dogs, though it may be too large for dogs
under 3.6 kg to wear comfortably. The system should
only be used with dogs who are over 6 months of age. If
your dog is injured or its mobility is otherwise impaired,
contact your veterinarian or professional trainer
before use.
Is it possible for my dog to learn
not to bark only when the Bark
Control Collar is on?
Yes. This is best accomplished by placing the Bark
Control Collar on your dog only in situations where
you never want him to bark, and never placing the Bark
Control Collar on your dog in situations where you find it
acceptable for him to bark.
I have more than one dog, but
only one dog with a barking
problem. Will it cause problems
between the dogs if I keep
them together?
It should not be a problem, especially if you follow the
procedures described in this guide.
Can I attach a lead to the Bark
Control Collar?
No. This can result in pulling the Contact Points too
tightly against your dog's neck. Attach a lead to a
separate, non-metallic collar, making sure the extra
collar does not put pressure on the Contact Points.
What do I do if my dog's neck
becomes red and irritated?
This condition is due to the Contact Points irritating the
skin. Discontinue use of the Bark Control Collar for a few
days. If the condition persists beyond 48 hours, see your
veterinarian. Once the skin returns to normal, resume use
and monitor the skin condition closely.