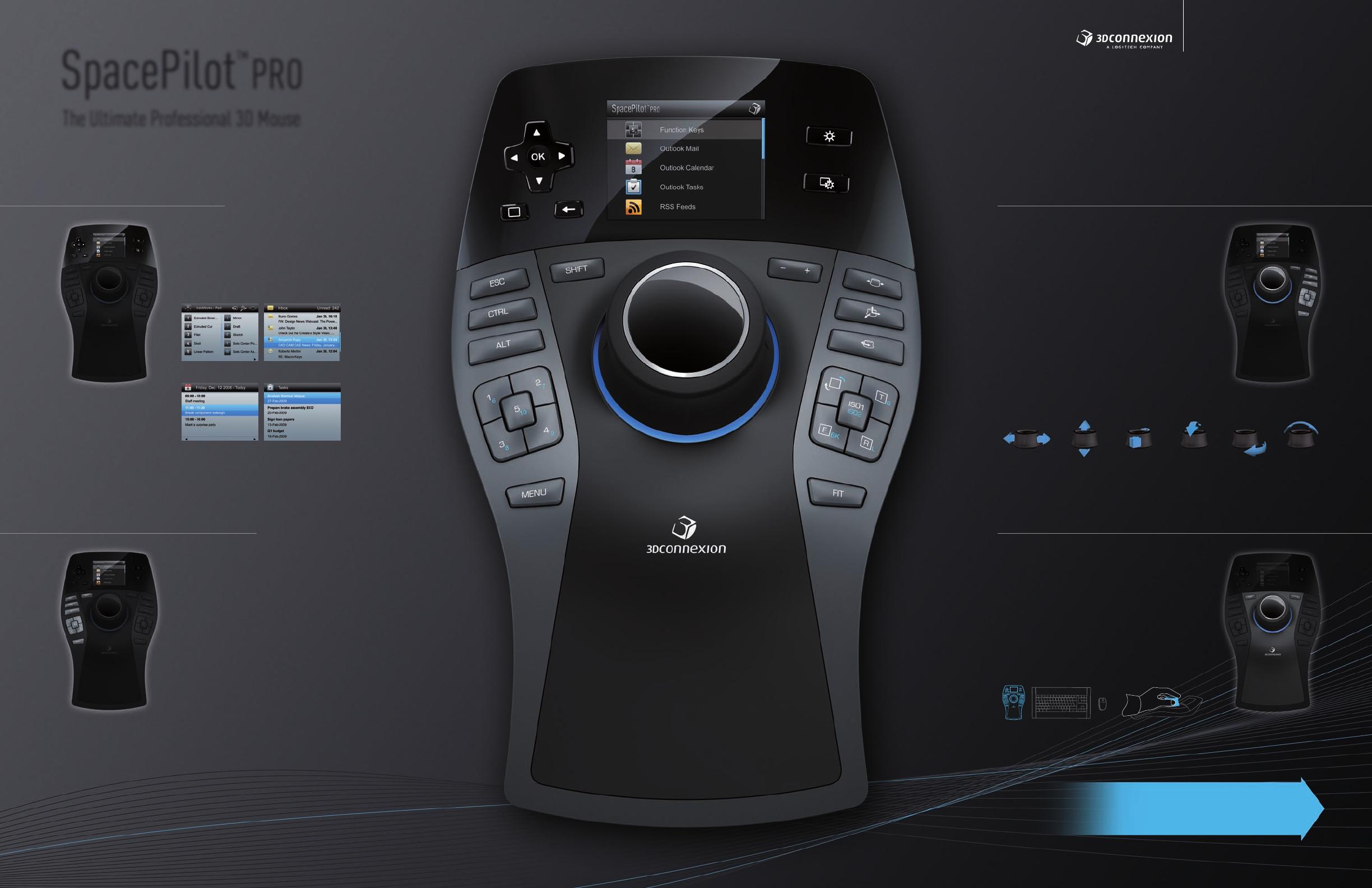 NAVIGATE YOUR 3D WORLD
™
SpacePilot
™
PRO
The Ultimate Professional 3D Mouse
SpacePilot
™
PRO features the most advanced six-
degrees-of-freedom (6DoF) sensor technology.
Gently push, pull, twist or tilt the
compact
controller cap
to smoothly pan, zoom and
rotate 3D models. It's like reaching into the
screen and holding the model in your hand.
The second generation
QuickView Navigation
Keys provide fingertip access to 32 standard
views giving an unparalleled level of control that
encourages model exploration leading to improved
error detection and design quality.
The
full-color LCD
delivers at-a-glance visibility
of e-mail*, tasks, calendar entries and function
key commands ensuring quick access to key
information without interrupting your workflow.
Function Keys Applet
Calendar Applet
Mail Applet
Tasks Applet
The soft coated, sculpted
wrist rest
positions
the hand perfectly while the
compact controller
cap
guides your fingers into the ideal position for
precise and effortless control. The most frequently
used function keys are conveniently positioned,
ensuring a comfortable working experience, even
for the longest design sessions.
Five new fully customizable, dual-function
Intelligent Function keys
provide instant
access to 10 frequently used commands.
SpacePilot
™
PRO recognizes the active
application and work environment and
automatically assigns the appropriate
commands. The color LCD provides visual
feedback on function key assignment
ensuring an optimized workflow.
Actual size
Experience SpacePilot
™
PRO
www.3dconnexion.com/SPP
Desktop Setup
Typical Hand Position
Advanced MCAD NavigationLCD Workflow Assistant
Superior ComfortPowerful Application Control
Pan left / right
Pan up / down
Zoom
Tilt
Spin
Roll
* Microsoft
®
Outlook
®
2003 or later.