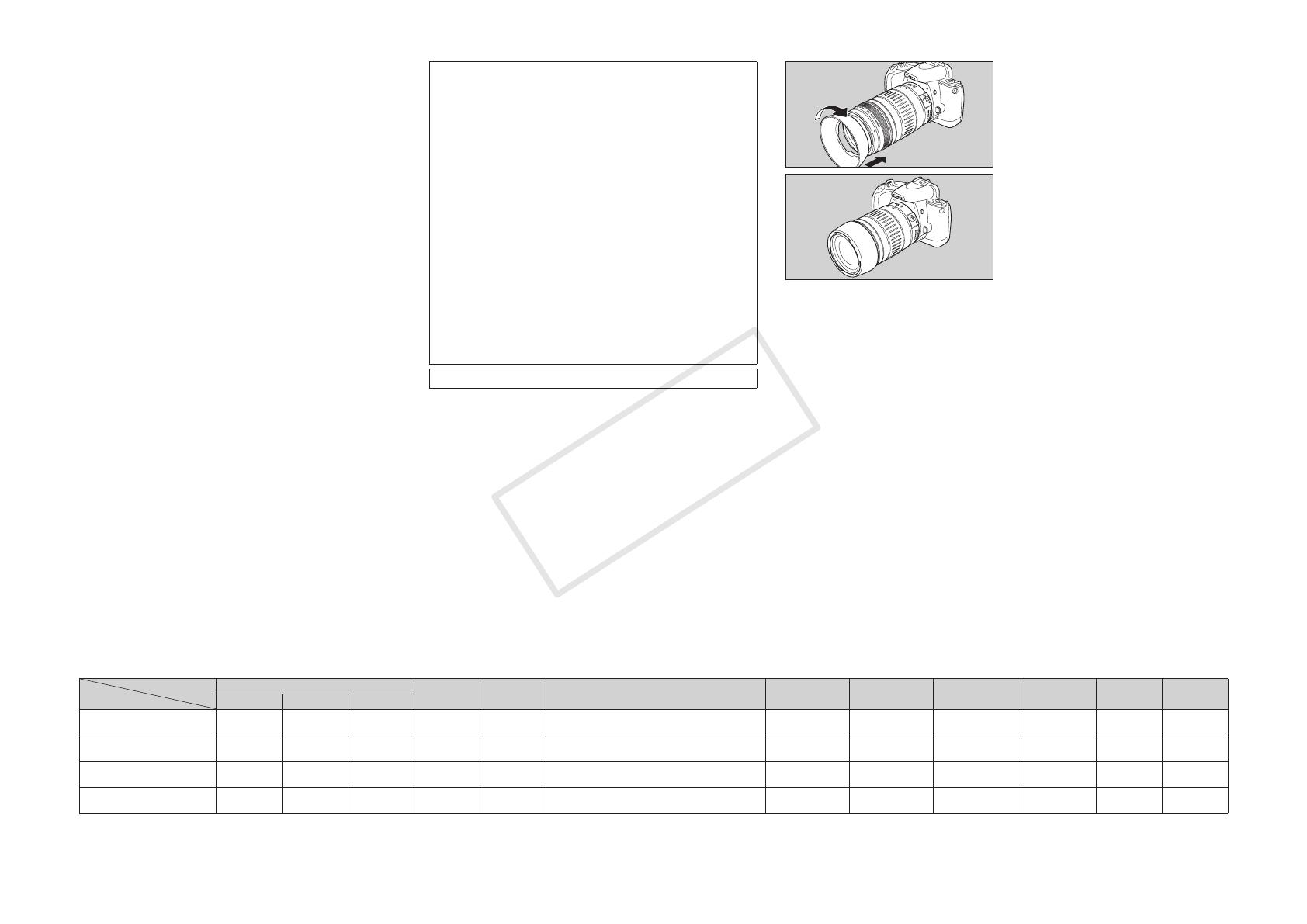 CT1-8532-003
1208SZ
© CANON INC. 2006
4. Hood
The lens hood can keep unwanted light out of the lens, and
also protects the lens from rain, snow, and dust.
Fit the hood to the hood mount, then turn it in the direction
of the arrow to attach it securely
❻
.
The hood can be reverse-mounted on the lens for storage
❼
.
•
Partofthepicturemaybeblockedifthehoodisnot
attached properly.
•
Whenattachingordetachingthehood,graspthebaseof
the hood to turn it. To prevent deformation, do not grasp
the rim of the hood to turn it.
5. Filters
You can attach filters to the filter mounting thread on the
front of the lens.
•
Onlyonefiltermaybeattached.
•
UseapolarizingCanonfilter.
n
The lens length is measured from the mount surface to
the front end of the lens. Add 21.5 mm to include the
E-58 lens cap and dust cap, and 24.2 mm for the E-58 II.
n
Thesizeandweightlistedareforthelensonly,exceptas
indicated.
n
Aperture settings are specified on the camera. The
camera automatically compensates for variations in the
aperturesettingwhenthecameraiszoomedinorout.
n
AlldatalistedismeasuredaccordingtoCanon
standards.
n
Productspecificationsandappearancearesubjectto
change without notice.
n
Caseandhoodnotprovidedwithsomemodels.
n
Filters sold separately.
This device complies with Part 15 of the FCC Rules. Operation
is subject to the following two conditions: (1) This device may
not cause harmful interference, and (2) this device must accept
any interference received, including interference that may cause
undesired operation.
Do not make any changes or modifications to the equipment
unless otherwise specified in the instructions. If such changes
or modifications should be made, you could be required to stop
operation of the equipment.
This equipment has been tested and found to comply with the
limits for a class B digital device, pursuant to part 15 of the FCC
Rules.
These limits are designed to provide reasonable protection against
harmful interference in a residential installation. This equipment
generates, uses and can radiate radio frequency energy and, if
not installed and used in accordance with the instructions, may
cause harmful interference to radio communications.
However, there is no guarantee that interference will not occur
in a particular installation. If this equipment does cause harmful
interference to radio or television reception, which can be
determined by turning the equipment off and on, the user is
encouraged to try to correct the interference by one or more of the
following measures:
•
Reorientorrelocatethereceivingantenna.
•
Increasetheseparationbetweentheequipmentandreceiver.
•
Consultthedealeroranexperiencedradio/TVtechnicianfor
help.
This Class B digital apparatus complies with Canadian ICES-003.
Specifications
Angle of view
Lens
construction
Minimum
aperture
Max.magnificationandfieldofview
Min. focusing
distance
Filter diameter
Max.diameter
and length
Diagonal
Vertical
Horizontal
EF80-200mmf/4.5-5.6II
30°-12°

17°-7°

25°-10°

7-10

22-27
80mm:0.07X/368×548mm(14.5"×21.6")
200mm:0.16X/152×225mm(6"×8.9")
69×78.5mm
(2.7"×3.1")
250g/8.8oz
ET-54
LP1014
EF75-300mmf/4-5.6II
32°11'-8°15'
18°11'-4°35'
27°-6°50'
9-13
32-45
75mm:0.07X/371×555mm(14.6"×21.9")
300mm:0.25X/96×142mm(3.8"×5.6")
73.8×122mm
(2.9"×4.8")
500g/17.6oz
ET-60
LP1019
EF75-300mmf/4-5.6III
32°11'-8°15'
18°11'-4°35'
27°-6°50'
9-13
32-45
75mm:0.07X/372×558mm(14.6"×22")
300mm:0.25X/95×142mm(3.7"×5.6")
71×122mm
(2.8"×4.8")
480g/16.8oz
ET-60
LP1019
EF90-300mmf/4.5-5.6
27°-8°15'
15°10'-4°35'
22°40'-6°50'
9-13
38-45
90mm:0.08X/311×464mm(12.2"×19.4")
300mm:0.25X/95×141mm(3.7"×5.6")
71×114.7mm
(2.8"×4.5")
420g/14.8oz
ET-60
LP1019