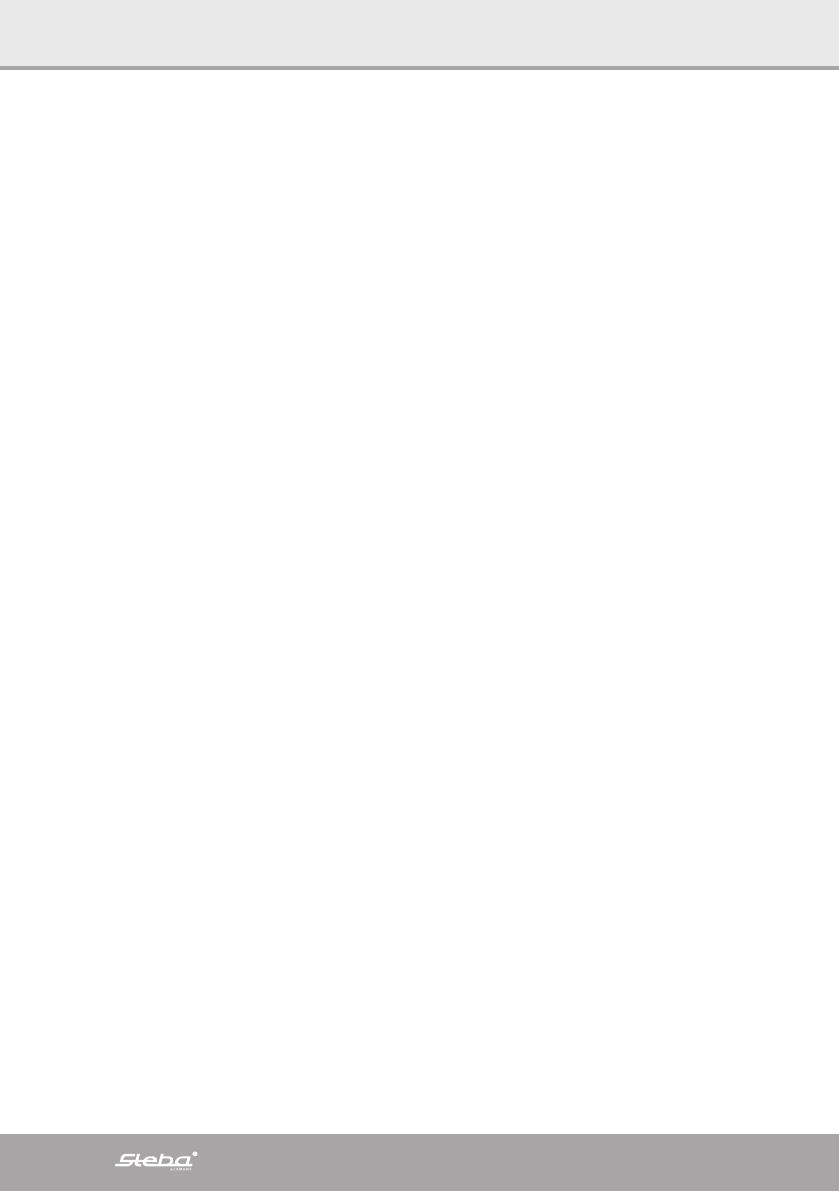 12
Stand-By-Mode
Plug in the device
Press the On/Off button. A buzzer is sounding. If there is no program chosen within
one minute, the appliance returns to the stand-by mode.
You can chose the functions power, temperature and time
Power
Switch on the device and chose the function power level, a light shines and the
display shows level 5. By pressing the button + - the Wattage can be changed in steps
from 1 – 10:
1 = 500 Watt, 2 = 1050 Watt, 3 = 1200 Watt, 4 = 1350 Watt, 5 = 1400 Watt,
6 = 1550 Watt, 7 = 1650 Watt, 8 = 1750 Watt, 9 = 1850 Watt, 10 = 2000 Watt
The appliance is equipped with an overheating protection. When the pots/pans
get too hot, then the appliance will switch off, a buzzer sounds and on the display
appears E02. In that case, the "On/Off" button should be pressed and the appliance
should cool down some minutes. After that the appliance is working without prob
-
lem again.
Temperature
This function is suitable for roasting meat and vegetables.
Place the pot in the middle of the cooking area.
Touch ON/OFF one time and after that 2 times the function button. A red LED bellow
the temperature symbol shines and in the display 120 can be seen. The cooling fan
starts to work. With the buttons + - the temperature can be adjusted in 20 degree
steps. During the cooking the temperature can be adjusted at any time. The build in
sensor keeps the temperature at about the adjusted temperature. The temperature
can be adjusted from 60°C up to 240°C. When the failure code E0 is in the display
then the used pot or pan is not suitable induction cookers. The appliance beeps and
after ca 30 Sec the appliance will switch to the stand-by mode.
Timer
The temperature or power must be adjusted first, as described above. Touch the
function button so many times, until the red LED bellow the Timer symbol is blinking.
The display shows "0". Now there is 5 seconds time to adjust the time by pressing the
button + - in steps of 5 minutes. The time can be adjusted from 5 to 180min. Pressing
the button - decreases the time by 5 minutes. When the + or - button is pressed one
time the time increases or decreases by 5 minutes.
If you want to change the time during the cooking touch the function button until
the timer LED is blinking. Now you have ca 5 seconds time to change the timer set
-
ting. When the function temperature and the timer is used and it is the intention to
switch to the power mode or temperature, the function button needs to be touched
as many times as both lights shine and the display shows the remaining time. When
the ON/OFF button is touched during the cooking then the program will be deleted
and the appliances switches to the stand-by mode. If the adjusted time runs out, the
appliance will switch to the stand-by mode.