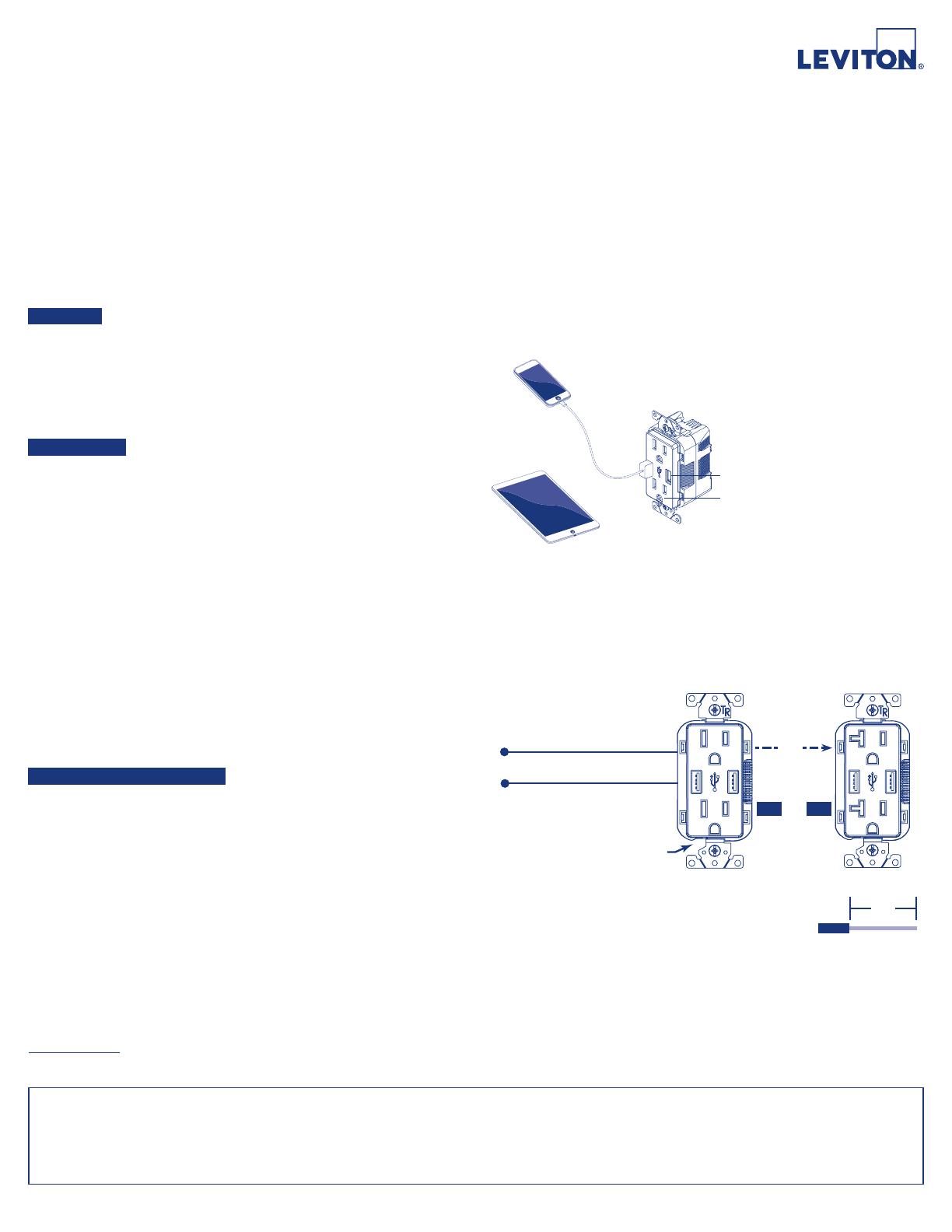 •
TO AVOID FIRE, SHOCK, OR DEATH; TURN OFF POWER AT CIRCUIT BREAKER OR
FUSE AND TEST THAT THE POWER IS OFF BEFORE WIRING!
•
To be installed and/or used in accordance with appropriate electrical codes and regulations.
•
If you are not sure about any part of these instructions, consult an electrician.
•
This device
CANNOT
be used for separate feed applications. If the outlet you are replacing
has the top and bottom outlets controlled by separate circuit breakers, you cannot use this
device.
•
To be used with Class 2 connectors with interconnecting cables.
•
The Class 2 USB ports are not intended for use with appliances and supporting products.
•
All connected Class 2 output cables must be routed away from the receptacle slots or any
plug/cord inserted into the receptacle.
•
Use this device with
copper or copper clad wire only
.
For Technical Assistance Call: 1-800-824-3005 (U.S.A. Only) www.leviton.com
Duplex USB Charger/Tamper Resistant Outlet
Cat. No. T5632 (15A-125VAC/CA)
Cat. No. T5832 (20A-125VAC/CA)
USB Rated: 3.6A
PK-A3022-10-02-2A
•
The Duplex USB Charger/Tamper Resistant Outlet provides two
5VDC - 3.6A DC powered USB ports and two 15A-125VAC or
20A-125VAC outlets.
•
The USB ports are used to charge portable electronic devices
ONLY
(
NO
data transfer capability).
FEATURES
This device complies with Part 15 of the FCC rules. Operation is subject to the
following two conditions:
1.
This device may not cause harmful interference.
2.
This device must accept any interference received, including interference
that may cause undesired operation of the device.
FCC COMPLIANCE STATEMENT
INSTALLATION
© 2014 Leviton Mfg. Co., Inc.
Neutral (White)
Neutre (Blanc)
Neutro (Blanco)
20A15A
Hot (Black)
Actif (Noir)
Green
Ground
Terre vert
Verde a tierra
or
ou
o
Wiring Diagram
Schéma de cablâge
Diagrama de Alambrado
Strip Gage
Gabarit de dénudage
Medida de pelado
3/4"
(1.9 cm)
iPad, Samsung, Blackberry, iPhone, Nook, Kindle,
iPod
,
Bluetooth
are trademarks of their respective owners.
LIMITED 5 YEAR WARRANTY AND EXCLUSIONS
Leviton warrants to the original consumer purchaser and not for the benefit of anyone else that this product at the time of its sale by Leviton is free of defects in materials and workmanship under normal and
proper use for five years from the purchase date. Leviton's only obligation is to correct such defects by repair or replacement, at its option.
For details visit www.leviton.com or call 1-800-824-3005.
This
warranty excludes and there is disclaimed liability for labor for removal of this product or reinstallation. This warranty is void if this product is installed improperly or in an improper environment, overloaded,
misused, opened, abused, or altered in any manner, or is not used under normal operating conditions or not in accordance with any labels or instructions.
There are no other or implied warranties of any
kind, including merchantability and fitness for a particular purpose
, but if any implied warranty is required by the applicable jurisdiction, the duration of any such implied warranty, including merchantability
and fitness for a particular purpose, is limited to five years.
Leviton is not liable for incidental, indirect, special, or consequential damages, including without limitation, damage to, or loss of use of, any
equipment, lost sales or profits or delay or failure to perform this warranty obligation
. The remedies provided herein are the exclusive remedies under this warranty, whether based on contract, tort or otherwise.
PK-A3022-10-02-2A
FOR CANADA ONLY
For warranty information and/or product returns, residents of Canada should contact Leviton in writing at
Leviton Manufacturing of Canada Ltd to the attention of the Quality Assurance Department, 165 Hymus
Blvd, Pointe-Claire (Quebec), Canada H9R 1E9
or by telephone at
1 800 405-5320.
Charges most USB powered devices
Pour la plupart des appareils USB
Carga la mayoría de productos
alimentados por USB
Use with Decora
®
wallplate
Utiliser avec plaque murale Decora
MD
Use con la placa de pared Decora
®
Tamper Resistant
Outlet
Prise inviolable
Contacto con
Seguro
Compatible with USB p
owe

re
d
devices such as: Tablets, ipad
®
,
Samsung
®
Devices, E-Readers,
Nook
®
, Kindle
®
, Smartphones,
iPhone
®
, Blackberry
®
, MP3
Players, iPod
®
, Digital Cameras,
Bluetooth
®
Headsets and more.
Compatible con productos
alimentados por USB, tales
como: Tabletas, iPad
®
, Aparatos
Samsung
®
, Lectores Electrónicos,
Nook
®
, Kindle
®
, Teléfonos
Inteligentes, iPhone
®
, Blackberry
®
Reproductores de MP3, iPod
®
,
Cámaras Digitales, Auriculares
Bluetooth
®
y más.
Compatibilité
av
ec des appareils
pouvant etre realimentes par un
cordon USB (tablettes comme la
iPad
MD
, Appareils Samsung
MD
;
tablettes de lecture comme la
Nook
MD
, et la Kindle
MD
, telephones
intelligents comme le iPhone
MD
,
et le Blackberry
MD
, lecteurs MP3
comme le iPod
MD
, cameras
numeriques, Casques Bluetooth
MD
et plus encore).
Tamper Resistant Outlet
Double Chargeur USB
Prise Inviolable
Doble Cargador USB
Contacto con Seguro
1.
WARNING:
TO AVOID FIRE, SHOCK, OR DEATH; TURN OFF POWER
AT CIRCUIT BREAKER OR FUSE AND TEST THAT THE POWER IS
OFF BEFORE WIRING!
2.
This device is to be installed in a wall box measuring at least
3" x 2" x 2-1/2" (standard single gang electrical wall box) and wired
in accordance with NEC article 314 box fill requirements.
3.
Connect wires per WIRING DIAGRAM as follows:
NOTE:
Back and Side wire terminals except #14-#12 AWG copper or
copper clad wires.
4a.
To Side Wire (if more than one wire is required on a terminal, you
cannot side wire and must use the backwire option):
Remove insulation from each circuit conductor per strip gage on device
[approx. 3/4" (1.9 cm)]. Loop wires clockwise 3/4 turn around terminal
screws. FIRMLY tighten screws over wire loop.
4b.
To Back Wire:

Remove insulation from each circuit conductor [approx.
1/2" ( 1.3 cm)]. Insert straight wires under clamps next to appropriate
terminal screws. Tighten screws FIRMLY.
5.
Mount device in wall box with screws provided and mount wallplate.
6.
Restore power at circuit breaker or fuse.
Installation is complete
.