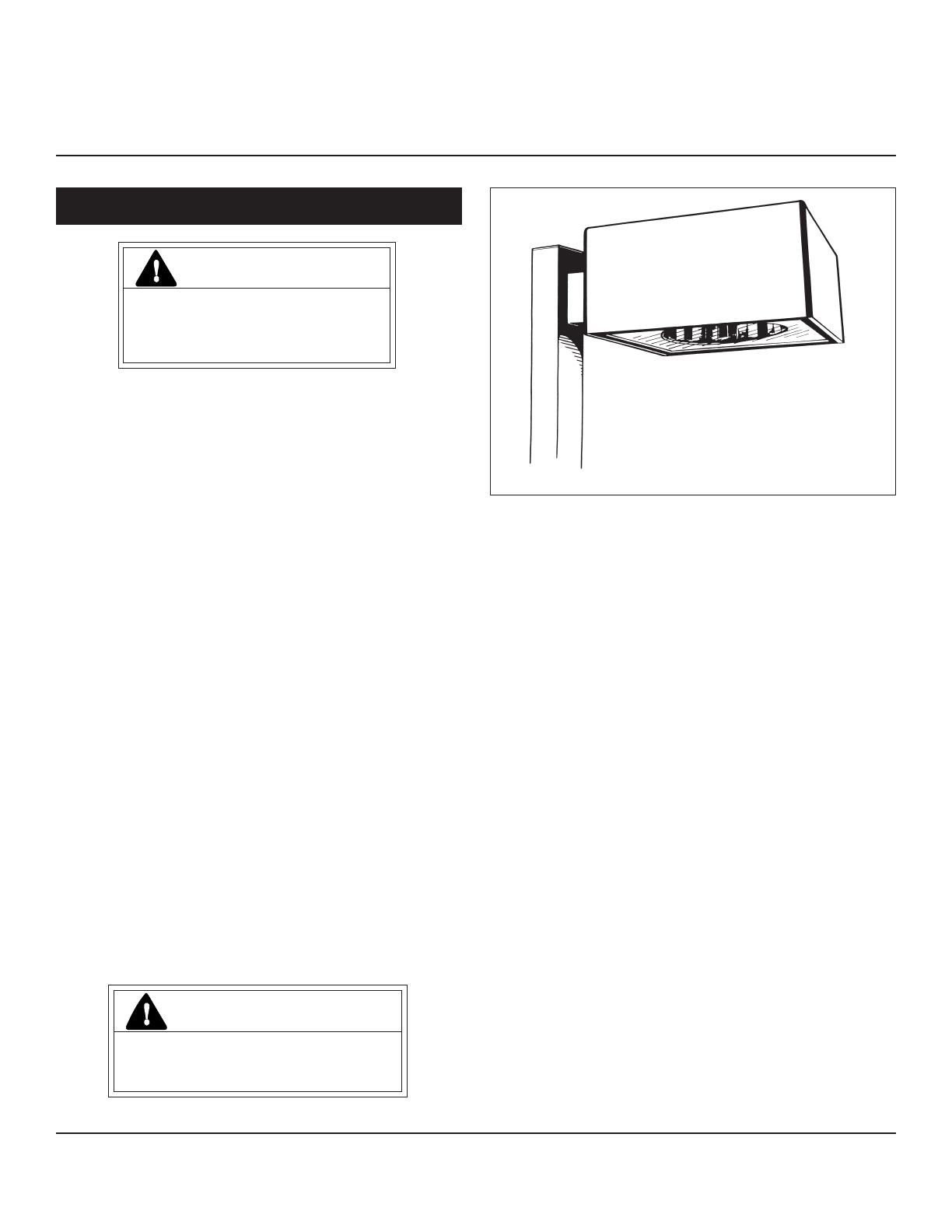 35-201578-2K (9/02)
B.
AUTRES TYPES DE MONTAGE
Des manchons extérieurs, rotules pour surface plane ou haut
de mat, et des adaptateurs pour poteau rond sont aussi
disponibles pour utilisation avec des chassis usinés avec une
configuration de perçage diagonale. Leur installation est similaire à
celle du montage architectural.
ATTENTION : Ne montez aucun luminaire avec un
écart de plus de 60° par rapport à l'horizontale.
INSTALLATION DE LAMPE
NOTE :
Le bornier peut recevoir des fils secteur allant des
tailles AWG N°14 à N° 6 (vérifiez sur la plaque d'identification
la température de résistance minimale requise et les données
électriques).
2. Vérifiez sur la plaque d'identification du luminaire son type de
ballast, mono ou multi-tenion, et son wattage.
MONO-TENSION -
Tous les ballasts sont précâblés et
l'utilisateur n'a qu'à relier les fils d'alimentation pour la tension
prévue.
MULTI-TENSIONS
(120/208/240/277 volts)- Reliez le fil de
ballast avec sa terminaison isolée sur la borne de tension
adéquate comme indiqué sur la plaque du ballast.
MULTI-PUISSANCES -
Des ballasts sont disponibles avec
différentes combinaisons simultanées de wattages. Suivez les
instructions portées sur l'étiquette de câblage à l'intérieur du
luminaire.
Remettez en place la plaque de réflecteur, fermez la porte et
verifiez le bon verrouillage. L'installation est terminée.
COMMANDE PHOTOÉLECTRIQUE (si l'option est
installée)
Le module de commande photoélectrique doit être orienté avant
d'installer la commande. Desserrez ses deux vis de maintien et
tournez le module pour diriger au mieux le marquage "North" vers
le Nord vrai. Resserrez les vis de maintien et installez la
commande.
ENTRETIEN ET NETTOYAGE
Il sera nécessaire à l'occasion de laver l'extérieur de la porte
vitrée pour garder un bon niveau d'éclairage. La fréquence de ce
nettoyage est fonction du niveau local d'empoussièrage et du seuil
minimum d'éclairage toléré par l'utilisateur. La porte vitrée se lave
avec une solution d'eau chaude et n'importe quel détergent
ménager doux et non abrasif, rincez à l'eau claire et séchez par
essuyage. Si l'assemblage optique devenait également sale,
nettoyez le réflecteur et le côté intérieur de la porte vitrée de la
même façon que ci-dessus, et remplacez le joint s'il est
endommagé.
La luminosité du luminaire dépend aussi de l'âge de sa lampe.
Dans les applications où le niveau de lumière est critique il peut
être souhaitable de remplacer les lampes avant qu'elles ne
grillent. Les fabricants de lampes fournissent des données sur
l'atténuation de la luminosité en fonction du temps de
fonctionnement.
N'utilisez que le type de lampe spécifié sur la plaque
d'identification. Observez les recommandations et restrictions du
fabricant sur le fonctionnement de la lampe, en particulier pour le
type de ballast, la position d'utilisation, etc.
SERRAGE DE LAMPE -
La lampe doit être insérée de façon
sûre avec un couple de serrage NEMA-EEI spécifié à 4,4 mkg (35
livre-pouce), ce qui est le mieux réalisé en serrant fortement à la
main pour mettre un couple suffisant. Le serrage doit
complètement appuyer et charger le contact central de la douille
avec le culot de la lampe.
CÂBLAGE :
E
ffectuez tous les raccordements en conformité avec les normes
nationales et les éventuels règlements locaux applicables.
Vérifiez que la tension secteur disponible est la bonne en
comparant avec l'indication de tension sur la plaque
d'identification.
N'enlevez pas les connecteurs isolés des fils non concernés par
le raccordement de la tension.
Le client prévoira une protection contre la contrainte pour le
câble d'alimentation en haut du poteau.
1.
Connectez les fils d'alimentation sur le bornier interne comme
indiqué sur l'étiquette de câblage.
ATTENTION
Risque de brûlure
•
Laissez le bloc d'ampoule refroidir
avant d'y toucher
GEH-5828A
INSTRUCTIONS
Dimension
TM
DMA (Arm)
READ THOROUGHLY BEFORE INSTALLING
GENERAL
This luminaire is designed for outdoor lighting applica-
tions, and should not be used in areas of limited ventila-
tion, or in high ambient temperature enclosures; it should
be installed and maintained according to following recom-
mendations.
UNPACKING
This luminaire has been properly packed so that no parts
should have been damaged during transit. Inspect to
confirm.
INSTALLATION
Reflector Rotation:
Reflectors may be rotated such that
socket is in any of four positions. This allows for variations
in beam aiming. In order to rotate the reflector the follow-
ing procedure should be followed.
1. Rotation is best accomplished before mounting the
luminaire on pole.
2.
Note the rear edge of reflector position with respect to
hinges (edge inserted into hinge pocket). Access reflec-
tor by loosening reflector plate to main housing screw
and allowing reflector plate assembly to lie on door
assembly. It is not necessary to detach tether.
3.
Remove four screws which attach reflector to reflector
plate.
4.
Rotate reflector to desired position, being careful not to
twist socket lead wires.
5.
Reattach reflector by re-inserting four screws.
6.
Reposition reflector plate by inserting rear edge of plate
into hinge pocket and attach plate to main housing with
screw.
MOUNTING
NOTE: Power leads should be pulled as mounting
parts are assembled, verifying that leads are free
and not pinched. Ballast voltage selection is best
accomplished before mounting luminaire. See
A.
ARCHITECTURAL MOUNTING:
(Arm)
1. Install nut plate inside pre-drilled pole with nuts to
inside. Secure with screw provided.
2.
Install the two (2) studs ensuring that they fully pen-
etrate the nuts on the nut plate.
3. Align upper and lower guides on inside of mounting
arm with their respective studs and slide it into place
against pole.
4. Open luminaire door by pushing inward on latches
while supporting door. Release reflector plate by loosen-
ing plate main housing screw and allow plate to hang
from tether.
5.
Install the luminaire and secure with flat washers and
locknuts provided. Align the system as the nuts are
tightened.
CAUTION: Ensure that nuts fully engage the two
studs. Correct tightening of stud nuts is important
to ensure proper function of mounting system.
Torque nuts to 18-22 foot pounds.
CAUTION
Unit will fall if not installed properly
•
Follow installation instructions
WARNING
Risk of electric shock
•
Turn power off before servicing
2.196 in.
(56mm)
5.250 in. MIN
(133mm)
2.196 in.
(56mm)
1.812 in.
(46mm)
1.312 in.
(33mm)
.656 in.
(17mm)
POTEAU CARRÉ
.312 in.
(8mm)
TROU
1.25 in.
(32mm)
TROU
.438 in.
(11mm)
2 TROUS
5.250 in. MIN
(133mm)
2.719 in.
(69mm)
2.719 in.
(69mm)
POTEAU ROND
.438 in.
(11mm)
2 TROUS
.75 in.
(19mm)
TROU
PLAQUE
ÉCROU
BRAS DE
MONTAGE
VIS 1/4" x 3/4"
PLAQUE
ÉCROU
ADAPTATEUR
POUR POTEAU
ROND
DESSUS
ÉCROUS DE 3/8 IN. (2)
ÉCROUS DE
3/8 IN. (2)
GOUJONS DE
3/8" (2)
BOULONS 3/8" X 1 3/4" (2)
WASHER/spacer
1 A EXIGÉ, PLUS COMME
NÉCESSAIRES
DESCRIPTEUR DE FORAGE
These instructions do not purport to cover all details or variations in equipment nor to provide for every possible contingency
to be met in connection with installation, operation or
maintenance. Should further information be desired or should particular problems arise which are not covered sufficiently for the purchaser's purposes, the matter should be referred
to GE Lighting Solutions.
g
GE Lighting Solutions is a subsidiary of the General Electric Company. Evolve and other trademarks belong to GE Lighting Solutions. The GE brand and logo are trademarks of the General Electric Company.
© 2011 GE Lighting Solutions. Information provided is subject to change without notice. All values are design or typical values when measured under laboratory conditions.
GE Lighting Solutions • 1-888-MY-GE-LED • www.gelightingsolutions.com
g
GE