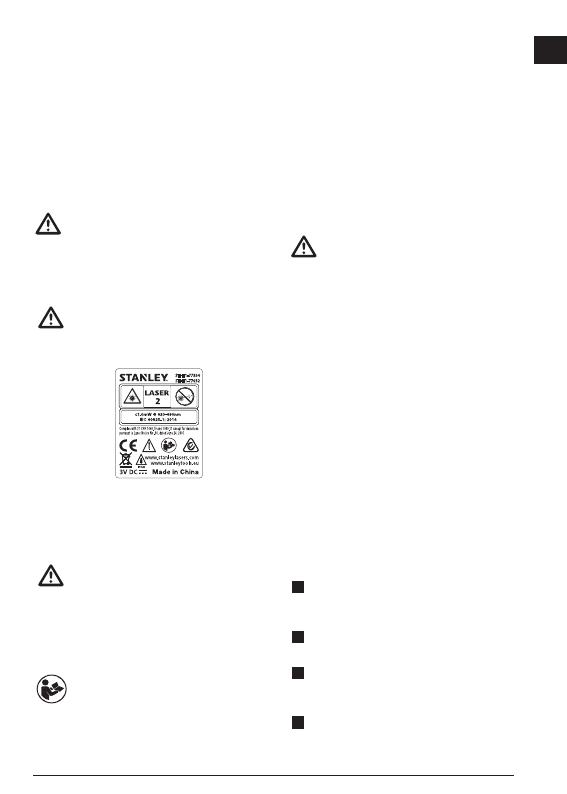 Contents
Retain all sections of this manual for future reference.
User Safety
WARNING:
Carefully read the Safety Instructions and
Product Manual before using this product. The
person responsible for the product must ensure
that all users understand and adhere to these
instructions.
WARNING:
The following label information is placed on your
laser tool to inform you of the laser class for your
convenience and safety.
STHT1-77354
STHT1-77032
The STHT1-77032/STHT1-77354 tool emits a visible laser
beam, as shown in Figure A. The laser beam emitted
is Laser Class 2 per IEC 60825-1 and complies with 21
CFR 1040.10 and 1040.11 except for deviations pursuant
to Laser Notice No. 50, dated June 24, 2007.
WARNING:
While the laser tool is in operation, be careful not
to expose your eyes to the emitting laser beam
(red light source). Exposure to a laser beam
for an extended time period may be hazardous
to your eyes. Do not look into the beam with
optical aids.
WARNING:

To reduce the risk of injury, user
must read the Product User manual, Laser
Safety, and Battery Safety manuals.
FCC Compliance
This device complies with Part 15 of the FCC Rules.
Operation is subject to the following two conditions:
(1) This device may not cause harmful interference,
and (2) this device must accept any interference received,
including interference that may cause undesired operation.
Stanley Black & Decker, Slough, Bershire SL1 3YD, UK
herewith declares that the product
STHT1-77032/STHT1-
77354
is in compliance with the essential requirements
and all other provisions of Directive 1999/S/EC. Please
contact Stanley Black & Decker for DoC.
Battery Safety
WARNING:
Batteries. can explode or leak and
can cause serious injury or re. To reduce the
risk:
ALWAYS
follow all instructions and warnings
on the battery label and package.
DO NOT
short any battery terminals.
DO NOT
charge alkaline batteries.
DO NOT
mix old and new batteries. Replace
all of them at the same time with new
batteries of the same brand and type.
DO NOT
mix battery chemistries.
DO NOT
dispose of batteries in re.
ALWAYS
keep batteries out of reach of
children.
ALWAYS
remove batteries if the device will
not be used for several months.
NOTE:
Ensure that the recommended
batteries are used.
NOTE:
Ensure the batteries are inserted in
the correct manner, with the correct polarity.
Setup (Load Batteries)
1.
Locate the battery compartment latch on the back of
the STHT1-77032/STHT1-77354 tool
(Figure B #2).
2.
Using your finger, pull the latch up to unlock and
remove the battery door (Figure C #1 and #2).
3.
Insert two AAA batteries, making sure to position the -
and
+
ends of each battery as noted inside the battery
compartment (Figure C #3).
4.
Slide the pins at the bottom of the battery door into
the notches in the battery compartment (Figure C
#4).
3
GB