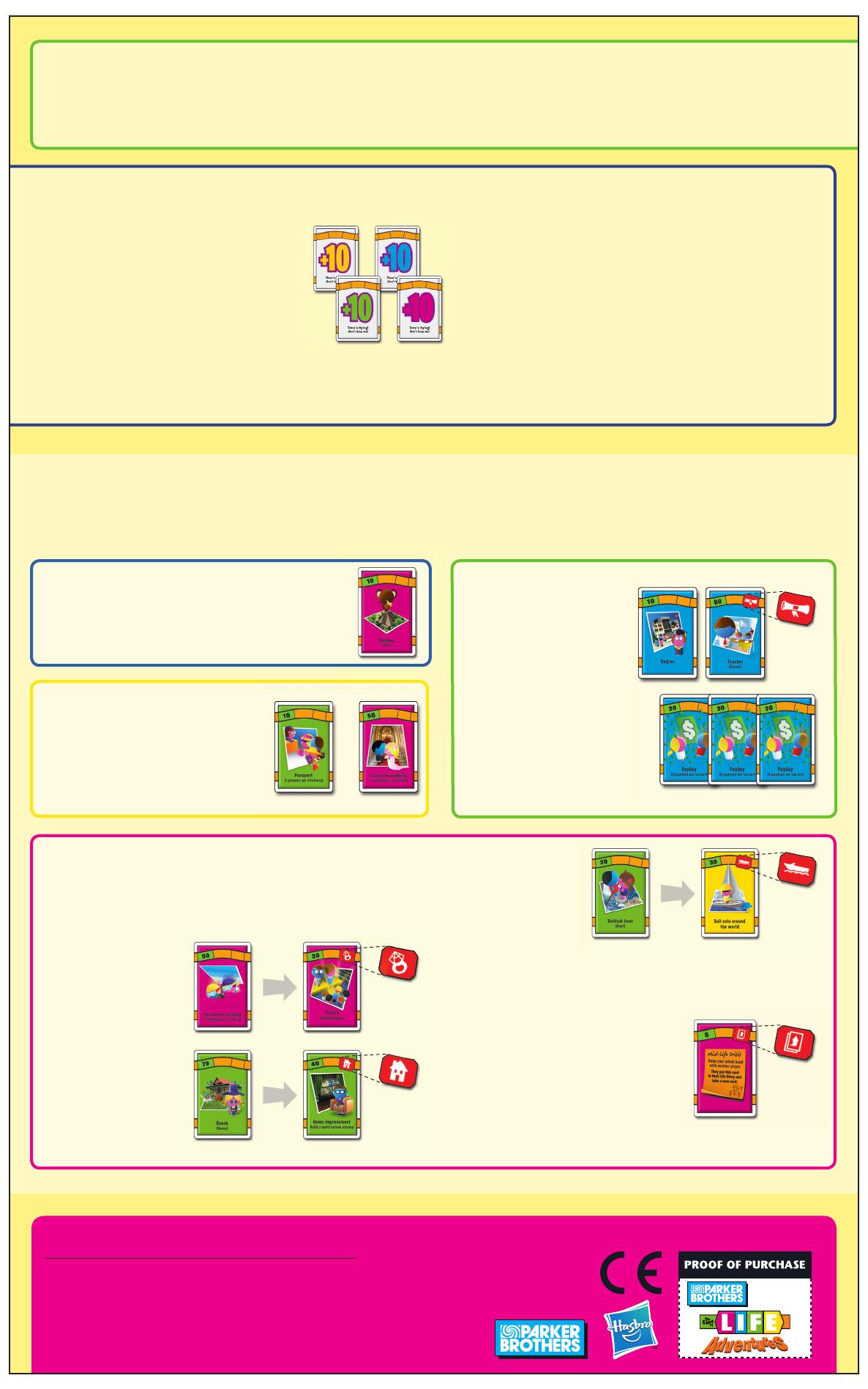 Re symbl
If a crd hs a re symbl in the crne, the symbl show yu
something you mst have dn before yu can ply tha crd.
Lok out fr the symbls a you play.
For example:
To clerat your Gldn
Aniversay, ou ned to
b marie (.e have 
Weding card in your
life story). Just like n
real ife!
You can't make Hom
Improvemnts uil
you have  home!
© 2010 Hasbro. All Rights Reserved. TM and ® denote U.S. Trademarks.
Manufactured by: Hasbro, Inc., Pawtucket, RI 02862 USA.
Hasbro Europe, 2 Roundwood Ave, Stockley Park, Uxbridge, Middlesex, UB11 1AZ. UK.
Hasbro Europe is the authorised representative of Hasbro SA in the European Union.
Distributed in Australia by Hasbro Australia Limited, 570 Blaxland Road, Eastwood, NSW 2122, Australia. Tel. 1300 138 697.
Distributed in New Zealand by Hasbro NZ (a branch of Hasbro Australia Limited), 221 Albany Highway, Auckland, New Zealand. Tel. 0508 828 200.
Hasbro Canada, Longueuil, QC, Canada J4G 1G2.
Consumer contact: USA and Canada: Hasbro Games, Consumer A airs Dept., P.O. Box 200, Pawtucket, RI 02862 USA. Tel: 888-836-7025.
UK: Consumer Services: Hasbro UK Ltd., PO Box 43 Newport NP19 4YD, UK. Tel 00800 22427276.
www.hasbrogames.com 1010904801
Any Time
Chek the o right crne of a crd to se if t has 
symbl. If not, g ahed an play it no yur life story
on ay turn!
Sometis you ned to
play  card fom ne
dck befor yu can
cmplet a Life vent
from a diff ernt dck.
For example, you ned to play  Bot card fom the Walth dck
into yur life story bfore yu can ply a 'Sil so arund the
world' card fom the Advnture dck!
Cards with an row in the crne hlp you
ad to yur wn life story b swaping cards
or taking cards fom ther players!
For example, us a
Mid-Lfe Cris
card to
swap your whole and with another player!
Always give th card with e arow t he or player
to pu in their lfe story. It's like cmpnsation!
Care lader
Get a jo!
If a Cre cad
has  crol in the crne, you
ned a gre bfore yu
can d it o yur life story.
As on as you have  Care, you
can build p your pints by puting
Payd crds into yur life story!
You can hve up to 3 Payd crds
pr Caer.
Just like ral ife!
You can oly have ONE Pasprt and
ONE Weding card in your life story
at ny oe tim. If you 'Lse Your
Pasprt,' you can relac it wh
another on later in the gam.
The cards
Lok at your cads bfore yu star playing. Her's what ech typ of card es:
+10 cards & ending the game
Ther a 8 of thes cards in the gam.
Each one show tha 10 years hve fl own
by! The gam ends afer 60 years. (For a
shorte or lnger ame, play for 40 or
80 years!)
When you draw  +10 card of any clor:
1
.

Show evryon ad put i to the sid of the playing are.
2
.

Take  nw card fom any pile and d it o yur hand.
Your tn is over.
3
.

As on as omen draws the sixth +10 card, 60 years
have pse and the gam is over!
4
.

Al ad up the pints o the cards in your life story.
Don't cunt ay crds til n your hand.
5
.

The player with e most pints win! Congratulions 
a wondrful ife!
If ther's a tie, h player with e most cards win.
Tip!
If it's ricky untig up yor pints, group yr
cards into se of 10 pints fi rt, hen ad the
set ogehr!
Nothing to play?
If you have no cards you want o play, chose on to lse! Put i
facup next o he dck it came from t sart  discard pile.
Pick up a new card s ual.
Other players can pick up the cards you've discard, so think
carefuly abut wha you throw ay!
®
09048
®
TM
090480000 10 I GOL.indd 2
10/1/10 4:29 PM