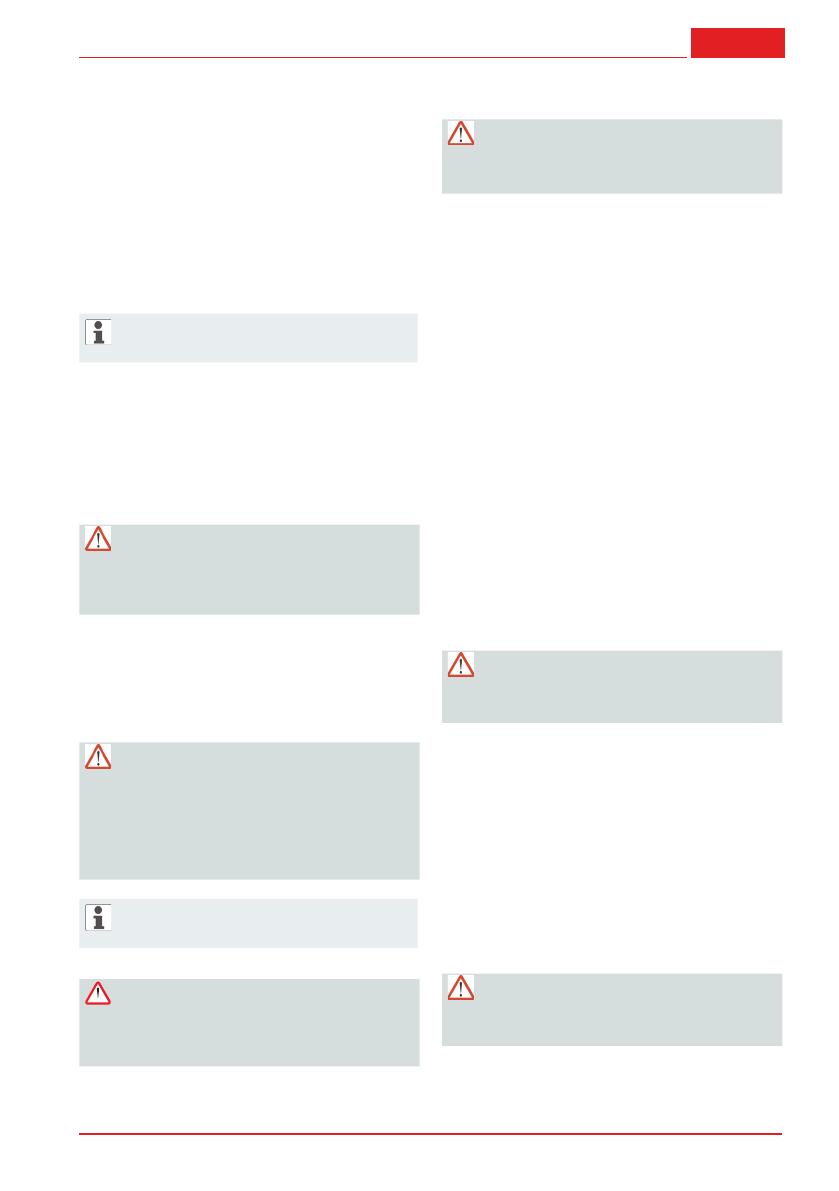 19
GB
474 218 _a
Maintenance and care


Clean the device after every use with a brush and a dry
cloth. Do not use cleaning agents or water.
Air lter
Caution!
Never operate the device without an air lter. Clean the
air lter regularly. Exchange the lter if damaged.
1.
Remove the star screw, take off the cover and take
out the air lter.
2.
Clean the air lter with soap and water. Do not use
petrol!
3.
Allow the air lter to dry.
4.
Install the air lter in reverse sequence.
Fuel lter
Caution!
Never operate the device without a fuel lter. Severe en-
gine damage may result.
1.
Completely remove the fuel cap.
2.
Empty the remaining fuel into a suitable container.
1.
Move the device slowly and with care, ensuring that
the string does not impact with obstacles.
Trimming around tree trunks
1.
Guide the device slowly and carefully around tree
trunks, ensuring that the cutting string does not touch
the tree bark.
2.
Mow from left to right around tree trunks.
3.
Cut grass and weeds with the tip of the string and
keep the string head tilted slightly forwards.
Trimming along stone walls, foundations and tree
leads to increased string wear.
Mowing
1.
Tilt the string head to the right at an angle of
30 degrees.
2.
Move the handgrip to the desired position.
Caution!
Remove foreign objects from the working area.
Risk of injury / damage to property from ejected foreign
objects.
Mowing with the cutting blade
When mowing
with the
cutting blade, the
cutting blade
should be guided in a curving horizontal motion from one
side to the other.
Caution!
Before using the cutting blade, observe the following ad-
ditional instructions:


Use the shoulder strap.


Check that the cutting blade is correctly tted.


Wear protective clothing and eye protection.
Do not use weed cutter blades for cutting brush-
wood and young trees!
Caution!
Only use original cutting knives and accessories!
Non-original
parts
can
cause
injuries
and device
mal-
functions!
Avoiding recoil
Caution!
Do not use the cutting blade in the vicinity of xed
obstacles – Danger of recoil / risk of injury!
Jamming
Dense vegetation, young trees or brushwood can jam the
cutting blade and stop it turning.


Avoid jamming by noting the direction in which the veg-
etation leans and then cutting from the opposite side.


If the cutting blade becomes entangled during cutting:


Switch off the engine immediately.


Hold up the device so that the cutting blade does
not jump or break.


Push the caught material away