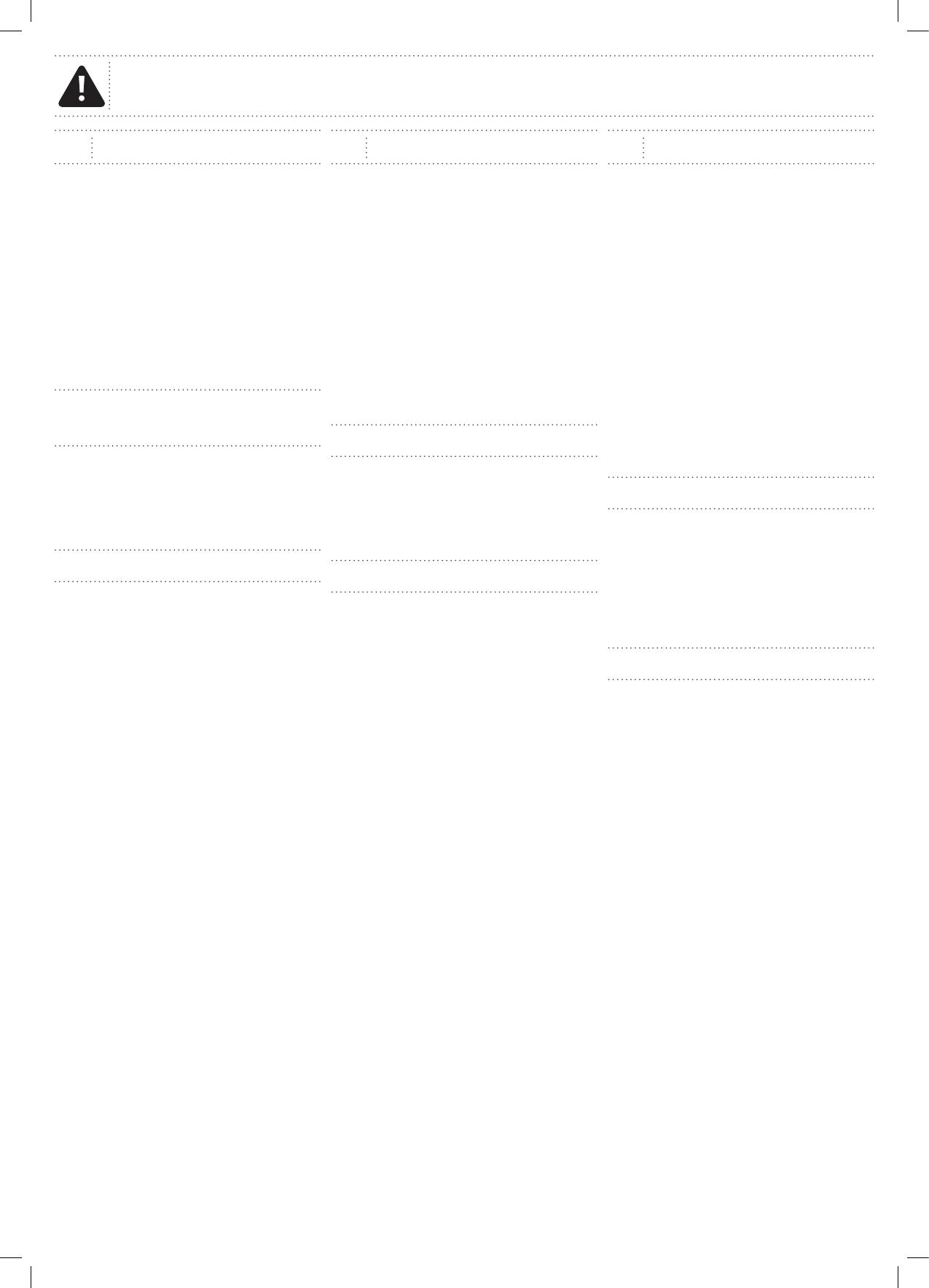 2
EN
Safety
FR
Sécurité

PL

Bezpieczeństwo
• For domestic use only.
• Always use on firm level ground.
• Periodic structural checks of this
product should be undertaken, do not
use if you have any doubts about its
fitness for purpose.
• Do not sit or stand on the tabletop.
• Do not let children play with this
product.
• This product must be set up by a
competent adult.
At the beginning of the
season
• Check to ensure that all components
and fixings of this product are secure,
do not use if you have any doubts
about its fitness for purpose.
At the end of the season
• This product should be stored under
cover during prolonged spells of
adverse weather (wet or cold) and
also during the winter (ideally in a
garden shed or garage).
• Always clean and dry thoroughly
before storage.
IMPORTANT, RETAIN
FOR FUTURE
REFERENCE: READ
CAREFULLY.
• Usage domestique uniquement.
• À n'utiliser que sur un sol plat et
ferme.
• Une vérification structurelle
du produit doit être effectuée
régulièrement. Ne pas utiliser en cas
de doute sur l'aptitude à l'emploi.
• Ne pas s'asseoir ou se tenir debout
sur la table.
• Ne pas laisser les enfants jouer avec
ce produit.
• Ce produit doit être monté par un
adulte compétent.
Au début de la saison
• Vérifier que tous les composants et
fixations de ce produit sont bien en
place. Ne pas utiliser le produit en cas
de doute sur sa conformité à l'usage.
À la fin de la saison
• Ce produit doit être rangé sous une
housse lors des périodes prolongées
de mauvais temps (humide ou froid)
et pendant l'hiver (idéalement dans un
abri de jardin ou un garage).
• Toujours nettoyer et sécher
complètement avant le remisage.
IMPORTANT, À
CONSERVER
POUR RÉFÉRENCE
ULTÉRIEURE
ET À LIRE
ATTENTIVEMENT.
•
Wyłącznie do użytku w gospodarstwie
domowym.
• Produkt należy zawsze ustawiać na
stabilnej, poziomej powierzchni.
• Należy okresowo sprawdzać
integralność konstrukcji tego
produktu. W przypadku jakichkolwiek
wątpliwości dotyczących
przydatności produktu do
określonego celu nie należy go
użytkować.
• Nie siadać ani nie stawać na blacie.
• Nie pozwalać dzieciom bawić się
produktem.
• Ten produkt wymaga ustawienia przez
kompetentną osobę dorosłą.
Na początku sezonu
• Upewnić się, że wszystkie elementy
i mocowania tego produktu
są bezpieczne. Nie używać w
przypadku jakichkolwiek wątpliwości
dotyczących jego przydatności do
określonego celu.
Po zakończeniu sezonu
• Podczas dłuższych niekorzystnych
warunków pogodowych (gdy jest
mokro lub zimno) oraz w zimie
produkt należy przechowywać pod
przykryciem (najlepiej w domku
narzędziowym lub garażu).
• Przed odłożeniem do przechowania
produkt należy zawsze dokładnie
wyczyścić i osuszyć.
WAŻNE:
DOKŁADNIE
PRZECZYTAĆ I
ZACHOWAĆ DO
WYKORZYSTANIA W
PRZYSZŁOŚCI.
5036581055660-VERNON-Table-GoodHome-A4-IM-V02.indb 2
05-09-2019 20:52:09