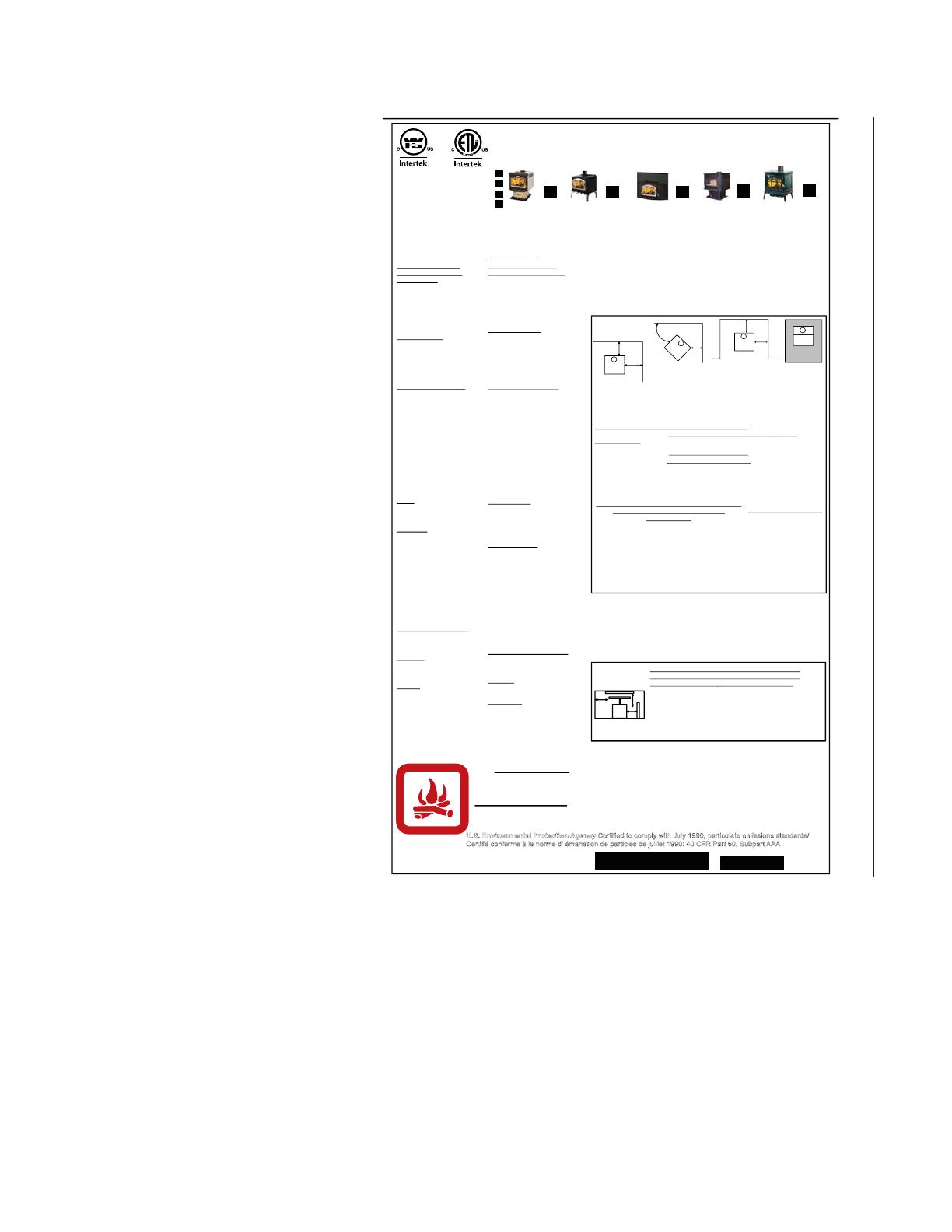 8
W415-0763 / B / 10.28.11
2.5
RATING PLATE INFORMATION
For rating plate location, see
"INSTALLATION OVERVIEW"
section.
This illustration is for reference
only. Refer to the rating plate
on the appliance for accurate
information.
1400 SERIES RATING PLATE ILLUSTRATED
LISTED SOLID FUEL BURNING FIREPLACE INSERT /
ENCASTRÉ À COMBUSTIBLE S
OLIDE HOMOLOGUÉ
TESTED TO / TESTÉ SELON :
ULC S628 / UL 1482
FROM HEATER / DU POÊLE
RESIDENTIAL / RÉSIDENTIEL
1400
12IN/PO (305 mm)
12IN/PO (305 mm)
6IN/PO (150 mm)
USING DOUBLE WALL CONNECTOR / UTILISATION
D'UN CONDUIT DE RACCORDEMENT À
DOUBLE PAROI
MAISON / MOBILE HOME*
10IN/PO (254 mm)
10IN/PO (254 mm)
6IN/PO (152 mm)
6IN/PO (152 mm)
4IN/PO (102 mm)
4IN/PO (102 mm)
EPI 1402
INSTALL AND USE ONLY IN
ACCORDANCE WITH THE
MANUFACTURER'S
INSTRUCTIONS AND LOCAL
BUILDING CODES.
MINIMUM CEILING HEIGHT:
7FT (2.13m)
HEARTH EXTENSION /
COMBUSTIBLE FLOOR
ON A COMBUSTIBLE FLOOR,
UNIT MUST BE PLACED ON A
NON-COMBUSTIBLE FLOOR
PROTECTOR EXTENDING 18"
(455mm) IN FRONT AND 8"
(205mm) TO THE SIDES AND
BACK.
(152mm) DIAMETER
APPROVED RESIDENTIAL
TYPE FOR MOBILE HOME USE
A CHIMNEY LISTED TO ULC
S629 IN CANADA OR UL 103HT
IN THE USA.
(152mm) DIAMETER MINIMUM
24 GAUGE STEEL MINIMUM
CLEARANCE FROM
HORIZONTAL CONNECTOR
AND CEILING 18" (455mm).
DO NOT OBSTRUCT SPACE
UNDER HEATER.
SPECIAL METHODS ARE
REQUIRED WHEN PASSING A
CHIMNEY THROUGH A WALL
OR CEILING. SEE INSTRUC-
TIONS AND BUILDING CODES.
DO NOT CONNECT THIS UNIT
TO A CHIMNEY FLUE SERVING
ANOTHER APPLIANCE.
ONLY. DO NOT USE GRATE OR
ELEVATE FIRE. BUILD WOOD
FIRE DIRECTLY ON HEARTH.
SPILLAGE. OPERATE ONLY
WITH DOOR FULLY CLOSED.
REPLACE GLASS ONLY WITH
CERAMIC GLASS.
DO NOT OVERFIRE. IF
HEATER OR CHIMNEY
CONNECTORS GLOW, YOU
ARE OVERFIRING. INSPECT
AND CLEAN CHIMNEY
FREQUENTLY. UNDER
CERTAIN CONDITIONS OF
USE CREOSOTE BUILD-UP
MAY OCCUR RAPIDLY.
EP-62, 115V, 60HZ, 0.82AMP.
ROUTE CORD AWAY FROM
UNIT.
ELECTRICAL SHOCK.
DISCONNECT POWER
BEFORE SERVICING UNIT.
ONLY IN SOLID FUEL
BURNING FIREPLACES. DO
NOT REMOVE BRICKS OR
MORTAR FROM SOLID FUEL
BURNING FIREPLACE.
INSTALL WITH A POSITIVE
FLUE CONNECTOR AND
FACEPLATE.
POUR INSTALLATION ET
UTILISATION CONFORM
ÉMENT AUX
INSTRUCTIONS DU FABRICANT ET
AUX CODES LOCAUX DU BÂTIMENT.
HAUTEUR DE PLAFOND MINIMAL
7PI (2,13m).
PROLONGEMENT
D'ÂTRE/PROTECTION DU
INSTALL
É SUR UN PLANCHER
COMBUSTIBLE, L'APPAREIL DOIT
ÊTRE PLAC
É SUR UNE PLAQUE
PROTECTRICE INCOMBUSTIBLE
S'ÉTENDANT SUR 18" (455mm)
À
L'AVANT ET 8" (205mm) À L'ARRIÈRE
ET SUR LES CÔTÉS.
TYPE DE CHIMNÉE:
DIAMÈTRE
MINIMAL DE 6" (152mm)
APPROUVÉE POUR USAGE
RÉSIDENTIEL. MAISON MOBILE
EMPLOYEZ UNE CHEMINÉE
HOMOLOGUÉE ULC S629 AU
CANADA OU UL 103HT AUX
ÉTATS-UNIS.
RACCORD DE CHEMINÉE:
DIAMÈTRE DE 6" (152mm) D'ACIER
DE CALIBRE 24 MINIMUM. 18"
(455mm) DE DÉGAGEMENT MINIMAL
ENTRE LE RACCORD HORIZONTAL
ET LE PLAFOND.
NE RIEN ENTREPOSER SOUS
L'APPAREIL.
DES MÉTHODES SPÉCIALES SONT
REQUISES LORSQU'UNE CHEMINÉE
TRAVERSE UN MUR OU UN
PLAFOND. VOIR LES INSTRUC-
TIONS ET LES CODES DU
BÂTIMENT.
NE PAS RACCORDER À LA
CHEMINÉE D'UN AUTRE APPAREIL.
COMBUSTIBLE:
POUR USAGE AVEC
LE BOIS SEULEMENT. N'UTILISEZ
PAS DE CHENET OU NE
SURÉLEVEZ PAS LE BOIS.
PRÉPAREZ LE FEU DIRECTEMENT
SUR L'ÂTRE.
D'ÉCHAPPEMENT DE FUMÉE. TENIR
LA PORTE FERMÉE LORSQUE LE
POÊLE FONCTIONNE. REMPLACEZ
LA VITRE PAR UNE VITRE EN
CÉRAMIQUE SEULEMENT.
NE SURCHAUFFEZ PAS L'APPAREIL.
SI L'APPAREIL OU LES RACCORDS
ROUGEOIENT, L'APPAREIL
SURCHAUFEE. INSPECTEZ ET
NETTOYEZ LA CHEMINÉE
FRÉQUEMMENT. DANS CERTAINES
CONDITIONS, DES DÉPÔTS DE
CRÉOSOTE PEUVENT SE FORMER
RAPIDEMENT.
SOUFFLERIE OPTIONNELLE:
EP-62,
115V, 60HZ, 0,82A. TENEZ LE
CORDON ÉLECTRIQUE LOIN DE
L'APPAREIL.
DANGER:
RISQUE DE SECOUSSE
ÉLECTRIQUE. DÉBRANCHEZ AVANT
DE PROCÉDER À L'ENTRETIEN.
ENCASTRÉ:
INSTALLEZ ET UTILISEZ
SEULEMENT DANS UN FOYER À
COMBUSTIBLE SOLIDE. NE RETIREZ
PAS DE MORTIER, NI BRIQUES DU
FOYER À COMBUSTIBLE SOLIDE.
INSTALLEZ AVEC UNE GAINE
CONFORME ET UNE PLAQUE DE
RECOUVREMENT.
CONTACT LOCAL BUILDING FIRE OFFICIALS ABOUT RESTRICTIONS AND
INSTALLATION INSPECTION IN YOUR AREA. MODEL 1400 IS SUITABLE FOR USE
IN MOBILE HOMES WHEN USED WITH OUTSIDE AIR INSTALLATION KIT (111KT). A
MINIMUM CLEARANCE OF 18" (457mm) TO THE CHIMNEY CONNECTOR MAY BE
REQUIRED BY THE AUTHORITY HAVING JURISDICTION.
RENSEIGNEZ-VOUS AUPR
ÈS DES AUTORITÉS LOCALES DU BÂTIMENT ET DU
SERVICE DES INCENDIES AU SUJET DES RESTRICTIONS ET DES INSPECTIONS
D'INSTALLATION DANS VOTRE RÉGION. LES MODÈLES 1400 PEUVENT ÊTRE
INSTALLÉS DANS UNE MAISON MOBILE SI INSTALLÉS CONJOINTEMENT AVEC UNE
PRISE D'AIR EXTÉRIEUR (111KT). UN DÉGAGEMENT MINIMAL DE 18" (457mm)
JUSQU'AU RACCORD DE LA CHEMINÉE PEUT ÊTRE EXIGÉ PAR L'AUTORITÉ AYANT
JURIDICTION.
8"
8"
18"
8"
ALCOVE
A"
B"
C
BACK WALL (M/A)
45°
SIDE WALL (M/L)
BACK WALL (M/A)
SIDE WALL (M/L)
B
A
IF THE STOVE IS TO BE INSTALLED ON A COMBUSTIBLE FLOOR, IT MUST BE
PLACED ON AN APPROVED NON-COMBUSTIBLE HEARTH PAD, THAT
EXTENDS 8" (200mm) BEYOND THE STOVE SIDES AND BACK, AND 18"
(455mm) TO THE FRONT.
SI LE PO
Ê
LE EST INSTALL
É SUR UN PLANCHER COMBUSTIBLE, IL DOIT ÊTRE PLACÉ
SUR UNE BASE DE PROTECTION INCOMBUSTIBLE CERTIFÉE QUI DOIT DÉPASSER
LES CÔTÉS ET L'AMÉRE DU
PO
Ê
LE DE 8" (200mm) ET SE PROLONGER DE 18"
(455mm) SUR LE DEVANT.
MINIMUM CLEARANCE TO COMBUSTIBLE MATERIAL WITH SINGLE WALL
CHIMNEY CONNECTOR / D
ÉGAGEMENTS MINIMAUX AUX MATÉRIAUX
COMBUSTIBLES AVEC RACCORD DE CHEMINÉE À PAROI SIMPLE:
*
MODEL 1400 MAY BE INSTALLED INTO A MOBILE HOME IN THE UNITED
STATES ONLY.
*
LE MODÈLE 1400 NE PEUT ÊTRE INSTALLÉ QUE DANS UNE MAISON
MOBILE AUX ÉTATS-UNIS SEULEMENT.
CEILING / PLAFOND
C
D
B
A
FLOOR / PLANCHER
HOT WHILE IN OPERATION. DO NOT TOUCH. KEEP CHILDREN,
CLOTHING AND FURNITURE AWAY. CONTACT MAY CAUSE
SKIN BURNS.
QUAND L'APPAREIL FONCTIONNE, LA SURFACE DEVIENT
CHAUDE. NE PAS TOUCHER. TENIR LES ENFANTS, LES
VÊTEMENTS ET LES MEUBLES À L'ÉCART. LE CONTACT PEUT
CAUSER DES BRÛLURES À LA PEAU.
CAUTION:
ATTENTION:
W385-0401 / J
DATE CODE / DE DATE
EPA1400
CLEARANCES TO COMBUSTIBLE CONSTRUCTION /
D
ÉGAGEMENTS AUX MATÉRIAUX COMBUSTIBLES:
(MEASURED TO UNIT / À PARTIR DE L'APPAREIL)
A SIDE FACING / CÔTÉ
1 IN/PO (25mm)
*
B TOP FACING / DESSUS
28 IN/PO (710mm)
C MANTEL / TABLETTE
28 IN/PO (710mm)
D SIDE WALL / MUR LATÉRAL
17 IN/PO (430mm)
*
CLEARANCE TO EDGE OF FLASHING / DÉGAGEMENT AU
BORD DE LA FAÇADE
1450
WOLF STEEL LTD.
24 NAPOLEON ROAD, BARRIE, ON, L4M 0G8 CANADA
1400C
9700539 (WSL)
4001657 (NGZ)
4001658 (NAC)
4001659 (WUSA)
LISTED SOLID FUEL BURNING SPACE HEATER /
POÊLE À COMBUSTIBLE SOLIDE HOMOLOGUÉ
TESTED TO: / TESTÉ SELON : UL1482 / ULC S627
MODEL / MODÈLE - EPA 1400
15982
U.S. Environmental Protection Agency
Certified to comply with July 1990, particulate emissions standards/
Certifié conforme à la norme d' émanation de particles de juillet 1990: 40 CFR Part 60, Subpart AAA