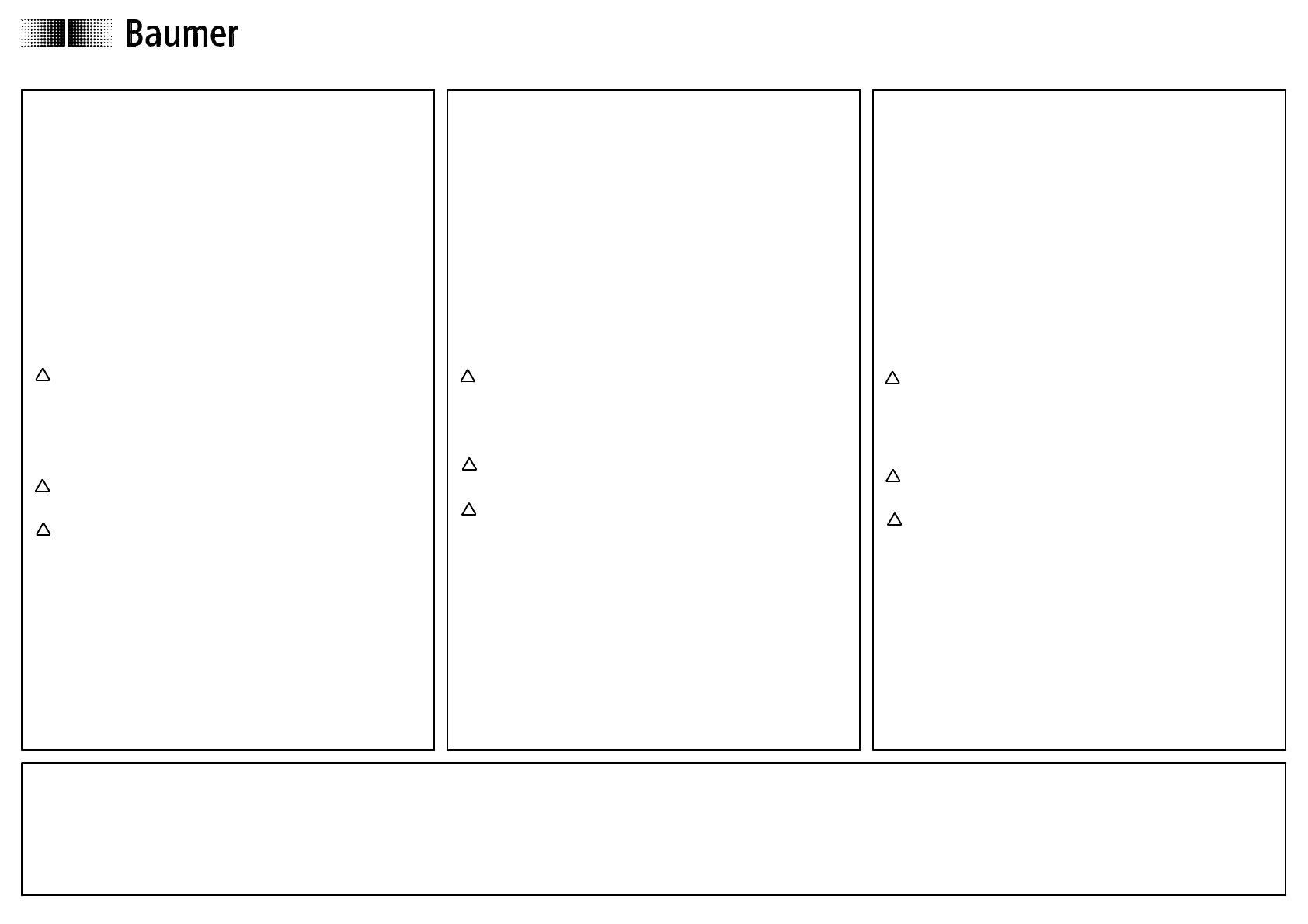 3/4
EG-Baumusterprüfbescheinigung
EC-type-examination Certificate
Certificat de contrôle EG
Baumer Electric AG · CH-8501 Frauenfeld
Phone +41 (0)52 728 1122 · Fax +41 (0)52 728 1144
11092230 / P95.4007 H / 04.05.2018
Sicherheits- Angaben PBMN
Dieses Gerät wurde gemäss den aktuell gültigen EU Richtlinien gebaut, getestet und unter
technisch sicheren Bedingungen verpackt. Um diesen Zustand aufrecht zu halten und
einen sicheren Betrieb zu gewährleisten, müssen die Angaben und Warnungen, welche in
dieser Anleitung aufgelistet sind, beachtet werden.
Für den Einbau müssen die national geltenden Normen beachtet und eingehalten werden.
Dieses Produkt muss von instruiertem Fachpersonal bedient werden. Der richtige und
sichere Einsatz hängt von richtigem Transport, Lagerung, Einbau und Betrieb des Produkts
ab.
Der elektrische Anschluss muss gemäss den am Einbauort geltenden Bestimmungen
vorgenommen werden. Um Signalstörungen zu vermeiden, empfehlen wir den Einsatz von
geschirmten Kabeln. Weiter sollen Speisekabel örtlich getrennt zur Signalleitung verlegt
werden. Die Verdrahtung muss gemäss elektrischem Anschlussplan ausgeführt werden.
Bevor Sie die Stromersorgung einschalten, stellen Sie sicher, dass keine anderen Anlagen-
teile dadurch beeinflusst werden. Stellen Sie sicher, dass die Speisespannung und die
Umgebungsbedingungen der Produktspezifikationen entsprechen.
Bevor Sie die Stromversorgung ausschalten, prüfen Sie die möglichen Auswirkungen auf
andere Anlagenteile oder Systeme.
WARNUNG
Ein Nichtbefolgen der folgenden Warnungen kann zum Tod oder schweren Ver-
letzungen von Personen oder zu grossen Schäden an Material oder Einrichtung
führen.
Für elektrische Installation und Inbetriebnahme von explosionsgeschützten Produkten
müssen die aufgeführten Daten, die Anforderungen nach EN 60079-14 und die lokal
geltenden Richtlinien für die Installation von elektrischen Geräten innerhalb explosionsge-
schützten Umgebungen beachtet werden. Die eigensicheren Versionen können in
explosionsgefährdeten Zonen gemäss ihren Spezifikationen eingesetzt werden.
WARNUNG
Dieses Produkt enthält keine austauschbaren Teile. Bei einer Fehlfunktion muss das
Produkt zur Reparatur zu Baumer zurückgesendet werden.
WARNUNG
Achtung! Für Anwendungen als Betriebsmittel der Kategorie 1 (EPL Ga) Gruppe IIC sind
gefährliche elektrostatische Aufladungen an der Oberfläche der Schutzkappe und entlang
des Kabelmantels zu vermeiden (z. B. durch schnelle Füllungen und Entleerungen von
Behältern oder andere mechanische Reibvorgänge).
Nach Einbau und Anschluss - prüfen Sie, dass das Gehäusepotential auf dem Erdpotential
liegt.
Die Druckmessumformer können in die Grenzwand montiert werden, die den Bereich mit
Kategorie 1 (EPL Ga) - Anforderungen (Zone 0) von dem mit Kategorie 2 (EPL Gb) -
Anforderungen (Zone 1) trennt. Dabei muss der Prozessanschluss nach EN 60079-26,
Abschnitt 4.6 ausreichend dicht sein z.B. durch Einhaltung der Schutzart IP67 nach
EN60529. Die Messzelle darf nur für brennbare Stoffe verwendet werden, für die die
Membranen der Messzellen hinreichend chemisch und gegen Korrosion beständig sind.
Hinweis
Die Druckmessumformer PBMN sind so spezifiziert bzw. bemessen, dass diese vollständig
in Staub eingeschüttet verwendet werden können.
!
!
!
Safety Instructions PBMN
This instrument is built and tested according to the current EU-directives and packed in
technically safe condition. In order to maintain this conditionand to ensure safe operation,
the user must follow the hints and warnings given in this instruction.
During the installation the valid national rules have to be observed.
The product must be operated by trained staff. Correct and safe operation of this
equipment is dependent on proper transport, storage, installation and operation.
All electrical wiring must conform to local standards. In order to prevent stray electrical
radiation, we recommend shielded input cables, as also to keep power supply cables
separated from the input cables. The connectionmust be made according to the
connecting diagrams.
Before switching on the power supply take care that other equipment is not affected.
Ensure that the supply voltage and the conditions in the environment comply with the
specification of the device.
Before switching off the supply voltage check the possible effects on other equipment and
the processing system.
WARNING
Ignoring the following warnings may lead to severe personal injury or substantial
damage to property.
For electrical installation and commissioning of explosion protected devices, the given
data, the requirements to EN 60079-14 as also the local regulations for installation of
electrical apparatus within explosion protected areas must be considered. The intrinsically
safe versions can be used in explosive areas according to their specifications.
WARNING
This product contains no replaceable parts. In case of malfunction the product must be
shipped to Baumer for repair.
WARNING
Attention! For applications as an equipment of category 1 (EPL Ga) group IIC avoid
dangerous electrostatic charge on the surface of the protection cap and along the cable
jacket (e.g. quick filling or emptying of tanks or other mechanical friction procedures)
After the mounting:
Check if the case is connected with the ground potential.
The pressure transmitters can be mounted in boundary walls, which separates the areas
according to category 1 (EPL Ga) - requirements (zone 0) from areas according to
category 2 (EPL Gb) - requirements (zone 1). In this case, the process connection must be
sufficiently sealed according to EN 60079-26, art. 4.6, e.g. the protection class IP67
according to EN 60529.
The measuring cell may only be used for inflammable substances for those the
diaphragms are steady enough against chemical and corrosive influences.
Advice
The pressure transmitters PBMN are specified and designed that they can be used fully
covered with dust.
Instruction de sécurité PBMN
Cet instrument de mesure a été conçu et testé conformément aux directives européennes
en vigueur. Afin de garantir un fonctionnement en toute sécurité, il est indispensable que
les données et les avertissements de cette instruction soient respectés.
Il est à noter que les règles nationales en vigueur sont également à respecter.
Cet instrument ne doit être manipulé et utilisé que par du personnel instruit. Un
fonctionnement correct et sûr dépend également des conditions de transport, de stockage,
de montage et de mise en fonction ainsi que d'utilisation de l'instrument.
Le raccordement électrique doit être également conforme aux conventions locales en
vigueur. Afin d'éviter tout perturbation du signal de l'instrument, nous recommandons
l'usage de câble blindés. De plus il est recommandé de séparé physiquement les câbles
d'alimentation du système des câble de mesures. Le câblage doit être conforme au
schéma de raccordement électrique.
Avant de mettre l'appareil sous tension, vérifiez qu'aucun autre équipement ne puisse en
être affecter. Et vérifiez que la tension d'alimentation et les conditions ambiantes
correspondent aux spécifications de cet appareil.
De même, avant de mettre l'appareil hors tension, vérifiez qu'aucun autre équipement ne
puisse en être affecter.
AVERTISSEMENT
Le non respect des avertissements ci-après peut causer des blessures graves allant
jusqu'à la mort ainsi que des dégâts matériels importants.
Pour l'installation électrique ainsi que pour la mise en service d'appareils protégés contre
les explosions, il faut absolument respecter les données techniques indiquées ainsi que les
exigences selon EN 60079-14 mais aussi les instructions locales en vigueur pour le
montage d'appareils électriques en milieux explosifs. Les versions intrinsèques peuvent
être utilisées en milieux explosifs conformément à leurs spécifications.
AVERTISSEMENT
Cet appareil ne contient pas de pièce interchangeables. En cas de disfonctionnement,
l'appareil doit être envoyé à Baumer pour réparation.
AVERTISSEMENT
Attention! Pour des applications comme moyen de production de la catégorie 1(EPL Ga)
Groupe IIC, les charges électrostatiques dangereuses sur la surface du capuchon
protecteur et le long de la gaine du câble sont à éviter (p.ex., lors des remplissages ou des
vidanges rapides des réservoirs ou d'autres processus de friction mécaniques).
Après le montage et le raccordement, contrôlez si le boîtier est bien raccordé avec le
potentiel de la terre.
Les transmetteurs de pression peuvent être montés dans le mur de délimitation qui sépare
le domaine de la catégorie 1 (EPL Ga) – Exigences (Zone 0) de celui de la catégorie (EPL
Gb) - Exigences (Zone 1). Dans ce cas, la connexion du process selon EN 60079-26,
Paragraphe 4.6 doit être suffisamment étanche comme, par exemple, en conformité avec
la classe de protection IP67 selon EN60529. La cellule de mesure ne peut être seulement
utilisée que pour des substances inflammables pour lesquelles les membranes des
cellules de mesure sont suffisamment résistantes aux influences des produits chimiques et
à la corrosion.
Indication
Les transmetteurs de pression PBMN sont spécifiés, respectivement dimensionnés, de telle
façon qu'ils puissent être utilisés complètement recouverts de poussières.
!
!
!
!
!
!
SEV 11 ATEX 0129