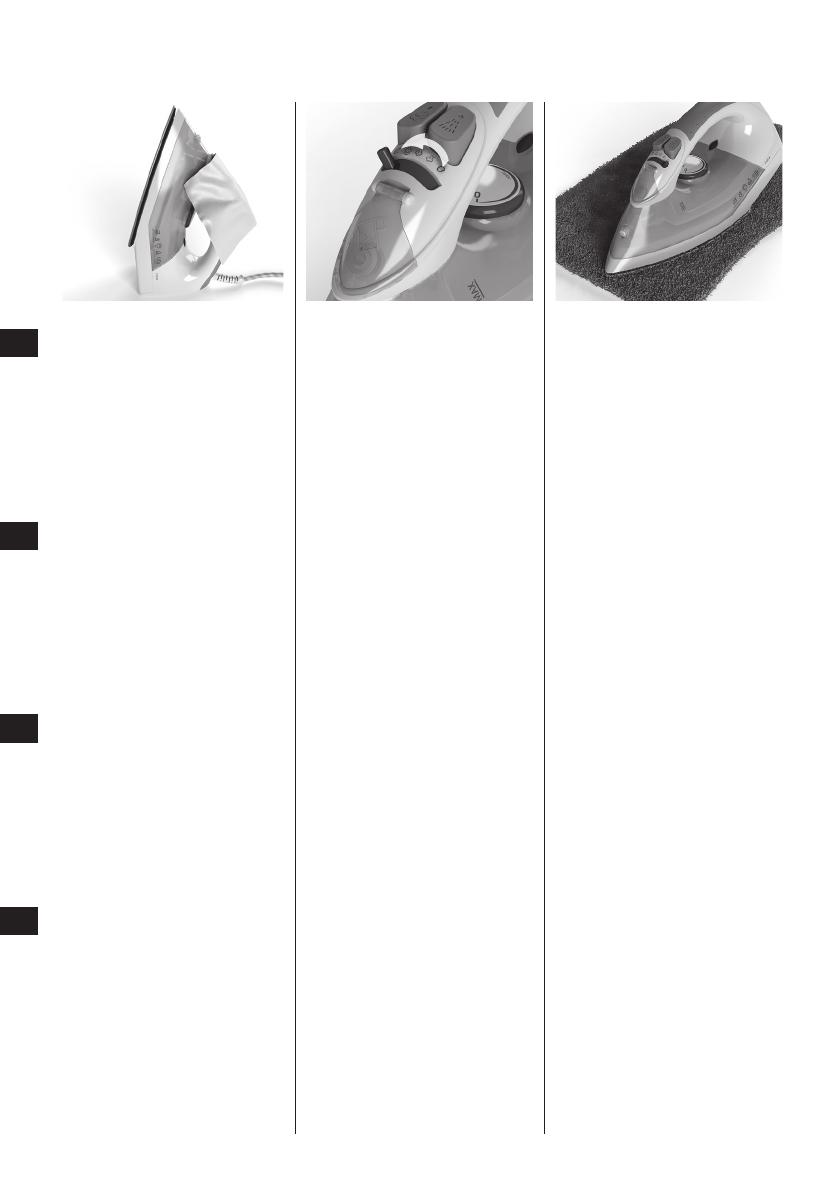 12
GB
D
F
NL
1.
Always store iron on its heel rest.
To clean exterior surfaces, use a damp
soft cloth and wipe dry. Do not use
any chemical solvents, as these will
damage the surface.
2.
Self-cleaning function.
Fill up with
water. Heat up iron and then unplug
it. Hold iron over a sink. Move steam
button to selfcleaning position, hold
for 1 minute or until water tank is
empty. Release button to stop self-
cleaning function.
3.
Cleaning the soleplate.
Do not use
scouring pads or harsh cleaners on
the soleplate as these will damage
the surface. To remove burnt residue,
iron over a damp cloth while iron is
still hot. To clean the soleplate, simply
wipe with soft damp cloth and wipe
dry.
Cleaning
(do not use any detergent)
1.
Lagern Sie das Bügeleisen immer
Verwenden Sie zum Reinigen der
Außenächen ein weiches feuchtes
Tuch und wischen Sie anschließend
trocken. Verwenden Sie keine
chemischen Lösungsmittel, da diese
die Oberäche schädigen.
2.
Selbstreinigungs- und Entkalkungs-
funktion.
Mit Wasser auüllen.
Bügeleisen aufheizen lassen
und Stecker ziehen. Bügeleisen
über Abwaschbecken halten.
Dampfknopf auf Selbstreinigung
stellen, für eine Minute gedrückt
halten oder bis der Wassertank
leer ist. Druckknopf loslassen, um
Selbstreinigungsfunktion zu beenden.
3.
Reinigen der Bügelsohle.
Behandeln
Sie die Bügelsohle nicht mit
Scheuerschwämmen oder scharfen
Reinigungsmitteln, da diese die Oberäche
beschädigen. Eingebrannte Rückstände
entfernen Sie durch Bügeln über ein
feuchtes Tuch, während das Bügeleisen
noch heiß ist. Bügelsohle mit einem
weichen, feuchten Tuch reinigen und
anschließend trocknen.
Reinigen
(keine Reinigungsmittel verwenden)
1.
Posez toujours le fer sur son talon.
Pour nettoyer les surfaces extérieures,
utilisez un chion doux humide puis
essuyez pour sécher. Ne pas utiliser
de solvants chimiques, car ceux-ci
pourraient endommager la surface.
2.
Fonction auto-nettoyage.
Remplissez le réservoir d'eau. Attendez
que le fer soit à la bonne température.
Positionnez-le au dessus d'un évier.
Sélectionnez la fonction auto-
nettoyage, laissez s'écouler le réservoir
pendant une minute jusqu'à ce que
celui-ci soit complètement vide.
Repositionnez ensuite le bouton sur sa
position initiale.
3.
Nettoyage de la semelle.
Ne pas
utiliser de tampon à récurer ou de
nettoyant abrasif sur la semelle,
car ceux-ci endommageraient la
surface. Pour éliminer les résidus
de combustion, repassez sur un
chion humide pendant que le fer
est chaud. Attendez que celle-ci soit
complètement refroidie, puis frottez
avec un linge humide.
Nettoyage
(ne pas utiliser de détergent)
1.
Berg het strijkijzer altijd staand op
Reinig de oppervlakken aan de
buitenzijden met een vochtige doek
en wrijf deze droog. Gebruik geen
chemische oplosmiddelen; hierdoor
raakt het oppervlak beschadigd.
2. Zelfreinigingsfunctie.
Vullen met
water. Verwarm de strijkbout en haal
het uit het stopcontact. Houd de
strijkbout boven een wastafel. Zet de
stoomknop op de reinigingsfunctie
gedurende 1 minuut of totdat het
waterreservoir leeg is. Laat de knop los
om de reinigingsfunctie te stoppen.
3.
De strijkzool reinigen.
Gebruik
geen schuursponsjes of agressieve
reinigingsmiddelen op de strijkzool.
Hierdoor raakt het oppervlak
beschadigd. Als u verbrandingsresten
wilt verwijderen, beweegt u het
strijkijzer over een vochtige doek
terwijl het strijkijzer nog heet is. Om
de onderkant te reinigen, kunt u het
afnemen met een zachte, vochtige
doek en droog te maken.
Reinigen
(gebruik geen reinigingsmiddelen)