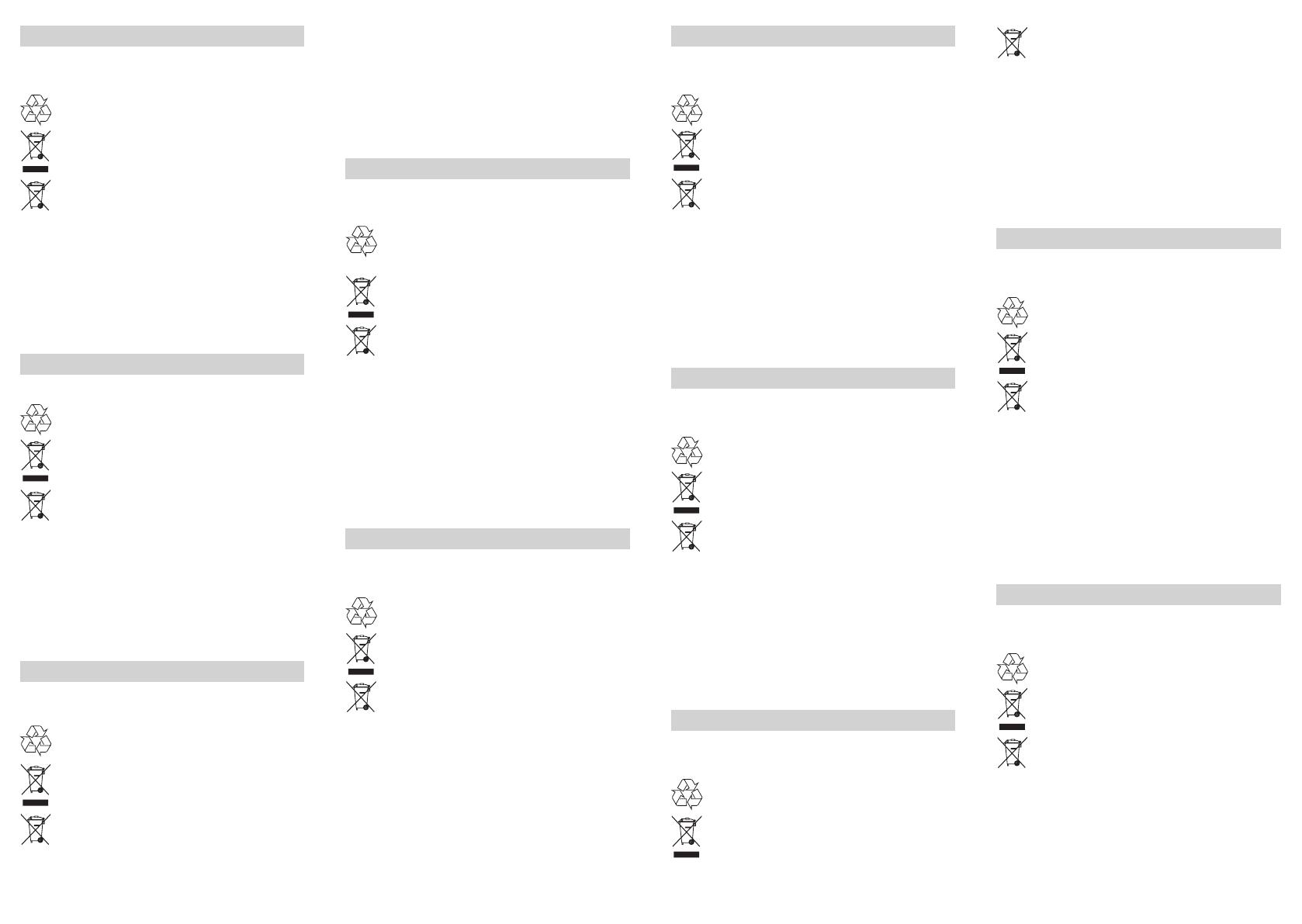 English
1 Disposal of your old product and
batteries
Your product is designed and manufactured with
high quality materials and components, which can
be recycled and reused.
This symbol on a product means that the product
is covered by European Directive 2012/19/EU.
This symbol means that the product contains
batteries covered by European Directive
2013/56/EU which cannot be disposed of with
normal household waste.
Inform yourself about the local separate collection system
for electrical and electronic products and batteries.
Follow local rules and never dispose of the product and
batteries with normal household waste. Correct disposal
of old products and batteries helps prevent negative
consequences for the environment and human health.
2 Remove the integrated battery
A
1 Likvidace starého výrobku a baterií
Výrobek je navržen a vyroben z vysoce kvalitního
materiálu a součástí, které lze recyklovat a znovu
používat.
Symbol na výrobku znamená, že výrobek splňuje
evropskou směrnici 2012/19/EU.
Symbol na výrobku znamená, že výrobek obsahuje
baterie splňující evropskou směrnici 2013/56/EU,
takže nemůže být likvidován společně s běžným
domácím odpadem.
Zjistěte si informace o místním systému sběru tříděného
odpadu elektrických a elektronických výrobků a baterií.
Dodržujte místní předpisy a nikdy nelikvidujte výrobek nebo
baterie společně s běžným domácím odpadem. Správnou
likvidací starých výrobků a baterií pomůžete předejít
negativním dopadům na životní prostředí a lidské zdraví.
2 Vyjmutí integrované baterie
A
Dansk
1 Bortskaffelse af udtjente produkter og
batterier
Dit produkt er udviklet og fremstillet med
materialer og komponenter af høj kvalitet, som kan
genbruges.
Dette symbol på et produkt betyder, at produktet
er omfattet af EU-direktivet 2012/19/EU.
Dette symbol betyder, at produktet indeholder
batterier omfattet af EU-direktivet 2013/56/EU,
som ikke må bortskaffes sammen med almindeligt
husholdningsaffald.
Undersøg reglerne for dit lokale indsamlingssystem for
elektriske og elektroniske produkter og batterier. Følg
lokale regler, og bortskaf aldrig produktet og batterierne
med almindeligt husholdningsaffald. Korrekt bortskaffelse
af udtjente produkter og batterier hjælper dig med at
forhindre negativ påvirkning af miljøet og menneskers
helbred.
2 Fjern det indbyggede batteri
A
Deutsch
1 Entsorgung von Altgeräten und
Batterien
Ihr Gerät wurde unter Verwendung hochwertiger
Materialien und Komponenten entwickelt und
hergestellt, die recycelt und wiederverwendet
werden können.
Dieses Symbol auf einem Produkt bedeutet, dass
für dieses Produkt die Europäische Richtlinie
2012/19/EU gilt.
Dieses Symbol bedeutet, dass das Produkt Akkus
enthält, für die die Europäische Richtlinie 2013/56/
EU gilt. Entsorgen Sie diese niemals über den
normalen Hausmüll.
Informieren Sie sich über die örtlichen Bestimmungen
zur getrennten Sammlung von elektrischen und
elektronischen Geräten sowie Akkus. Befolgen Sie die
örtlichen Bestimmungen, und entsorgen Sie das Produkt
und die Akkus nicht mit dem normalen Hausmüll. Eine
ordnungsgemäße Entsorgung von alten Produkten und
Akkus hilft, negative Auswirkungen auf Umwelt und
Gesundheit zu vermeiden.
2 Entfernen des integrierten Akkus
A
Español
1 Cómo deshacerse del producto
antiguo y de las pilas
El producto ha sido diseñado y fabricado con
materiales y componentes de alta calidad que
pueden reciclarse y reutilizarse.
Este símbolo en un producto signica que el
producto cumple con la directiva europea
2012/19/EU.
Este símbolo signica que el producto contiene
pilas o baterías contempladas por la directiva
europea 2013/56/EU, que no se deben tirar con la
basura normal del hogar.
Infórmese sobre el sistema local sobre la recogida
selectiva de pilas y productos eléctricos y electrónicos. Siga
la normativa local y nunca deseche el producto y las pilas
con la basura normal del hogar. El correcto desecho de los
productos y las pilas usadas ayuda a evitar consecuencias
negativas para el medio ambiente y la salud humana.
2 Extracción de la batería integrada
A
Français
1 Mise au rebut de votre ancien appareil
et des piles
Votre produit a été conçu et fabriqué avec des
matériaux et des composants de haute qualité
pouvant être recyclés et réutilisés.
Ce symbole sur un produit indique que ce dernier
est conforme à la directive européenne
2012/19/EU.
Ce symbole signie que le produit contient des
piles conformes à la directive européenne
2013/56/EU, qui ne doivent pas être mises au
rebut avec les déchets ménagers.
Renseignez-vous sur votre système local de gestion des
déchets d'équipements électriques et électroniques et sur
la mise au rebut des piles. Respectez la réglementation
locale et ne jetez pas ce produit et les piles avec les
ordures ménagères. La mise au rebut correcte de
vos anciens appareils et des piles aide à préserver
l'environnement et la santé.
2 Retrait de la batterie intégrée
A
Italiano
1 Smaltimento del prodotto e delle
batterie
Questo prodotto è stato progettato e realizzato
con materiali e componenti di alta qualità, che
possono essere riciclati e riutilizzati.
Questo simbolo indica che il prodotto è conforme
alla Direttiva europea 2012/19/EU.
Questo simbolo indica che il prodotto funziona
con batterie conformi alla Direttiva europea
2013/56/EU e che quindi non possono essere
smaltite con i normali riuti domestici.
Informarsi sul sistema di raccolta differenziata in vigore
per i prodotti elettrici ed elettronici nella zona in cui
si desidera smaltire il prodotto. Seguire le normative
locali e non smaltire mai il prodotto e le batterie con i
normali riuti domestici. Il corretto smaltimento delle
batterie e dei prodotti non più utilizzabili aiuta a prevenire
l'inquinamento ambientale e possibili danni alla salute.
2 Rimozione della batteria integrata
A
Magyar
1 A régi készülékek és akkumulátorok
kiselejtezése
Ez a termék kiváló minőségű anyagok és
alkatrészek felhasználásával készült, amelyek
újrahasznosíthatók és újra felhasználhatók.
Ha ez a szimbólum szerepel a terméken, az azt
jelenti, hogy a termék megfelel a 2012/19/EU
európai irányelv követelményeinek.
Ez a szimbólum azt jelenti, hogy a termék
akkumulátorai megfelelnek a 2013/56/EU európai
irányelv követelményeinek, ezért ne kezelje ezeket
háztartási hulladékként.
Tájékozódjon az elektromos és elektronikus termékek
és akkumulátorok szelektív hulladékként történő
gyűjtésének helyi feltételeiről. Kövesse a helyi szabályokat,
és ne dobja az elhasznált terméket és akkumulátort a
háztartási hulladékgyűjtőbe. Az elhasznált termék és
akkumulátor megfelelő hulladékkezelése segítséget nyújt a
környezettel és az emberi egészséggel kapcsolatos negatív
következmények megelőzésében.
2 Távolítsa el az akkumulátort
A
Nederlands
1 Oude producten en batterijen
weggooien
Uw product is vervaardigd van kwalitatief
hoogwaardige materialen en onderdelen die
kunnen worden gerecycleerd en herbruikt.
Dit symbool op een product betekent dat het
product voldoet aan EU-richtlijn 2012/19/EU.
Dit symbool betekent dat het product batterijen
bevat die voldoen aan EU-richtlijn 2013/56/EU, die
niet met regulier huishoudelijk afval kunnen
worden weggeworpen.
Stel uzelf op de hoogte van de lokale wetgeving over
gescheiden inzameling van afval van elektrische en
elektronische producten en batterijen. Volg de lokale regels
op en werp het product en de batterijen nooit samen met
ander huisvuil weg. Als u oude producten en batterijen
correct verwijdert, voorkomt u negatieve gevolgen voor
het milieu en de volksgezondheid.
2 De geïntegreerde batterij verwijderen
A
Norsk
1 Kassering av gamle produkter og
batterier
Produktet er utformet og produsert med
materialer og deler av svært høy kvalitet som kan
resirkuleres og gjenbrukes.
Dette symbolet på et produkt betyr at produktet
omfattes av EU-direktiv 2012/19/EU.
Dette symbolet betyr at produktet inneholder
batterier som omfattes av EU-direktiv 2013/56/EU
og som ikke kan kastes i vanlig husholdningsavfall.
Gjør deg kjent med hvor du kan levere inn elektriske
og elektroniske produkter og batterier til gjenvinning
i ditt lokalmiljø. Følg de lokale retningslinjene, og kast
aldri produktet og batteriene sammen med vanlig
husholdningsavfall. Hvis du kaster gamle produkter og
batterier på riktig måte, bidrar du til å forhindre negative
konsekvenser for helse og miljø.
2 Fjerne engangsbatteriene
A