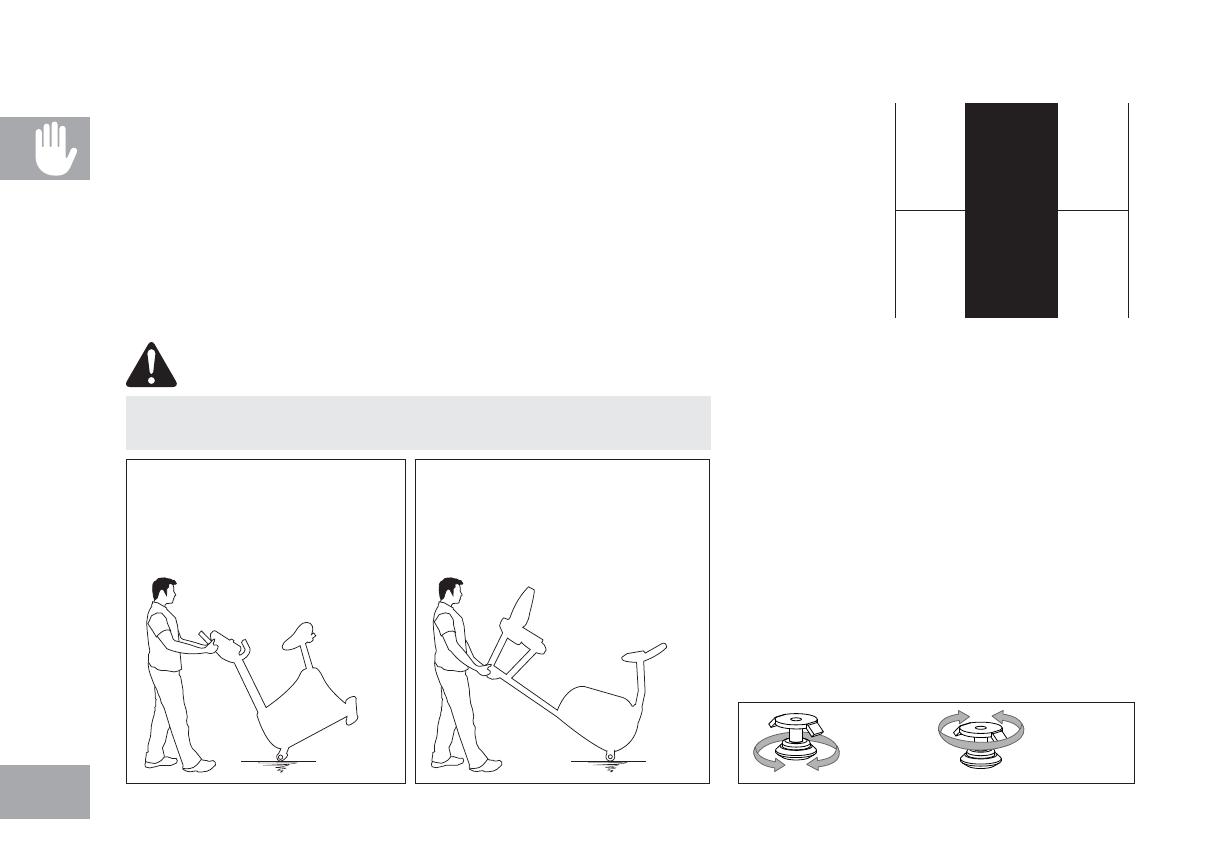 8
LOCATION OF THE EXERCISE BIKE
Place the exercise bike on a level surface. There should be one foot in front of the exercise bike
for the power cord. For ease of access, there should be an accessible space preferentially on
both sides of the exercise bike equal to 36" (915 mm) to allow a user access to the machine from
either side. Do not place the exercise bike in any area that will block any vent or air openings. The
exercise bike should not be located in a garage, covered patio, near water or outdoors.
MOVING THE EXERCISE BIKE
Your exercise bike has a pair of transport wheels built into the front stabilizer tube. Remove the
power supply before attempting to move the bike.
WARNING
Our exercise bikes are heavy, use care and additional help if necessary
when moving. Failure to follow these instructions could result in injury.
RECUMBENT BIKES
: firmly
grasp the steel portion of the rear
stabilizer tube, carefully lift and roll
on the transport wheels.
UPRIGHT BIKES
: firmly
grasp the handlebars, carefully
tip toward you, and roll on the
transport wheels.
LEVELING THE EXERCISE BIKE
Your exercise bike should be level for optimum use.
Place your exercise bike where you intend to use it.
Adjust the two rear levelers so that the bike is level
on the floor. Then adjust the third leveler located
under the base frame tube just so it is snug with
the floor. Once you have leveled your exercise bike,
lock the levelers in place by tightening the nuts
against the frame. Actual levelers may differ from
image below and may not include the lock.
LOCK
ADJUSTMENT
ADJUST
HEIGHT
36"
915 mm
36"
915 mm